Who is Dimitrios Pagourtzis, the Santa Fe shooting suspect?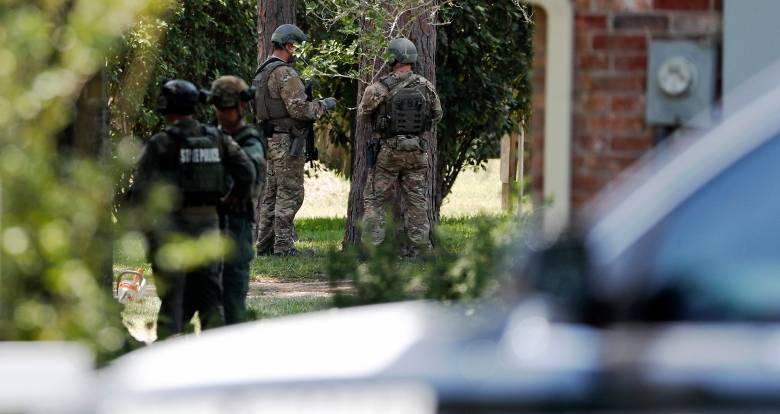 The Texas high school student who allegedly opened fire on his classmates on Friday has been described as a quiet and unassuming teenager who enjoys sports and showed few if any warning signs of violent behaviour.
Dimitrios Pagourtzis, 17, was arrested and charged with the murder of 10 people died at Santa Fe High School. Previously he had been known among his classmates for playing on the school's junior varsity football team.
He is also a member of a dance squad at a local Greek Orthodox church and an avid videogame player, according to those who know him.
"He stuck to himself. He had a few friends but never really talked to many people," a teammate, who was not identified, told the Houston TV station KTRK.
"For him to do something like this, it's crazy."
Pagourtzis was also known for often wearing a trench coat, even in the Texas heat.
"He wore, like, a trench coat almost every day," student Mateo Twilley told CNN.
Pagourtzis was said to have discussed wanting to own guns and, according to a Facebook page that has since been taken down, indicated an interest in joining the U.S. Marine Corps, "starting in 2019." (The Marine Corps says its records have no one by that name as either a recruit or a person in their preliminary enlistment program.)
State and federal law enforcement officers work outside a home in Alvin, Texas, as part of the investigation in the aftermath of the deadly shooting at Santa Fe High School on Friday. (Kevin M. Cox/The Galveston County Daily News/Associated Press)
He appears to have no prior arrests or confrontations with law enforcement.
"Unlike Parkland, unlike Sutherland Springs, there were not those types of warning signs," Texas Gov. Greg Abbott said at a news conference on Friday, referring to the Feb. 14 school shooting in Florida and one in November inside a church in a town near San Antonio.
Any "red flag warnings were either non-existent, or very imperceptible" said Abbott, though he acknowledged Pagourtzis had recently posted a picture of a T-shirt reading "Born to Kill" on his Facebook page.
He also posted a photo of a long jacket adorned with a mish-mash of military and occult symbols and appeared to indicate, in the caption, each one's significance to him. They included the Soviet-era symbol of a hammer and sickle (which he equated with "rebellion"), the former German military medal the Iron Cross ("bravery") and the fictional alien/god Cthulhu ("power").
Pagourtzis also wrote about planning the attack in journals on his computer and on his cellphone that police obtained, according to the governor.
Two firearms were used in the attack, a shotgun and a .38-calibre revolver, neither of which were owned or legally possessed by the assailant, the governor said.
A woman who answered the phone at a number associated with the Pagourtzis family declined to speak to The Associated Press.
"Give us our time right now, thank you," she said.
Two women pray outside the family reunification site following the shooting on Friday. (Jennifer Reynolds /The Galveston County Daily News via Associated Press)