Trudeau faces tough pipeline questions while re-announcing $1.53B for Green Line in Calgary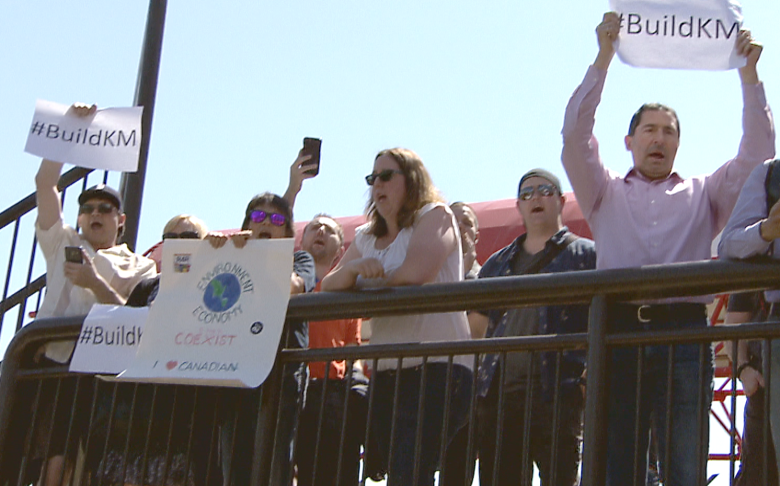 Prime Minister Justin Trudeau was in Calgary on Tuesday to re-announce his funding commitment for the Green Line LRT — but could not avoid tough questions on the Trans Mountain pipeline.
The $1.53 billion for the major infrastructure project was first announced in 2015 by the previous Conservative government.
Trudeau was flanked by federal Infrastructure Minister Amarjeet Sohi and Calgary Mayor Naheed Nenshi, all focusing on the Green Line project.
Reporters at the event jumped right into questions about the controversial Trans Mountain project, but new answers were hard to come by.
"As I've said many times, discussions are ongoing," said Trudeau when asked how discussions were going with Kinder Morgan, days before a May 31 deadline set by the company for moving the project forward.
No 'magic phrase' for critics
When pushed to offer some new information on the progress of talks, Trudeau struck back and said it doesn't matter what his government does when it comes to some Albertans.
"I don't think there's any magic phrase I can say that will have critics and skeptics sort of put down their criticism and say 'oh, you know what? The prime minister reassured me today,'" he said.
"So I'm not speaking to them. I'm speaking to the rest of Albertans who have watched for 10 years under the Conservative government where there was a tremendous amount of boosterism for Alberta, there was an oil sector-first mentality that didn't actually deliver a single kilometre of pipeline to market. They weren't able to get it done for 10 years despite all the words they had."
---
That statement is true in the context of full pipelines to tidewater. But under the Conservatives, three pipeline projects were built: TransCanada's Keystone, Enbridge's Alberta Clipper as well as Kinder Morgan's Anchor Loop — an expansion of the existing Trans Mountain pipeline.
Also under the Conservatives, Enbridge reversed flow on its Line 9B in Eastern Canada.
Environment and economy
Trudeau reiterated his government's approach to getting pipelines built, by tying them to environmental protections, including a price on carbon.
He said there's a lot on the table in talks with Kinder Morgan, including legal, legislative and financial avenues to get the pipeline built.
A handful of pro-pipeline supporters were on hand while Prime Minister Justin Trudeau made his infrastructure announcement in Calgary. (CBC)
Earlier in Edmonton, the prime minister announced almost $40 million to build a railway underpass or overpass and widen a section of 50th Street.
Once a regular visitor to Calgary
Before the event, Mount Royal University political scientist Duane Bratt predicted Calgarians would probably have a lot of questions for the prime minister that have less to do with infrastructure and more to do with pipelines.
"There was a time where Trudeau was coming to Calgary on a fairly regular basis, particularly before he was prime minister," Bratt said. "But it's been a while since he's come. He's not particularly popular in Calgary right now over the Trans Mountain pipeline, so I think this is designed to be a good news story for him."
Trudeau has assured that the Kinder Morgan project will be built and that the federal government is taking both financial and legislative action to make sure it goes ahead.
Trudeau's last visit to the city was a quick stop aboard the CP Canada 150 train last July.