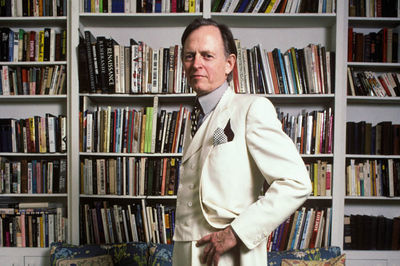 In writing a tribute to the great Tom Wolfe, who passed away yesterday in a Manhattan hospital at the age of 88, it is tempting to try and emulate the innovative writing style that made him one of the most celebrated and popular authors of his time. Hell, it is a style that was distinctive and entertaining enough to put him on the shortlist of writers whose work helped inspire me to attempt to do it for a living as well. As a journalist, he would take subjects that I would ordinarily have little interest in—Southern California car culture, LSD, the early days of the space program—and attack them with both a zingy writing style that was practically novelistic in nature. He had an enormous depth of detail that made the subjects come to life in the most memorable and unexpected of ways. Later on, Wolfe applied those same techniques in the service of narrative fiction and came up with a series of best-sellers that included one of the most popular and influential novels of the second half of the 20th century. And while his dealings with Hollywood were brief and, from his perspective, relatively unsatisfying, they did yield a couple of movies that are, for better or worse, eminently memorable.
Wolfe was born on March 2, 1930 in Richmond, Virginia. After graduating from high school, he turned down an offer to attend Princeton and instead enrolled at Washington and Lee University, where he majored in English, served as the sports editor of the school paper and formed a campus literary magazine called Shenandoah. He also played semi-pro baseball as a pitcher, even earning a tryout with the New York Giants in 1952. After that, he went to Yale to join the American Studies doctoral program, which initially rejected his thesis until he reworked it by shifting from a subjective writing style to a more conventional objective approach. While working on his thesis, he went to work for the Springfield Union newspaper in 1957 as a reported and moved two years later to the Washington Post and eventually landed at the New York Herald Tribune.
It was there that he began making his first forays into what would eventually become known as New Journalism. Essentially, what New Journalism did was take normal and dispassionate reportage and juice it up with techniques ordinarily found only in the world of fiction—passages of dialogue, overt scene constructions and multiple perspectives to name a few (and what he called "saturation reporting")—observing his subjects for an extended period of time to get a fuller picture of them and the world that they inhabited. His first big success came when he sold Esquire on a piece on the booming car culture in Southern California. After getting stuck in the middle of writing the piece, he sent his editor notes explaining what he wanted to say. That missive ended up being printed as The Kandy-Kolored Tangerine-Flake Streamline Baby in 1963 to much success and formed the centerpiece of his first book, a 1965 collection of essays of the same name.
Over the next few years, he published a number of best-selling books. The Electric Kool-Aid Acid Test (1968) observed the antics of radical hero Ken Kesey and his band of Merry Pranksters while The Pump House Gang (published the same day as The Electric Kool-Aid Acid Test) collected other essays that he wrote about the counterculture. Radical Chic & Mau-Mauing The Flak Catchers (1970) was comprised of two controversial essays touching on black radicalism and white guilt—the former chronicling a party for the Black Panthers held by Leonard Bernstein and the latter looking at the reaction of numerous minority groups in San Francisco to the social reform programs of the time. The Painted Word (1975) saw him taking a stab at art criticism by taking aim at the vogue for avant-grade art and the critics that were then currently dominating the field with their theories. Mauve Gloves & Madmen, Clutter & Vine (1976) was another collection of essays, one of which introduced the phrase "The Me Decade" into the vernacular, and also included one short story, "The Commercial," about a black baseball player who takes an endorsement deal in order to further establish himself but who winds up being dehumanized in the process.
Most of the 1970s, however, was taken up by a project that began in 1972 as an assignment by Rolling Stone to cover the Apollo 17 space mission, NASA's last mission to the moon. Wolfe quickly became fascinated with the subject of space travel and, more importantly, the kind of person who would willingly put himself in a rocket and launch into space despite the enormous number of dangers to be had. In 1977, he turned to the book full-time and while he had originally planned to cover the entirety of the space program, he focused on recounting of the Mercury program and the pre-NASA exploits of then-unheralded test pilot Chuck Yeager. Those pilots and astronauts had a quality that he deemed "the right stuff" and while he may not have invented that phrase, Wolfe certainly popularized it when his book, The Right Stuff, was published in 1979 to great acclaim (including becoming a finalist for the National Book Award) and huge sales. The book is a masterpiece, right up there with In Cold Blood and The Executioner's Song as a prime example of the non-fiction narrative structure, and it is one that I faithfully take down and read once a year. I still find as compelling today as I did when I experienced it for the first time.
The book was so popular, in fact, that it was eventually sold to Hollywood in the hopes of making it into a feature film. At this point, Wolfe's only exposure to Hollywood came when an Esquire article about moonshiner-turned NASCAR racer Junior Johnson, The Last American Hero is Junior Johnson. Yes! was adapted into "The Last American Hero," (1973), a film that was largely fictionalized and is now largely forgotten. "The Right Stuff" went through a fairly tortured development process on its way to the screen—initial screenwriter William Goldman left the project after disagreements with director Philip Kaufman—and Wolfe elected to stay out of the process altogether, spurning an offer to write the screenplay himself. When the film came out in 1983 amidst an avalanche of hype—one of the astronauts covered, John Glenn, was running for president at the time and there was talk of how the project might sway the election—it proved to be a surprising failure at the box office and Wolfe himself made it known that he wasn't too keen on the final product, believing that it deviated too much from the facts. But in this rare case, Wolfe was wrong. The film version of "The Right Stuff" proved to be just as gripping, exciting and compulsively entertaining as the book that inspired it.
By this time, Wolfe had decided to put non-fiction to the side and finally take a stab at something he had been contemplating for years—writing a novel that would capture the vast spectrum of contemporary modern society, utilizing classic novels like Thackeray's "Vanity Fair" as a model and the Manhattan Criminal Court as a key research point. When he became stuck in the writing process, he convinced Rolling Stone editor Jann Wenner to publish it as a serial in the way that authors like Thackeray and Dickens did back in the day—with a deadline every couple of weeks, he would not have time to get bogged down. The serial began running in July of 1984 through August of 1985 and when it was completed, he thoroughly revised what he had written over the next two years and in 1987, the end result was finally published as The Bonfire of the Vanities.
It is impossible to describe the kind of impact that book had when it first came out. In recounting the tale of Sherman McCoy, a snobbish bond trader who has it all as the story opens—a beautiful wife and family, a lavish apartment and more money than he knows what to do with—and whose wrong turn into the Bronx with his mistress kicks off a chain of events that destroys some lives, elevates others and puts the entire city on edge, Wolfe put together the literary equivalent of TNT—combing race, money, sex and politics—and then gleefully lit the fuses. Having brought literary techniques to journalism, he now brought journalistic techniques to a literary world where the spare gimmickry of writers like Jay MacInnery and Bret Easton Ellis were the current rage. The result was a stunner—a cheerfully overstuffed work that was brimming with humor, outrage, insight and a writing style so flamboyant and insistent that the only thing that kept it from being annoying was the sheer brilliance on display on every page. Although some may have dismissed it as a novel of its era and nothing more, this is a work that has also stood the test of time and while some of its reference may be dated, its observations of race and greed are as timely today as they were back then. More importantly, his authorial voice is one that can be savored in any era for its enthusiasm and extravagance—it was the kind of book that made the act of writing, which can be a pain even on the best of days, seen like heedless fun.
The book was so popular that Hollywood decided to overlook the low grosses of "The Right Stuff" and "The Bonfire of the Vanities" was bought by Warner Brothers. As was recounted in painful detail in Julie Salomon's must-read production chronicle, The Devil's Candy, what should have been a sure-fire blockbuster was done in by dubious casting (including Tom Hanks, Bruce Willis and Morgan Freeman in roles that seemed tailor-made for William Hurt, Jack Nicholson and Alan Arkin), strife between the producers and director Brian De Palma and a decision to remove much of Wolfe's cynicism and make the generally unlikable Sherman into someone more sympathetic. The resulting film was the kind of bomb that was so prevalent that it became a sort of instant punchline. Once again, Wolfe stayed away from the entire filmmaking process and was not particularly pleased with the results, though he was a little quieter about his thoughts this time around. Nevertheless, it would be the last time to date that one of Wolfe's works would make the journey to the big screen.
For the rest of his career, Wolfe moved between fiction and non-fiction with varying results. His eagerly anticipated follow-up novel, A Man in Full (1998), was another heady brew of sex, race and money, this time based in Atlanta and revolving around a prominent real estate tycoon on the edge of bankruptcy and a black athlete whose rumored rape of a white heiress threatens to tear the entire city apart. The book was entertaining and well-written but inevitably suffered in comparison to its predecessor. It did inspire an amusing war of words between Wolfe and fellow authors Norman Mailer, John Updike and John Irving—all of whom panned it—that he recounted in the essay "My Three Stooges," which was later republished in the essay collection Hooking Up (2001). His next novel, I Am Charlotte Simmons (2004), on the other hand, was a total disaster—a smug, retrograde look at contemporary campus life that will surely go down as one of the most embarrassing novels ever written by a notable author. He bounced back with Back to Blood (2012), a still-timely work centered around Cuban immigrants in Miami. His final book was 2016's The Kingdom of Speech, a non-fiction work in which he took Charles Darwin to task for borrowing the work of naturalist Alfred Wallace to compose his theory of evolution while ignoring his later work on the subject.
The news of Wolfe's passing is sad for any number of reasons beyond the audience. Obviously, it means the ending of one of the great literary careers of our time—the man who literally revolutionized journalism will never again have a chance to shock, provoke and entertain readers. Then there's the undeniable fact that the world of publishing has changed so radically these days that if the reincarnation of Wolfe were to suddenly appear, he would have nowhere to publish—the magazines that still exist would never dream of giving him the time and space that he used and few book publishers would dare to put out something as controversial as The Bonfire of the Vanities. However, if there is even a sliver of literary justice out there, his books and essays will continue to be read and enjoyed by people a hundred years from now and beyond.