The Power of Community: A Recap of the 2018 TCM Classic Film Festival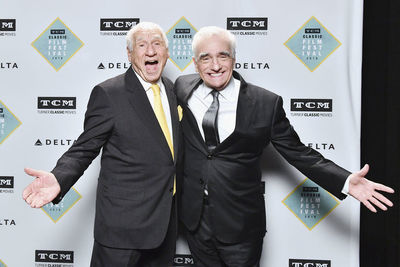 HOLLYWOOD — Though "Powerful Words: The Page Onscreen" served as the official theme of the ninth annual TCM Classic Film Festival, which concluded here over the weekend, even more palpable was the power of community.
Ben Mankiewicz, primary host of the cable channel, reminded fans that "movies are at their best when they're shared together. The festival connects us to the greater TCM community."
Eddie Muller, "The Czar of Noir" and host of TCM's weekly showcase "Noir Alley," echoed that sentiment. "I like how nobody at this festival is a stranger," he said. "I love running into TCM fans and discussing all manner of movies."
Held April 26-29 at the historic TCL Chinese Theatre complex, Egyptian Theatre, Cinerama Dome and poolside at the Roosevelt Hotel, the classic movie marathon expanded this year to 120 films and events, "making it our biggest festival yet … creating four days of movie magic along Hollywood Boulevard," said festival director Genevieve McGillicuddy.
Opening night brought the presentation of the first-ever Robert Osborne Award, honoring the longtime TCM host, who died last year. The inaugural winner was Martin Scorsese, dean of American filmmakers, and a staunch advocate for film preservation. Leonardo DiCaprio, a frequent collaborator, introduced the director. "The impact of Marty's passion and his dedication to cinema is absolutely immeasurable," he said.
In his acceptance speech, Scorsese praised the efforts of Osborne and TCM in advancing the cause of classic film. "They're spreading the world to invite more people in, and enlarge the culture, to share," he said. "Robert Osborne shared his passion for movies in a way that made you feel it wasn't distant or forbidden but something everyone could take part in." Later, after criticizing the "devaluation of cinema itself" by current Hollywood business practices, Scorsese went on to praise TCM supporters. "You know the difference between a YouTube video and the great American art form," he said. "You react against the devaluation of cinema and movies by showing up."
Along with Scorsese, the festival saluted director-screenwriter Robert Benton ("Kramer vs. Kramer," 1979), director Gillian Armstrong ("My Brilliant Career," 1979) and actress Cicely Tyson (Oscar nominated for "Sounder," 1972). Also making return appearances were directors Mel Brooks, John Carpenter, William Friedkin and John Sayles; actors Dyan Cannon, Sally Field, Buck Henry, Nancy Olson Livingston and Eva Marie Saint; film historians Donald Bogle and Leonard Maltin, and in the Hollywood offspring contingent, Sara Karloff and Suzanne Lloyd.
Plus, the unofficial king and queen of classic Hollywood, Norman Lloyd, now 103, and Marsha Hunt, ageless, returned to walk the red carpet outside the TCL Chinese Theatre on opening night.
But wait, there was more: stealth celebrity cameos, confirmed after the festival's program guide went to press, by Alan Cumming, director Taylor Hackford, Juliet Mills, Simon Pegg, Tim Robbins, Mario Van Peebles and the biggest surprise of them all, Jeff Bridges, "The Dude," abiding at a 20th-anniversary screening of "The Big Lebowski."
In his intros, Mankiewicz marveled at the energy of the festival's guests: "Here's Mel Brooks, at 91, stalking the stage like a caged cat. Next up, William Friedkin, with a cracked rib, also walking the stage like a caged cat. And then, Jeff Bridges, walking the stage like a stoned caged cat."
As usual, the festival focused on the three Rs: restorations, rediscoveries and retrospectives. Among the restored titles receiving world-premiere screenings: "Fail Safe" (1964), "Heaven Can Wait" (1978), "My Brilliant Career" (1979), "None Shall Escape" (1944) and "The Producers" (1968). In addition, for the second year, the festival offered a line-up of rare nitrate prints, with screenings of "Leave Her to Heaven" (1946), "Spellbound" (1945), "Stage Door" (1937) and "A Star Is Born" (1937), all screened at the Egyptian Theatre, which has been retrofitted for nitrate projection.
Some sound bites from the four days of the classic movie marathon:
"The Producers" (1968): Just two months ahead of his 92nd birthday, Mel Brooks bounded onto the TCL Chinese stage with the zest of a teenager. "I'm so thrilled that we're seeing 'The Producers' 50 years later on a big screen," he said before the opening-night screening. "We're not seeing it on a watch or a television. I really like going to the theater. I like the community experience. I like being in the dark and being transported into different worlds, it's very important to me. And now there's a thing replacing it. It's called streaming. If I make another movie, I don't want it to be seen by millions of people on a phone. Comedies must be seen by at least 100 people in some kind of theater. [Streaming] is really heartbreaking to me."
"Finishing School" (1934): Speaking ahead of this pre-Code drama, Wyatt McCrea, grandson of Joel McCrea and the film's star, Frances Dee, saluted the devotion of attendees, many of whom stood in line for hours to make sure they got into the screening: "Thank you for waiting for three hours, my grandmother would be impressed." He noted that Dee, who appeared in many pre-Code films, was conflicted by the film's moral aspects—including pre-marital sex and unwed pregnancy—but "she saw pre-Code films as a challenge to show her acting chops."
"Finishing School" co-stars Ginger Rogers, who "gets all the good lines in the movie," McCrea said. "Ginger and Frances were great friends. My grandparents would often double date with Ginger and [then husband] Lew Ayres." After the birth of her first two sons, Dee took on fewer roles. "She could have been as big as Katharine Hepburn or Bette Davis," McCrea said, "but family came first."
The movie is credited to two directors, Wanda Tuchock and George Nichols Jr., but film scholar Jeremy Arnold believes Tuchock, who also wrote the screenplay, should be regarded as the film's sole auteur: "This one has Wanda's fingerprints all over it." In researching his latest book, Arnold found newspaper articles noting the film's novelty: "The movie made news because Tuchock was one of just three female directors then working in Hollywood."
"Outrage" (1950): Introducing this little-known drama, directed by Ida Lupino, about a woman's harassment and subsequent rape, Museum of Modern Art curator Anne Morra said the movie "speaks to MeToo issues 70 years ahead of its time." RKO, the film's studio, told Lupino she couldn't use the words "rape" or "rapist," and "so she used visuals and sound more so than dialogue to tell the protagonist's story."
Mary Ann Anderson, author of Ida Lupino: Beyond the Camera (2011), who also appeared at the screening, first met the filmmaker in 1983. "Ida told me I was not mean enough to be an agent, so she hired me as her personal assistant instead." At the time, Lupino was living on residuals totaling about $400 month. She needed her Social Security benefits and Screen Actors Guild pension, and when she went to apply for her Directors Guild pension, she "had to prove her [directing] credits, even though she was the most prolific female director of her generation," Anderson said.
Though Lupino—whose centennial is this year—directed lots of episodic TV and several studio dramas, including "Never Fear" (1950) and "The Bigamist" (1953), her favorite directorial effort was the fluffy comedy "The Trouble With Angels" (1966), Anderson said, because "she didn't have raise money to get it made."
Lupino was "a madcap with a quick temper," Anderson recalled. "She was like Auntie Mame. She loved to watch TV and make up her own dialogue, which she would bark back at the set. One day she had thrown her patio furniture into her swimming pool, then asked, 'Has anyone seen Howard Duff? [her third husband, who she was in the process of divorcing]. He might be floating around in there."
"Sweet Sweetback's Baadasssss Song" (1971): Move over, "Black Panther," the man who gave the world the first black superhero 47 years ago was in the house. Welcoming the movie's auteur to the stage, film scholar Jacqueline Stewart, a professor in the University of Chicago's Department of Cinema and Media Studies, said, "Here we have a living pioneer of African-American cinema. He has broken all kinds of barriers and was influential to many black indie filmmakers. With 'Sweetback,' Melvin Van Peebles created a blueprint for telling a new kind of story. 'Sweetback' does not to try to explain the black experience; instead, the film immerses you in it. It subverted and revolutionized the film industry."
A Chicago native, Van Peebles wrote, scored, produced, directed and acted in "Sweetback." He received a standing ovation when he walked onstage, assisted by his filmmaker son, Mario. "I haven't had this much fun with my clothes on in years," he said. "I'm so proud and pleased to be here."
At 85, still feisty in spirit but physically frail in appearance, the elder Van Peebles let Mario do most of the talking. His son recalled how his dad "claimed to be making a porn film, so he wouldn't have to pay scale" to the cast and crew. At its original release, "Sweetback" was called "violent, sadistic, obscene" and more. Van Peebles capitalized on the expected outrage with his tagline of "Rated X by an all-white jury."
Describing "Sweetback" as "a ghetto opera," Mario Van Peebles emphasized the role of music in the movie, which featured Earth, Wind & Fire, in the Chicago-based R&B/funk/rock group's breakthrough. "American film music often had nothing to do with black reality, but Dad changed that." His father's success helped to pave the way for black filmmakers such as "Spike Lee, John Singleton and the Hudlins," Mario said, but even more important, "I saw my dad unite behind gender, color lines, everything, before it was fashionable to do so. His over-all concern was not just for our family, it was with the human family."
"Woman of the Year" (1942): Introducing George Stevens' comedy, the first of nine films pairing Katharine Hepburn and Spencer Tracy, actor Keith Carradine called it "my favorite Tracy and Hepburn film because you can see these two falling in love on the set."
His father, acclaimed character actor John Carradine, worked on two films with Hepburn, including "Mary of Scotland" (1936). "My dad, who was an autodidact, could be imperious," he said. "When Kate suggested that she play both Elizabeth Tudor and Mary Stuart in 'Mary of Scotland,' he told her, 'If you were to play both parts, how would you know whom to upstage?'"
Though his sons (David, Keith and Robert) followed him into show business, the elder Carradine didn't encourage them. He told Keith: "Well, it's a lousy profession, with no money in it, but if it's what you want to do, OK. But if you could think of something else to do, do it." Years later, Keith said his biggest challenge as an actor "is overcoming the mortification that this is what I do for a living."
"This Thing Called Love" (1940): TCM host Illeana Douglas admitted that her favorite festival moment was sitting in the audience and listening to fans laugh at Melvin Douglas," her grandfather and the co-star of this rarely screened comedic gem (which received an encore showing on Sunday). "The ladies liked Grandpa. I can attest personally to that. He had incredible naturalism. Plus, no one could wear a tux like Melvin Douglas."
"Animal House" (1978): The festival closed with a 40th-anniversary screening of the comedy classic, with director John Landis and cast members Tim Matheson, Bruce McGill, Mark Metcalf, James Widdoes, Martha Smith and Stephen Bishop in attendance. In his introduction, Mankiewicz reminded the audience how "Animal House" and cinematic progeny like "Caddyshack" (1980) "forever changed the face of film comedy." The free-wheeling conversation stretched to an hour, with Landis declaring at least three times that "Ned Tanen hated our movie."
Tanen, then president of Universal Pictures, which released "Animal House," courted several A-list directors, including John Schlesinger and George Roy Hill, before settling unhappily on Landis. Throughout the film's production, Landis was constantly reminded that "the studio hates it, doesn't want to finance it," and so the production led "a precarious existence." Not that this fact registered with the cast, who went on epic benders and dust-ups (for details, check the film's trivia section on IMDb.com or a just-published oral history in the New York Times).
Though Landis assembled an excellent line-up of rising talents (several of whom were making their film debuts, including Kevin Bacon), "Tanen was furious at the casting," the director said. "He hated that we had cast John Vernon and Cesare Danova," who mined comedy gold as Dean Wormer and Mayor Carmine DePasto. "He demanded that I go out and get a star"—which is how Donald Sutherland ended up as Professor Jennings.
The cast also shared memories of the dearly departed Vernon, writer Harold Ramis, Stephen Furst, writer Douglas Kenney (who doubled as Stork), and of course, John Belushi, who told Stephen Bishop that "Bluto was his best work."
In the end, though, Vernon got the last word. "He was the only one who sensed what the movie would turn out to be," Landis said. After playing heavies for most of his career, "he was delighted to be in a comedy" and kept telling Landis how important "Animal House" was. Recalling Vernon's prophecy, Landis said the actor told him: "'I don't think you understand what you have here.' Forty years later, John was right."