Prime minister visits Edmonton temple ahead of infrastructure announcements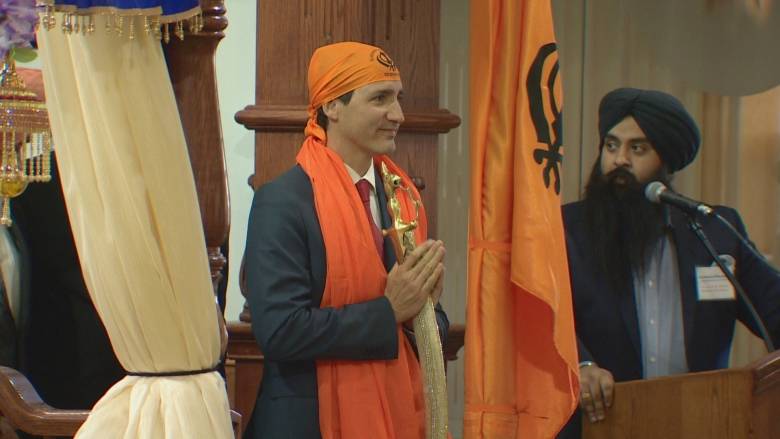 Wearing a head scarf and suit, Prime Minister Justin Trudeau made an appearance at Gurdwara Millwoods in southeast Edmonton Monday.
Hundreds packed the temple to witness the brief event with Trudeau, who did not make any public statements. He gave a food bank donation, was presented with a kirpan (a ceremonial dagger worn by Sikhs) and served food to attendees.​
The visit comes while closed-door talks on the Trans Mountain pipeline between Kinder Morgan and the federal and provincial governments continue.
Prime Minister Justin Trudeau is presented with a kirpan at a photo op on Monday. (Trevor Wilson/CBC)
'Be among smiling faces'
It's not lost on John Soroski, assistant professor of political science at MacEwan University, that Trudeau keeps coming back to Mill Woods.
It's the riding of federal Infrastructure Minister Amarjeet Sohi, who won the seat by 92 votes in the 2015 federal election, after a judicial recount.
"The Liberals have very few ridings in Alberta as it is," Soroski said. "The government's handling of pipeline issues implies they're probably not likely to increase that. So you really want to try to hang on to whatever you've got."
It's a chance for Trudeau to be in the spotlight for things other than the pipeline, like his "close connection with the Sikh community," he explained.
"That's an opportunity for him to be in Alberta, to have smiling faces around instead of people angrily asking questions about the federal government's support or non-support of the pipeline," Soroski said.
"It's a good start to your visit if you can be among smiling faces because you'll be among less smiling faces later on."
And it's over in a flash. <a href="https://twitter.com/hashtag/Trudeau?src=hash&amp;ref_src=twsrc%5Etfw">#Trudeau</a> <a href="https://t.co/mBwnAYoWvv">pic.twitter.com/mBwnAYoWvv</a>

&mdash;@KaylenSmall
Trudeau's most recent visit to the Edmonton area was in February. The visit included a town hall at MacEwan University and a game of pickleball at the Mill Woods Senior and Multicultural Centre.
Monday's visit is "out of the blue," said Faron Ellis, research chair of Citizen Society Research Lab at Lethbridge College.
"The particular dilemma for this prime minister is coming to Alberta at this time of great sensitivity in federal-provincial relations with many Albertans feeling they're on the losing end, if not being snubbed, being outright ignored are their issues," he said.
Albertans want to hear more than campaign rhetoric and platitude, especially when the clock is ticking on the Trans Mountain pipeline with its May 31 deadline, Ellis said.
"Coming here, doing some campaigning is all good and well, and completely legitimate. Coming here without addressing some of the expectations, or some of the grievances, and having something reasonably substantive to say — particularly on Trans Mountain — is a trip fraught with considerable perils."
Trudeau will remain in Alberta Tuesday, with infrastructure announcements scheduled in both Edmonton and Calgary.