Pain on the train: VIA Rail passengers frustrated by delays on cross-Canada journey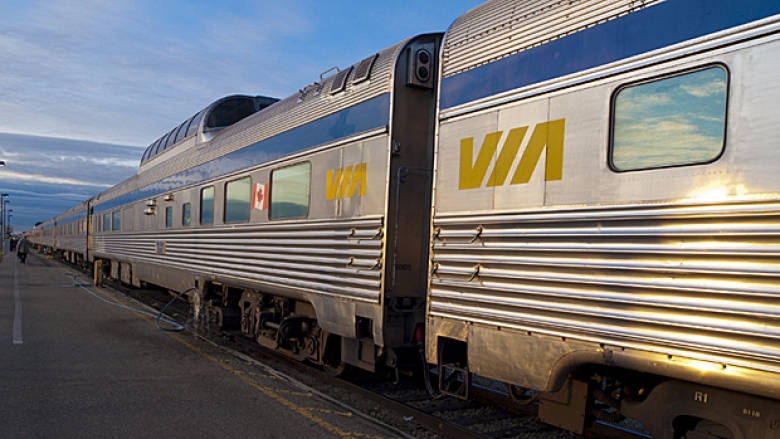 On Wednesday afternoon, Mike Gardiner and hundreds of other VIA Rail passengers were parked on the sidings in Irma, Alta. They were already more than 30 hours late on their journey from Toronto to Vancouver, and the frustration was mounting.
"The delay is growing all the time as the train is seemingly sidelined quite frequently for freight," he said in a phone interview as the train slowly passed through the village about 170 kilometres southeast of Edmonton.
Gardiner won the VIA Rail trip, but the novelty was wearing thin as he was stuck onboard for far longer than expected on his journey home to Vancouver.
"The big issue here is the passenger train has no priority compared to the freight," he said.
Problems were evident from the start.
"It arrived late into Toronto and we were put up in a hotel and left 22 hours late, and then it just snowballed from there. The crew do tell us that there is an exceptional amount of freight moving at the moment, with no reason given," he said.
CBC was not able to reach VIA Rail for comment. However, its website is clear about stating that freight trains may create delays — and that those delays may be long.
It states: "While VIA endeavours to operate on time, the realities of increased freight traffic on tracks that we do not own may give rise to significant delays.
"We suggest that you plan accordingly, such as not arranging connecting transportation on the day of your arrival."
"The big issue here is the passenger train has no priority compared to the freight," says passenger Mike Gardiner. (Canadian Press)
Gardiner said the train had been sidelined three or four dozen times, with the stops lasting up to an hour.
Some people from overseas are getting desperate because they have arrangements, meetings or travel plans that they are going to miss, he said.
"There's one couple from Spain who are travelling in the sleepers who are getting very, very desperate because they have travelled from Spain to see their daughter graduate from the University of British Columbia," Gardiner said. "They're frantic."
A woman in coach was worried about running out of formula for her baby, he added.
Gardiner said VIA employees were doing a good job trying to keep everyone comfortable — but they're not able to provide assurance as to when the train will pull into certain destinations.
VIA owes passengers an apology, said Gardiner.
"I think VIA should've actually offered refunds when it was apparent that it was 22 hours late, and then should've been upfront in terms of what people could expect to happen for the duration of the journey," he said.
"VIA says their schedules are subject to change, but that's a bit of an understatement."
A rare and upsetting vacation
The scenario is all to familiar to Edmonton student Stephanie Kim, 21, who had a similar experience riding the business class rails from Vancouver to Toronto three weeks ago.
It was supposed to be a well-earned, rare holiday for her parents. Instead, it was an exercise in frustration and extra expense when the train arriving in Toronto 25 hours behind schedule.
"It's really upsetting. I can't believe I wasted a lot of money," says Stephanie Kim, an Edmonton student who took the train three weeks ago. (Kaylen Small/CBC)
Kim felt misled. When she booked the three tickets, she was told the maximum delay would be 12 hours. The first time she rode VIA two years ago, Kim experienced a nine hour delay.
Aboard the train, Kim said she asked attendants for an estimated arrival time.
"They just did not give a concrete answer, which I understand, but we constantly asked so we [could] come up with a solution just in case we missed the flight," she said.
When the train got to Hornepayne, Ont., she said VIA staff suggested the family to take a cab, at their own expense, the rest of the way to Toronto — a journey of more than 1,000 kilometres and at least 11 hours.
"The service manager was constantly saying that this wasn't VIA Rail's fault and was beyond their control, which was not helping us calm down at all," she said.
At one point, her parents didn't eat dinner because they were worried about the cost of a flight change.
"The biggest thing that we had to do on the train was not enjoying the view or scenery, but it was more like trying to catch up, update ourselves where we are so hopefully we have a solution at the end just in case there are delays," Kim said.
The Kim family missed their flight, costing them $1,030 to make changes.
VIA offered them a credit to the rail line of $100 per person, but Kim said those credits won't be used.
"It's really upsetting. I can't believe I wasted a lot of money," Kim said.
"After experiencing this, we're not going to take VIA Rail, ever."