New Miss Manito Ahbee honours Lorna Blacksmith's family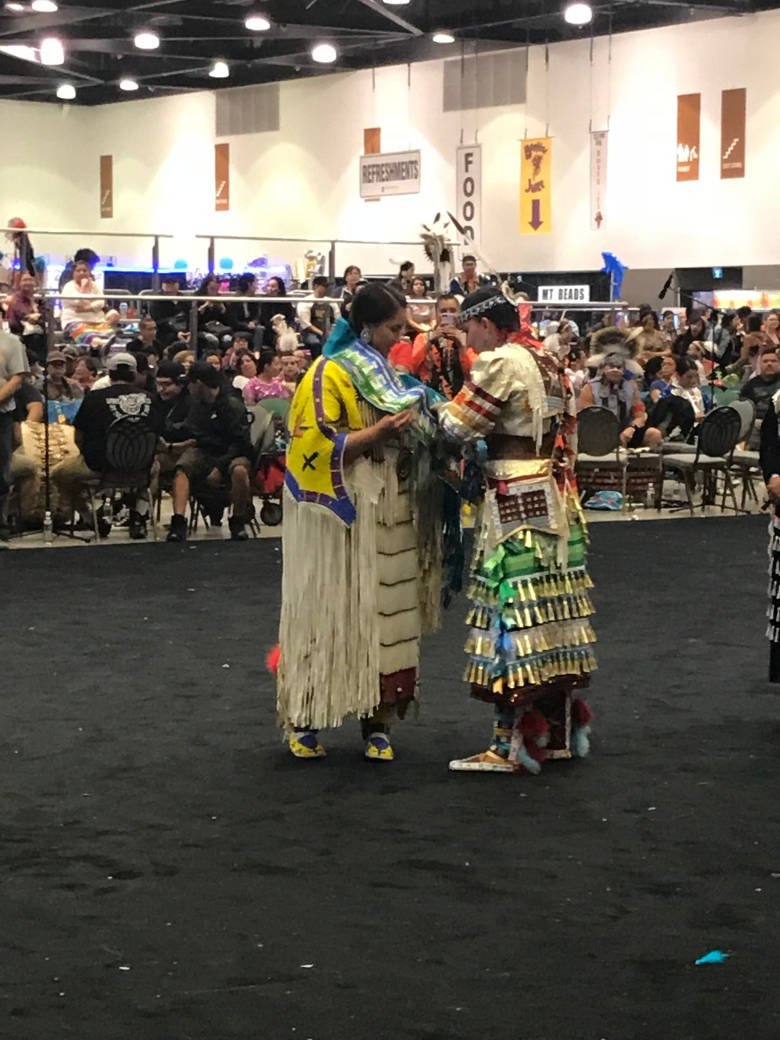 Every year a new young woman is chosen for the title of Miss Manito Ahbee Youth Ambassador.
Since 2006, the title has been used by the Manito Ahbee festival to honour the memory of Canada's Missing and Murdered Indigenous Women and Girls.
Wamblie Littlesky has wanted to be Miss Manito Ahbee since she was a little girl, and her dream came true on Saturday at the International Pow Wow when she was crowned.
She's still new in her title, but said she wants to help educate people and raise awareness.
"It affects a lot of people here in Canada … their family members were taken too soon from them," said Littlesky.
Sacred number
Four is a sacred number in the Indigenous culture and tradition, as it marks the completion of a full cycle. Which is why every four years a different Indigenous woman, who was taken too soon, is honoured by the Manito Ahbee festival, according to their website.
2018 means the end of a four year cycle, meaning a new Indigenous woman will be honoured for the next four years. Since 2014, Manito Ahbee has been honouring Lorna Blacksmith, who was murdered in 2012.
Chante Speidel giving the sash to the new Miss Manito Ahbee, Wamblie Littlesky. (CBC)
Littlesky begins the new four-year cycle, which will honour the memory of Amanda Jane Cook. Cook was only 14 when she disappeared on July 13, 1996 from a fairground in Rossburn, Man.
Four days later, her body was found in a wooded area near the fairgrounds. An autopsy revealed she died from multiple blows to the head with a blunt object.
Cook's family was present for the crowning of Littlesky's crowning, and they joined her for an honour dance before she took on her new role as Miss Manito Ahbee.
As part of the selection process — which also included a personal essay and a dance competition — Littlesky had a personal interview with the Cook family to discuss why she wanted to be an advocate for MMIWG.
Still a reality
Chante Speidel, Miss Manito Ahbee for 2017, knows just how important education is about the topic.
"Why in 2018 is this still a reality? Why in 2018 are Indigenous women still mistreated? That needs to change," said Speidel in a speech before crowning Littlesky.
Speidel committed to wearing a ribbon skirt everyday for a year to honour and help educate people about MMIWG. Although her reign as Miss Manito Ahbee is over, she said she will continue wearing her skirt until May 24, which will mark exactly one year.
"I wore a ribbon skirt for [the family of Lorna Blacksmith] and for all the families out there who are mourning their women who were taken too soon and in the wrong way," she said.
In her last moments as Miss Manito Ahbee, Speidel lead an honour dance for the Blacksmith family and gave her crown and sash to Lorna Blacksmith's mother.
The new Miss Manito Ahbee plans to honour MMIWG. (CBC)
Littlesky hasn't yet figured out how she will honour Cook's family, but being crowned and meeting them was already special for the new Miss Manito Ahbee.
"It's just an honour to be here and to be able to be dancing for the people who can't," she said.