Netflix's Brilliant 'Dear White People' Avoids Sophomore Slump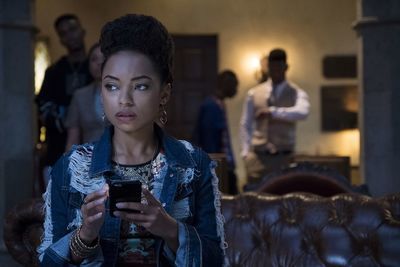 Justin Simien's Netflix adaptation of his own Sundance hit "Dear White People" was one of the smartest and funniest shows of 2017, ranking in my personal top ten of the year. It says something about how much of television nowadays is a one-season wonder that I was concerned about Simien's ability to follow it up. It's not just that we've seen how the sped-up cycle of new programming can make a show feel repetitive and outdated after one season but how much "DWP" tackled in the first season, which was more than just a study of life on a modern college campus but an examination of the art of protest and the influence of outrage culture, both heartfelt and performative. And it ended with violence and anger in a way that felt like the scariest question for all of these characters was also the scariest question for the show: What now?
Simien and his team don't shy away from capturing this question directly in the show's narrative. In the season premiere, Sam White (Logan Browning), the host of the radio show that gives the program its name, is struggling with the same question. Now what? The action of season one still resonates strongly—in fact, not much time has passed in the world of the show—and so racial tension is high. And yet, at least at first, Sam doesn't feel passionate as much as uncertain, a mood enhanced by the distraction of social media, including the emergence of an alt-right troll who constantly attacks her across all platforms. The identity of this troll becomes a narrative thread through much of season two, which picks up several of the themes of season one but also expands on them, mostly in the way it tackles the deadening, numbing impact of social media. As Sam says, "How do you argue with nonsense?"
Once again, different chapters have different protagonists, sometimes looping back on each other chronologically and showing the same events from different angles. It's not just a cool narrative trick—it's thematically relevant. We're all supporting players in someone else's story at the same time that ours is unfolding. And the cast of characters this season seems richer and more confidently performed. Browning is still the stand-out, but Brandon P. Bell, Antoinette Robertson, Ashley Blaine Featherson, John Patrick Amedori, Marque Richradson, and especially DeRon Horton all have moments to shine. It's a true ensemble show, and one of the remarkable elements this season is how much Simien avoids turning these characters into mouthpieces. Right when the season feels like it's about to emphasize its message, two deeply personal episodes about Sam remind us that the people can't get lost in the themes.
Like last season, Simien allows some very interesting filmmakers to step behind the camera—Barry Jenkins directed an episode in season one that was one of the best half-hours of TV all year—including Janicza Bravo, Charlie McDowell, and Kimberly Peirce, who directs episode four, a great example for how much this show can surprise you. As mentioned, each episode focuses on a different protagonist, and this one is Coco's, probably the character I found least interesting at that point in the series, and yet I was floored by this particular chapter, possibly the best of the season. This is a show that can consistently surprise you, balancing the issues of today with specifically, character-drive, relatable emotions. Episode 208, directed by Simien, is one of the most daring of the year so far, basically a two-hander between a pair of characters who really need to talk at this point. And it's an episode grounded in character but also commenting on all of us. Is it possible to be progressive in today's social media world and not come off as performative or opportunist? One character says, "There are ways to speak out that don't scream, 'Look at me'." The response: "Are there?"
The season does sag a bit around 206-7, but it's forgivable given how fascinatingly it ends, with a series of episodes that are moving, funny, and brilliant. Giancarlo Esposito voices the narrator of "Dear White People," who opens each episode with a story or an anecdote and then advises the viewers, "Watch closely." You really should.