More than 400 people register to help Alberta man find stem cell donor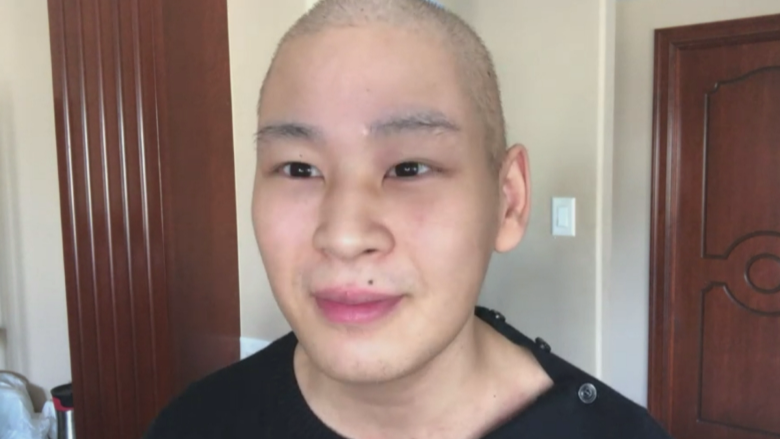 A Beaumont man battling blood cancer is in desperate need of a stem cell donor — and on Sunday, hundreds of people tried to help him find a match.
The family of 25-year-old Bille Nguyen recruited donors at a swab event at the Lemongrass Cafe in Edmonton. But finding a donor to save Nguyen's life could be difficult because the NAIT engineering student was born to Vietnamese and Chinese parents.
Less than 30 per cent of registered stem cell donors are of ethnically diverse backgrounds, according to Canadian Blood Services, and patients are mostly likely to find a match within the same ethnic group.
Bille Nguyen, 25, has stage 4 subcutaneous panniculitis-like T-cell lymphoma. To save his life, he needs a stem cell donor match to save his life. (Skype)
Nguyen's family organized Sunday's event to raise awareness for the lack of stem cell donors for ethnic minorities, particularly for people of Asian descent.
His sister Susan Nguyen said they never expected that more than 400 people would register as donors after hearing her brother's story.
"When we first started this campaign, we had no idea how we were going to do it," she said, noting that the family first posted about helping her brother on social media, and then spoke to news organizations to raise awareness.
"It just blew up from there."
Bille Nguyen's sister Susan says her brother is thankful for the help he has received from the community. (Scott Neufeld/CBC)
People piled through the cafe doors Sunday, swabbing the insides of their mouths to collect DNA samples.
But it wasn't just Edmontonians who offered their support. Susan said people from across the world have reached out to her family, from Germany to Japan to the United States.
"Nguyen says with every single person that messages that they want to join, he has these butterflies and he just is overwhelmed with positivity and thankfulness," said Susan, who is waiting to find out if she can be her brother's donor.
"And so when he finds out what happened today, he's going to be blown away."
'Blood cancers affect everybody'
Nguyen was diagnosed with stage 4 subcutaneous panniculitis-like T-cell lymphoma in January. He started chemotherapy in February, which successfully shrunk some of the abnormally coloured lumps on his body.
But new lumps are still growing, which is why getting a stem cell transplant is now Nguyen's only option.
Susan said she hopes Sunday's event can also help people who are in similarly desperate situations.
"Our main goal is not just to help my brother but also to get the word out to the community that blood cancers affect everybody," she said. "It's going to affect any age, any race, any religion. But when it affects an Asian, we're at a disadvantage in that it's hard for us to find a match."
Nguyen will undergo six more rounds of chemotherapy this month. After that, he has 30 to 60 days to find a donor match.