MMIWG inquiry hears testimony in Calgary from government staff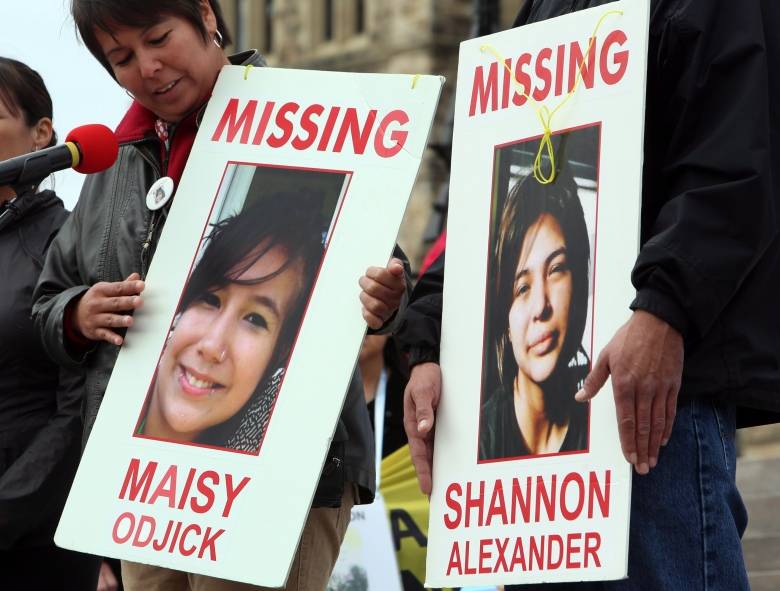 The National Inquiry into Missing and Murdered Indigenous Women and Girls is holding hearings in Calgary this week.
The first phase of the truth-gathering process collected testimonies from more than 1,000 families. This next part focuses on government services and agencies, with testimonies from public staff and non-profit sector employees.
CBC News is livestreaming the inquiry on Monday, which starts at 9 a.m MT and runs until 5 p.m. MT.
The format of the five-day inquiry may limit the quality of the testimonies and may alienate some local people, Indigenous activist Michelle Robinson says.
"There might be some families that are a little hurt that, 'You're in Calgary and I'm not getting an opportunity to testify,' not realizing that this was more the outreach for those who are in the field, the professional field," she said.
Laurie Odjick holds a sign with photo of her missing daughter, Maisy, who went missing along with Shannon Alexander in 2008 at age 16. (Fred Chartrand/Canadian Press)
The hearings begin with John Phelps, the Yukon region chief federal prosecutor, and Leanne Gardiner, Northwest Territories' justice department community justice and policing division director.
Later on Monday, the commission will hear from Saskatchewan and Canadian government executives.
"Even when it comes to service providers, it'll be interesting to see the testimony and then the rebuttal, the attempt to discredit whatever was being said," Robinson said. "That's incredibly problematic and not helping.
"We have so many reports already on recommendations we need to implement for the Government of Canada, the Government of Alberta, the municipal levels, and they're not being implemented already."
'We need to do this together'
The inquiry is scheduled to wrap up in November but the commission has requested a two-year extension to finish in December 2020.
As the hearings continue, Indigenous activist Lowa Beebe said she is keeping in mind that women and children are going missing every day.
"We need to take what we can from the inquiry and the commission and those types of things that are going on," she said. "We need to know how we're going to do things better in the future, and it's coming together.
"And we need to do this together."
---