Jann Arden 'tar sands' tweet sparks call to boycott Fort McMurray concert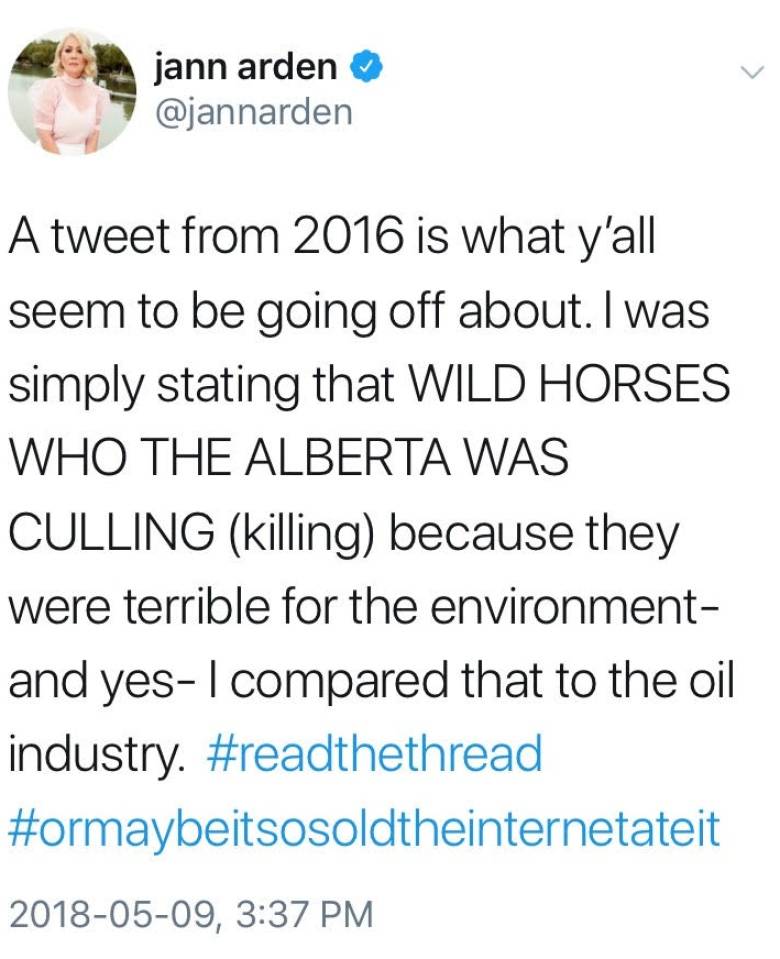 A 2016 tweet from Jann Arden calling out the environmental record of the "tar sands" is sparking new controversy ahead of the singer-songwriter's concert later this year in Fort McMurray.
A pro-oilsands and pipeline Facebook page, Oil Sands Strong, wants residents to boycott Arden's October concert at Fort McMurray's Keyano Theatre.
In a January 2016 tweet, Arden condemned the culling of wild horses. She posted: "I'll tell ya whats damaging the Alberta environment — the tar sands— NOT the free roaming #wildies."
Robbie Picard, who runs the Oil Sands Strong Facebook page, posted a meme Wednesday correcting Arden's use of the word "tar sands."
Picard called on his followers to not attend the singer's concert until she apologizes for the tweet.
The post said: "It's called oilsands Jann. Boycott the Jann Arden concert unless she apologizes for this tweet!"
Arden's response Wednesday was deleted after it was posted to Twitter. (Twitter/Jann Arden)
The Juno-winning performer responded Wednesday in a tweet that was later deleted.
In it, Arden said her 2016 tweet was about the culling of wild horses in Alberta "and yes — I compared that to the oil industry."
Picard said he loves Arden's music and it was difficult for him to launch the critical online campaign against the singer, who was born in Calgary and grew up in Alberta.
"I found this post extremely hard to make. I have been a huge Jann Arden fan and I have been since I was 16 years old," Picard said.
'People of Fort McMurray need to wake up'
The Facebook page, which Picard said is self-funded, regularly posts an arsenal of memes, info graphics and videos in defence of the oilsands and pipelines.
Picard and other Fort McMurray residents also
confronted Jane Fonda
in 2017 when she was visited Fort McMurray and was critical of the oilsands.
Robbie Picard, seen in a January 2017 photo, is a Fort McMurray pro-oilsands activist. (David Thurton/CBC News)
Picard is based in Fort McMurray but regularly speaks at pro-pipeline rallies, including one he was heading to in Kamloops, B.C., when he spoke to CBC on Wednesday.
"If [Arden] is that uneducated about the oilsands, then she needs a quick education, fast," Picard said. "If she is against the dirty oil money, then, don't come to Fort McMurray and expect people who 100 per cent make their money from oil to support you at a concert."
Picard said his post has been getting mostly positive support but some have criticized him for being unwelcoming.
"Shockingly, some local people are, like, 'We should invite [Arden] here,' " Picard said. "I think the people of Fort McMurray need to wake up. Our industry is under attack."
But Picard said that while he's calling for a boycott of Arden's concert, he also sees value in her visiting Fort McMurray.
He suggested Arden visit Syncrude's oilsands reclamation site to see how companies intend to return mines back to forests and wetlands.
"Attacks like this on the oilsands that don't go defended, it's detrimental and we should have been fighting this fight years ago," Picard said. "She should be ashamed of herself."
CBC sought comment from Arden's management but hasn't heard back.
Keyano College said an agent booked the theatre for the October concert on behalf of Arden's management team.
The college said it is not involved in marketing or promoting the show.
Arden previously performed at Keyano Theatre in 1997 and 1994.
Follow David Thurton, CBC's Fort McMurray correspondent, on Facebook and Twitter, or email him at david.thurton@cbc.ca