In Winnipeg for Manito Ahbee? Here are 5 events you can check out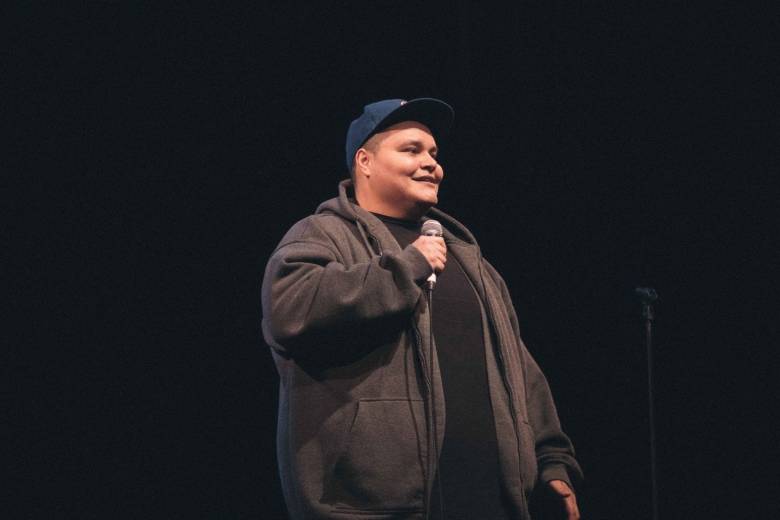 Every year, the Manito Ahbee festival draws thousands of Indigenous people from across North America to Winnipeg.
The powwow on Saturday and Sunday is open for anyone to attend, and is visually beautiful, but there are other cool events and after parties worth checking out if you are in Winnipeg on Friday.
Indigenous Music Awards
The Indigenous Music Awards coincide with the Manito Ahbee festival every year and are a chance to celebrate Indigenous music. Get a chance to experience the red carpet and witness some of Canada's most seasoned Indigenous musicians, as well as the next generation of artists.
The show will include live performances by: Ansley Simpson, Chase Manhattan with Theland Kicknosway, Dakhká Khwáan Dancers with DJ Dash, Indian City, Kristi Lane Sinclair, Pat Vegas (Redbone) and more.
Where: Club Regent Event Centre, 1425 Regent Ave. W.

When: Red Carpet starts at 6 p.m. Awards show starts at 8 p.m.
Paul Rabliauskas standup comedy special
Paul Rabliauskas is from Poplar River First Nation and has been making a name for himself on the Winnipeg comedy scene for years. (Jen Doerksen)
Paul Rabliauskas has been a regular on the local comedy scene for a long time, but he is on his way to becoming one of the best (Indigenous) comedians in Canada.The show will be taped for a comedy special, and if comedy is your thing, Rabliauskas is that dude.
Where:The Park Theatre, 698 Osborne St.

When: Doors open at 7 p.m. Show starts at 8 p.m.
Next Wave after-party
For people looking to catch some of the newest sounds from Indigenous musicians, you will want to check out the Next Wave after party. It's being headlined by up and coming hip-hop duo Snotty Nose Rez Kids. Forth is a small scale spot for artists to get on stage and do their thing. Featuring performances by Ansley Simpson, Raye Zaragoza and local DJ Boogey the Beat.
Where: Forth. 171 McDermot Ave
When: 10 p.m. – 2 a.m.
Manitoba Aboriginal Music Fest 2018 after-party​
Ernest Monias is also known as the 'Elvis of the North.' He will be making a guest appearance at the Manitoba Aboriginal Music Fest. (Facebook)
For music fans looking for more of a rock and blues sound, look no further than this event. The Regal Beagle is going to be showcasing some of the finest Indigenous talent that Manitoba has to offer. People will get a chance to see the legend himself, Ernest Monias. Featuring performances by The Mosquitoz, Kimberley Dawn, C-Weed Band, Richard Farrow and more.
Where: Regal Beagle, 331 Smith St.
When: Friday and Saturday 9 p.m. – 2 a.m.
Hellnback Album Release party w/special guests
Hellnback is a trailblazer for Indigenous people in hiphop. (Lisa Muswagon)
Hip-hop veteran Hellnback will be releasing his new album #fourteen91 with his friends. Expect some really good hiphop and top notch Indigenous artists from across Turtle Island. Special guests include Supaman, Mob Bounce and CJ the Grey.
Where: X-Cues lounge, 551 Sargent Ave.
When: Doors open at 9 p.m.