Home Entertainment Consumer Guide: May 10, 2018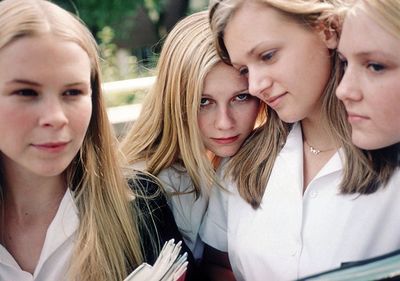 8 NEW TO NETFLIX
"Amelie"
"Beautiful Girls"
"Faces Places"
"God's Own Country"
"Red Dragon"
"Scream 2"
"Shrek"
"Sliding Doors"
8 NEW TO BLU-RAY/DVD
Ridley Scott made two films in 2017 and neither really got the attention they deserved. He's one of our most consistent living craftsmen, a man who makes the difficult art of filmmaking look easy. His telling of the story of the kidnapping of John Paul Getty III was one of those films for which the making of the movie became more enticing than the project itself. It started with the recasting of Kevin Spacey with eventual Oscar nominee Christopher Plummer but continued with the pay disparity between stars Michelle Williams and Mark Wahlberg. Now that the noise around the film has quieted down, you can watch it for yourself and decide how it fits in the history of Ridley Scott's career, one that shows no sign of slowing down even as he enters his eighties.
Special Features
Eight Deleted Scenes
"Ridley Scott: Crafting a Historical Thriller" – Director Ridley Scott and the cast and crew discuss the fast-paced and exciting way he filmed this epic movie.
"Hostages to Fortune: The Cast" – A look into the award-winning actors and their connections to their real-world characters.
"Recast, Reshot, Reclaimed" – This piece follows the unprecedented recasting of the character J. Paul Getty a little over a month before the film's theatrical release.
"Dead Man" (Criterion)
Jim Jarmusch is one of my favorite filmmakers even if his beloved postmodern western with Johnny Depp was never a film that really worked for me. It seems like Roger had a similar love-hate relationship with Jarmusch over his career, giving him plenty of positive reviews, including four stars for "Mystery Train" and "Broken Flowers," while also hating "The Limits of Control" and this film, which he gave only a star and a half. When I saw it for the first time, I felt similarly to Roger in that Jarmusch's approach felt more half-baked than the deep philosophy some see in this project. Being given the chance to revisit the film by Criterion, I'm now somewhere between Roger's original opinion and those who adore "Dead Man," able to appreciate how it fits into Jamrusch's career but still not completely won over. However, this is a great edition for those of you that are. Maybe I'll join you in another twenty years.
Special Features
New 4K digital restoration, supervised and approved by director Jim Jarmusch, with 2.0 surround DTS-HD Master Audio soundtrack
New Q&A in which Jarmusch responds to questions sent in by fans
Rarely seen footage of Neil Young composing and performing the film's score
New interview with actor Gary Farmer
New readings of William Blake poems by members of the cast, including Mili Avital, Alfred Molina, and Iggy Pop
New selected-scene audio commentary by production designer Bob Ziembicki and sound mixer Drew Kunin
Deleted scenes
Jarmusch's location scouting photos
PLUS: Essays by film critic Amy Taubin and music journalist Ben Ratliff
Before the release of his latest action film, a few critics were discussing the career of Gerard Butler, and trying to find the highlights. The funny thing is that he's always been an actor I relatively liked, but he picks BAD projects, from "The Ugly Truth" to "The Bounty Hunter" to "Geostorm." It feels like he's struggled to find what's next but he really works as a cop on the edge in the relatively smart and tense "Den of Thieves," a movie that's been compared to "Heat" because of its plot and length. Even if it doesn't have nearly the depth of that Michael Mann classic, it's a better movie than its release date may have suggested to you, anchored by good work from Butler and O'Shea Jackson Jr. It's WAY too long, but it's the kind of thing that's easy to watch at home, and lands nicely with a twist that I honestly didn't see coming. It's the kind of thing I expect will play on basic cable channels like TNT for the next twenty years.
Special Features
Alternate Ending
Alpha Males – The cast describes how the tough characters in the film blur the lines between the good guys and the bad guys.
Into the Den – Director Christian Gudegast and the cast describe the two brotherhoods within the film, the renegades and the outlaws, and their unique sets of skills.
Alameda Corridor – The cast and director discuss filming the intense scene that take place on the streets of L.A. and the extensive weapons training it took to film it.
Outtakes and Deleted Scenes
Audio Commentary with Director Christian Gudegast and Producer Tucker Tooley
Den of Thieves Theatrical Cut
"Hostiles"
One of the more interesting business stories out of TIFF this year was this high-priced western from the director of "Crazy Heart" and "Out of the Furnace." Most critics and potential distributors seemed to agree that it was solid enough to warrant an awards season run, especially for the very-good Christian Bale, but the film cost way more than most companies were willing to pay for it. What happens when the Oscar bait is too expensive for studios who win Oscars? That may be too inside baseball for those of you just looking for whether or not you should rent or buy this, so I'll just offer a mild recommendation. The performances are excellent throughout and Cooper has a good sense of the genre, but it's too long and takes itself way too seriously to really register outside of hardcore western fans. Maybe that's the real reason it took so long to sell.
Special Features
"A Journey to the Soul: The Making of Hostiles" 3-Part Documentary
-"Provenance" Featurette
-"Removing the Binds" Featurette
-"Don't Look Back" Featurette
Studio Ponoc's first film is based on "The Little Broomstick" by Mary Stewart and directed by Hiromasa Yonebayashi, who helmed the excellent "When Marnie Was There." As companies like Ponoc try to usher in the era of Japanese animation that hopes to entrance audiences as much as the work of Studio Ghibli and Hayao Miyazaki, there are bound to be a few stumbling blocks, and I have to say that this isn't quite a "block" but it's definitely lesser than some recent GKids offerings. It's one of those films about which it's easy to say "It looks great, but…" The style and animation here is typically phenomenal, with great character design and detail, and that may be enough for you. On the right day, it's enough for me. On the particular day I watched this, I was too often narratively reminded of better films. It really just made me want to go watch "Spirited Away" again.
Special Features
Japanese and English audio tracks for the main feature
NTV Special: Creating Mary and The Witch's Flower
A Special Conversation: Sekai No Owari, Hiromasa Yonebayashi, and Yoshiaki Nishimura
Film Completion Press Conference
Theatrical Promotional Movie
Interview with the Filmmakers
Trailers
TV Spots
The world would be a nicer place if there was a Paddington movie released every other year. The follow-up to one of the most charming family films of the last ten years is almost equally charming, featuring the return of everyone's favorite bear in an adventure that takes him behind bars and includes a wonderfully villainous performance from Hugh Grant. The message of the Paddington films feels more urgent than ever in 2018: that just being good to people around you can make an entire community better. Kindness is contagious. These are sweet, funny, smart movies that don't talk down to kids, providing them with just enough physical humor for the lessons to never get boring. I hope they make a dozen of them.
Special Features
Paddington: The Bear Truth
How to Make A Marmalade Sandwich
Music Video with Phoenix Buchanan
The Magical Mystery of Paddington's Pop-Up Book
The Browns and Paddington: The Special Bond
Knuckles: A Fistful of Marmalade
The (Once) Famous Faces of Phoenix Buchanan
Audio Commentary by Director/Co-Writer Paul King
One of the most shocking box offices surprises of 2018 so far is this relatively massive Sony hit. It was even the subject of a quick Film Twitter shock when someone asked what the #2 film of the year was (pre-Infinity War) and it turned out to be this relatively standard kiddie flick. The cynic in me could point to the $325 million plus worldwide gross here as more proof that people love known brands and this was a familiar name to them. But it's also a more entertaining film than I think people expected, the kind of movie that you can use to distract your little ones without feeling like you're rotting their brains. And that's often what parents are looking for. It's no "Paddington 2," but it gets the job done.
Special Features
Peter Rabbit: Mischief in the Making
Shake Your Cotton-Tail Dance Along
"The Virgin Suicides" (Criterion)
Sofia Coppola's debut film was a true event in arthouse cinema in 1999 (when it premiered at Cannes) and 2000 (when it opened stateside). I was a huge fan of the Jeffrey Eugenides book on which it was based, loved the Air soundtrack, and adored the film when I finally got a chance to see it. Almost twenty years later, it's held up remarkably well, finding something mysterious and true about youth that so many other similar films completely miss. It's dreamlike and yet dangerous at the same time, a startling formal accomplishment for a young debut filmmaker, and Coppola has fulfilled on that promise with works like "Lost in Translation," "Marie Antoinette," and "The Beguiled." I hope they all end up in the Criterion Collection someday.
Special Features
New 4K digital restoration, supervised by cinematographer Ed Lachman and approved by director Sofia Coppola, with 5.1 surround DTS-HD Master Audio soundtrack
New interviews with Coppola, Lachman, actors Kirsten Dunst and Josh Hartnett, author Jeffrey Eugenides, and writer Tavi Gevinson
Making of "The Virgin Suicides," a 1998 documentary directed by Eleanor Coppola and featuring Sofia Coppola; Eleanor and Francis Ford Coppola; actors Dunst, Hartnett, Scott Glenn, Kathleen Turner, and James Woods; Eugenides; and more
Lick the Star, a 1998 short film by Coppola
Music video for Air's soundtrack song "Playground Love," directed by Coppola and her brother Roman Coppola
Trailers
PLUS: An essay by novelist Megan Abbott