Grade separation will give motorists relief at 50th Street rail crossing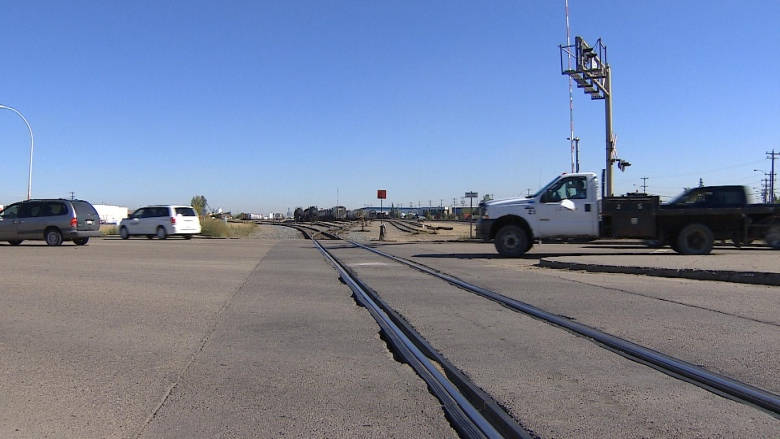 Edmonton motorists long frustrated by regular traffic delays on 50th Street can now look forward to a day when their trip will no longer be delayed because of a Canadian Pacific Railway train.
The City of Edmonton, Alberta and the federal government announced Tuesday an $87.5-million project to improve traffic flow along the 50th Street corridor.
The city hasn't decided if the separation will be an underpass or an overpass, a spokesperson said.
"The 2010 plan included a recommendation for an underpass, but the project team is currently reviewing the possibility of an above-grade separation as well," city spokesperson Dale Shekooley said in an email.
Mayor Don Iveson, currently in Singapore, tweeted that motorists can expect an overpass.
"We're building a 50th Street overpass," Iveson said in a post Tuesday on Twitter.
The traffic-flow improvement project is something Iveson has been pushing for since he was elected to city council in 2007.
"This is a huge day for our city," Iveson said in a video he tweeted.
"Now we don't have to wait for the … train any more."
I've been waiting 5 years to tweet this: NO MORE TRAIN 🚂 WE'RE BUILDING A 50TH STREET OVERPASS! <a href="https://t.co/7C8glQiWw1″>https://t.co/7C8glQiWw1</a> <a href="https://twitter.com/hashtag/yegtraffic?src=hash&amp;ref_src=twsrc%5Etfw">#yegtraffic</a> <a href="https://twitter.com/hashtag/yegcc?src=hash&amp;ref_src=twsrc%5Etfw">#yegcc</a> <a href="https://t.co/A4XIvWvFFi">pic.twitter.com/A4XIvWvFFi</a>

&mdash;@doniveson
Other improvements include widening 50th Street to six lanes between 76th Avenue and 90th Avenue.
The federal government will contribute $39.8 million towards the project. A contribution of $28.3 million from the Alberta government was previously announced. The city will cover the remaining $19.4 million
A road is proposed to be built under the railway crossing at 50th Street, north of the Sherwood Park Freeway. (CBC)
The city requested funding for the project in part because the 50th Street railway crossing is at the top of the priority list when it comes to grade separation issues in the city. Motorists, businesses and city councillors have long complained about the area.
"We know traffic delays are frustrating and expensive," said Alberta Transportation Minister Brian Mason. "That's why we are making this investment to get traffic moving safely and efficiently."
The city will hold a public information session on the project on June 26 at The King's University, from 5 p.m. to 8 p.m.