Gas prices spike and Canadians keep filling up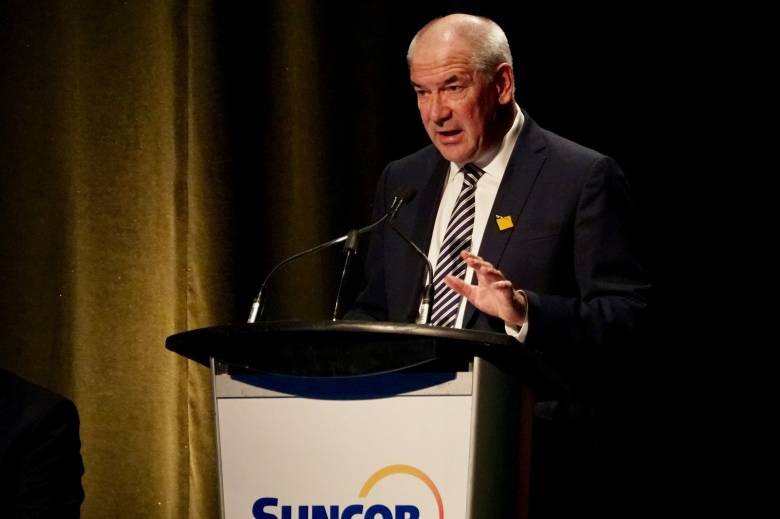 Gas prices keep climbing across the country, yet Canadians show no sign of slowing down how much gas and diesel they pump into their cars and trucks.
Pump prices have jumped almost 20 cents per litre across Canada over the last three months for regular gasoline and are expected to continue rising this summer.
On Wednesday, a litre of gasoline was more than $1.60 at some stations in Vancouver.
Suncor, the parent company of Petro-Canada, announced on Wednesday record volume sales at its retail and wholesale operations in Canada. Even with drivers griping about ever-increasing fuel bills, they show no sign of cutting back on their travels.
"We're not seeing it. We're not seeing it at the moment," said Steve Williams, Suncor's CEO after the company's annual general meeting in Calgary. "Demand from customers continues to be robust." 
Suncor CEO Steve Williams said retail fuel sales at Petro-Canada hit a record high in 2017. Vehicle sales also hit a record last year. (Kyle Bakx/CBC)
At some point, Williams says customers will react when prices climb too high, just as they usually drive more when prices fall significantly. 
But he doesn't seem to think current prices will impact sales.
"It's possible," he said. "We watch it closely."
When drivers do decide to change their behaviour, it's usually only for a short period of time before they return to their normal travel patterns. That explains why between 2012 and 2016, when oil prices spiked and then crashed dramatically, gasoline sales in Canada were relatively unchanged.
Vehicle sales hit record
Vehicle sales hit a record in 2017, largely because of people buying trucks and SUVs. Meanwhile, passenger car sales hit their lowest level since 1964.
"One of the things we have found in our research is that consumers change their buying behaviour for about three months when gas prices rise," said Rebecca Lindland, an auto analyst with Kelley Blue Book, a vehicle valuation company based in Irvine, Calif.
"So they will go to a smaller vehicle but then after about three months, people start buying bigger cars again. And they buy a car that meets their long-term wants and needs versus the short-term pain of paying a little bit more at the pump." 
Summer driving season, weak loonie at play
Reasons behind the price spike are plentiful, including that oil prices are at a three-year high, the loonie is weak against the American greenback, and the summer driving season is just underway.
The oil industry in general doesn't seem concerned that rising oil prices will impact demand on crude around the globe.
"I hear people starting to talk about what if we get to $80 or $90 on Brent [crude oil], what will that do for demand? It's still unclear at this stage," said Martin King, a commodities analyst with GMP FirstEnergy, an energy-focused investment bank in Calgary. 
"Right now, pricing at $70, possibly $80 possibly $90 may not have that big of impact on demand simply because income has grown so much in the last 10 years since the great recession."