Fire forces evacuation of Pauingassi, Little Grand Rapids First Nations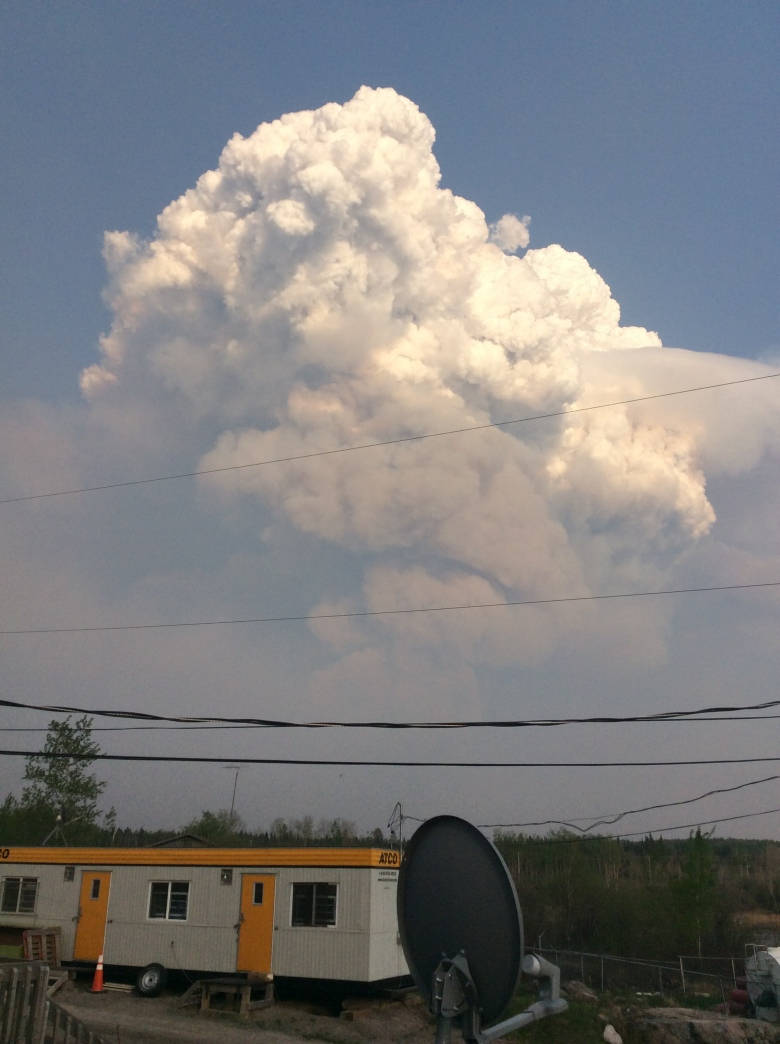 The Red Cross is evacuating members of Pauingassi First Nation on Wednesday as tinder-dry conditions and wildfires continue to threaten several Indigenous communities in Manitoba.
Pauingassi officials called an evacuation overnight due to a wildfire nearing the community, Red Cross spokesperson Jason Small said.
On Wednesday, crews were expected to start helping move people to Winnipeg from the community, about 280 kilometres northeast of Winnipeg and 15 kilometres north of Little Grand Rapids.
A 7,000-hectare fire forced more than 50 Little Grand Rapids residents to leave Tuesday night for Winnipeg, and Small said that evacuation will continue Wednesday.
Blair Owen says power is out in Little Grand Rapids Wednesday morning as wildfire smoke fills the air over the community and nearby Pauingassi First Nation. (Submitted by Blair Owen)
Four Interlake and eastern Manitoba First Nations have been evacuated in recent days, including Sapotaweyak Cree Nation, more than 400 kilometres northwest of Winnipeg along the shores of the northern basin of Lake Winnipegosis.
"We're working very closely with the leadership of all the First Nations just to make sure that the people who are being evacuated have what they need, and that we can get everybody out as quickly and safely as possible," said Small.
Sapotaweyak went from a partial to a full evacuation between Sunday and early this week. More than 660 evacuees are staying in hotels in Brandon, Swan River and The Pas, said Small, and that number is expected to go up.
The evacuation order remains in place, and the only people left are helping with the emergency response and firefighting efforts, said Small.
Southeast of Sapotaweyak, an evacuation order was lifted for Kinonjeoshtegon First Nation (also known as Jackhead), 225 kilometres north of Winnipeg, and the surrounding area. A small number of people were forced to stay in Winnipeg overnight but will head home Wednesday, Small said.
Two homes were evacuated and school closures remain in effect in Ashern and the rural municipalities of West Interlake and Grahamdale, where states of emergency were declared Monday. Ashern is about 170 kilometres northwest of Winnipeg in the Interlake area.
Kyla Klatt, emergency co-ordinator for Grahamdale, said Highway 6 is closed as fires in the area are not yet under control.
She said people should stay out of the area.
"They will not be let through, and please, no sightseers," she said. "They just get in the way of our firefighters doing their job."
Burn bans remain in effect for much of south, central and eastern Manitoba as some areas are in the grips of one of the driest springs in years.
There have been 163 wildfires in Manitoba this spring; the average for this time of year is 100.
The Red Cross doesn't accept clothing or food donations for fire evacuees, but Small welcomed anyone who wants to help to make financial donations online for future disaster relief and evacuation efforts.
"We just ask people, we know that they've got good hearts, but we are not taking donations of goods at this time," he said, encouraging people to sign up to volunteer online.​
More from CBC Manitoba: