Exhaustion, concern and relief on board first Hercules airlift for Manitoba fire evacuees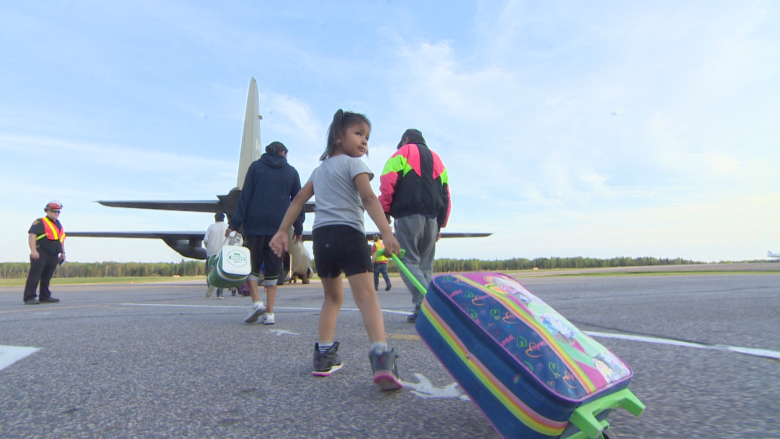 Passengers on board the first military Hercules aircraft carrying residents from a fire-threatened Manitoba community were exhausted but relieved to be heading to safety Wednesday evening.
Sixty people were crammed along the length of the aircraft, many with small children sleeping on their laps. There was little conversation over the mechanical roar of the four huge propellers on the plane.
Many of the passengers had been waiting more than 48 hours to leave their community of Little Grand Rapids, Man., forced out by a fire nearly half the size of Winnipeg that started on Monday.
"I'm happy to get away," said Leena Leveque, shortly before takeoff.
Leveque and the group on the plane had been flown by military helicopter to Red Lake, Ont., more than 150 kilometres from Little Grand Rapids. Armed Forces officials said Wednesday that Red Lake's is the closest available airport that can accommodate the 88-seater CC-130 Hercules carrying evacuees to Winnipeg.
In total, the military airlift operation hoped to bring more than 800 people to safety from Little Grand Rapids and nearby Pauingassi First Nation.
"I'm relieved, really relieved," said James Eischen, another passenger on board the Hercules.
Initial reports say 11 homes have been damaged by the fire. Eischen doesn't know if his home is one of them.
"I won't know until a couple days later, I guess. Somebody will tell me later, I hope."
A young girl drags her suitcase toward a CC-130 Hercules in Red Lake, Ont., to be flown to Winnipeg after forest fires threatened Little Grand Rapids and Pauingassi First Nations in Manitoba. (Tyson Koschik/CBC)
The fire, which was human-caused, started around midday on Monday, a provincial official said Wednesday.
'It was terrifying'
Evacuations started Tuesday night with local airlines, co-ordinated by the Canadian Red Cross. The federal government's assistance was requested Tuesday evening and approved by early Wednesday morning.
Rescue efforts had to stop overnight Tuesday due to smoke and darkness, with hundreds of residents spending the night in the gym of the Little Grand Rapids School.
"From my point of view it was terrifying," said Chad Duck, a resident of the community who was flown to St. Andrews Airport by Amik Aviation on Wednesday evening.
"Last night, we had a panic. We were at the airport last night and it was — the fire was not even a mile away, I believe. And we were just thinking, 'Oh crap, how are we going to get so many people back on the reserve in time, when the fire's so close?'"
"It was pretty close," said Nicholas Dunsford, another resident, at St. Andrews Airport. "The smoke was flying all over, ashes going on my hair and my body, everywhere."
A small group gathers in Little Grand Rapids as the nearby forest fire spews ash and smoke into the sky. (Submitted by Theresa Eischen)
Many at the Red Lake Airport said they were happy to be getting out, but felt the rescue effort should have been put together more quickly.
"I think the government that orchestrated this let the people down," said Jeanette Brown, a community respite worker. Brown said she thinks the band and provincial government should have seen the danger coming sooner.
"We were at the airport last night, had to turn around and go back to the school and stay for the night."
30 minutes on the ground
After a short briefing from the Hercules' load master, the evacuees loaded onto the aircraft.
Watch footage of the fire in Little Grand Rapids:
All told, the plane was on the ground less than 30 minutes before making the hour-long flight. Buses waited on the tarmac to take evacuees to Red Cross shelters in Winnipeg.
Walking off the plane, Joseph Owen looked relieved, but said he doesn't know when he'll be able to go home or what he'll go back to.
"Our house is all right, a couple of houses got burned down," he said. "I feel happy to be here."
As long as conditions permit, the airlifts will continue through Thursday. It could take more than a dozen trips to get everyone out.
More from CBC Manitoba: