Edmonton collisions, traffic fatalities up in 2017, report shows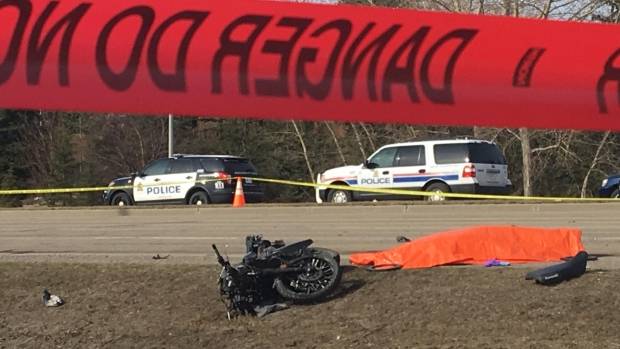 Edmonton saw an increase in traffic collisions and road deaths last year compared to 2016 but fewer collisions involved pedestrians, cyclists and motorcyclists, a new report shows.
On Friday, the City of Edmonton published Motor Vehicle Collisions 2017, an annual count of collisions and related statistics in the city.
The report shows that total collisions increased 3.3 per cent year over year, from 23,139 in 2016 to 23,906 in 2017.
Injury collisions increased from 2,656 in 2016 to 2,710.
27 traffic deaths in 2017
Twenty-seven people died last year as a result of traffic collisions in Edmonton, up from 22 in 2016.
The victims last year included 13 vehicle occupants (nine drivers and four passengers), nine pedestrians, four motorcyclists and one cyclist.
Last year also saw 341 major injuries and 3,048 minor injuries.
Pedestrian collisions fell from 292 to 270, bicycle collisions dropped from 171 to 143 and motorcycle collisions decreased, from 191 to 154.
The report's information is from data collected from Edmonton Police Service collision reports.
Information fuels Vision Zero plan
"We track and share this data so we can help find ways to prevent fatalities and serious injuries," Gerry Shimko, executive director of the city's Traffic Safety section, said in a news release.
The data is used to help decide priorities for the city's Vision Zero strategy, from left-turn only signals to crosswalks and education campaigns, Shimko said.
Vision Zero is the city's long-term goal to reach zero traffic-related major injuries and fatalities.
The 70-page report says following too closely was the most common cause of collisions, accounting for more than 37 per cent of the total.
December was the worst month for collisions. Fridays were the worst day of the week for collisions overall but the most fatal and injury collisions happened on Mondays.
Weekdays saw the highest numbers of collisions during morning and afternoon peak travel times.
On weekends, collisions peaked during the mid-afternoon. Collisions during the overnight hours were also more prevalent on weekends.
Of the total 23,906 collisions last year, 13,924 occurred in intersections.
Top intersections for collisions in 2017:
107th Avenue/142nd Street traffic circle (89)
Yellowhead Trail/149th Street (81)
23rd Avenue/91st Street (68)
34th Avenue/91st Street (65)
Yellowhead Trail/97th Street (61)
167th Avenue/97th Street (60)
137th Avenue/97th Street (56)
Yellowhead Trail/Fort Road (56)
34th Avenue/Gateway Boulevard (56)
Yellowhead Trail/127th Street (55)
118th Avenue/Groat Road (55)
Rabbit Hill Road/Terwillegar Drive northbound (55)