Ebola outbreak in Congo not declared an emergency: WHO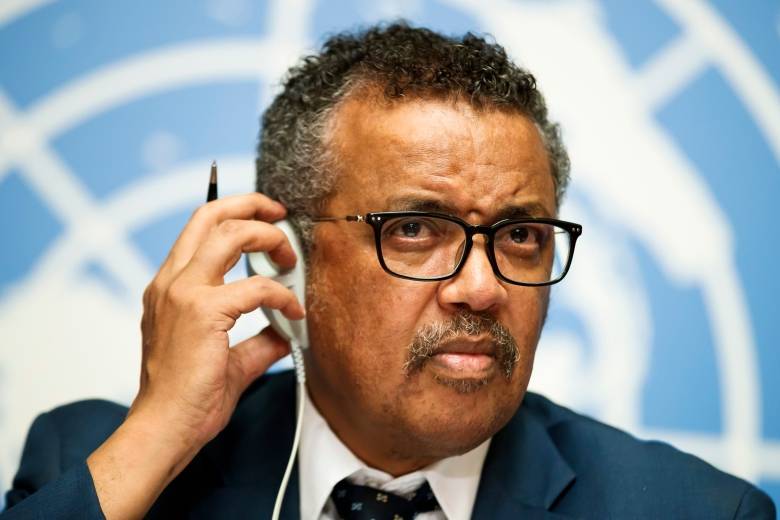 The World Health Organization has stopped short of declaring the Ebola virus outbreak in Congo that's killed 25 people a public health emergency.
The declaration of a "public health emergency of international concern" conveys that the outbreak is a priority to mobilize resources immediately to curtail further spread.
Dr. Robert Steffen, who chaired WHO's expert meeting, said there was "strong reason to believe this situation can be brought under control."
Congo's Health Ministry announced the first cases in Bikoro, a rural area, last week. Since then, a single case was confirmed in Mbandaka, a densely populated provincial capital on the Congo River, as well as another health zone.
The city of almost 1.2 million is on the Congo River, a crucial travel corridor in the vast country and upstream from the capital, Kinshasa, a city of about 10 million.
WHO's emergency committee has seen the whole picture beyond the one confirmed case in Mbandaka, adding the situation is a concern, said Tedros Adhanom Ghebreyesus, WHO's director general.
From April 4 to Thursday, the country had 45 cases, including three health-care personnel and 25 deaths. There have been 14 cases confirmed so far.
Key challenges include:
The risk of rapid spread following the urban case.
Several outbreaks in remote and hard to reach areas.
Infections in health care workers.
In its deliberations, the committee also considered the rapid and comprehensive response from Congo's government, WHO and partners, as well as the measures that have already been made, such as enhanced surveillance and deploying mobile laboratories.
Tedros Adhanom Ghebreyesus, director general of the World Health Organization, said Congo needs support for its Ebola outbreak, but he decided against declaring it a public health emergency of international concern. (Valentin Flauraud/Keystone/Associated Press)
Health experts are working to treat those infected and to trace contacts of those exposed to the virus, but they may need to drive for hours by motorcycle to reach people.
Ebola is an infectious illness that causes internal bleeding and often proves fatal. It can spread rapidly through contact with small amounts of bodily fluid, and its early flu-like symptoms are not always obvious.
Vaccine and treatment options
WHO has sent 7,000 doses of an experimental vaccine to try to stop the outbreak, and 4,000 doses have already arrived in Kinshasa, the capital.
Vaccinations are expected to start as early as Sunday, beginning with health-care workers in Mbandaka. WHO said the plan is the start with a ring of about 50 contacts for every confirmed case and then work out from there. It adds up to 8,000 to 10,000 people for the first phase of vaccinations.
The UN public health agency head said it will rely on basic infection prevention and control measures rather than relying on the vaccine alone. While the vaccine has previously been found to be safe and efficacious in a clinical trial in West Africa, it is not yet licensed for use.
It is likely Congo's government will approve using the experimental ZMapp treatment for Ebola in the coming days, said Peter Salami, WHO's deputy director-general of emergency preparedness and response. The drug is given intravenously and needs to be closely monitored by health-care workers, making it complex to administer in remote areas, Salami said.
Delivering care, especially early on, was a challenge when West Africa's Ebola epidemic began in 2013.
How to help people survive
West Africa's outbreak challenged the notion of an Ebola infection as a certain killer, said Dr. Rob Fowler, a critical care physician in Toronto who went to Guinea during the first recognized days of its outbreak.
"Previously people would have thought that if you're infected with Ebola, you're destined to die and what we learned in the last outbreak is that's not at all the case," Fowler said in an interview. "If you can treat people and provide enough resources for those that are infected, you can usually help people survive."
Overall, about 20,000 to 30,000 people were infected in West Africa. Initially, West Africa's mortality rate was about 70 to 80 per cent. As people and resources were mobilized to care for patients, survival greatly improved.
"The difference between 80 per cent of those people dying versus 18 per cent of those people dying, that's an enormous weight to try to get off your consciousness if you think they didn't need to die," Fowler said.
Canada is working on a demonstration system to offer that type of care under hot and humid conditions, Fowler said.
Congo is one of the countries with experience in handling Ebola outbreaks and is in the position to respond quickly, despite limited materials and personnel, he said.
WHO has issued a financial appeal to governments for $26 million US over three months. So far, $9 million has been pledged or committed.
Tedros said the amount may sound like considerable sum but the Ebola response in West Africa cost $3 to $4 billion. For a relatively small amount, Congo's outbreak could be stamped out for a major gain in lives saved as well as dollars saved
This is the ninth Ebola outbreak in Congo since 1976, when the deadly disease was first identified.