Cannes Film Festival 2018 Preview: The Top Films Competing For the Palme d'Or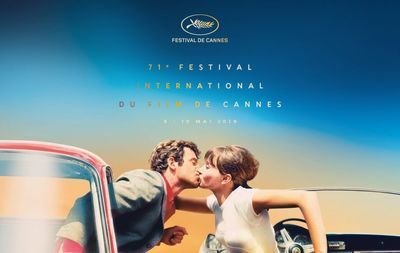 The 71st Annual Cannes International Film Festival opens on May 8, but don't expect any post-70th-anniversary hangover from this sprawling mash-up of highbrow film competition, party mill, and trade show, as there's yet another milestone date in the offing. It's the 50th anniversary of 1968, the year when a clutch of French New Wave filmmakers spearheaded by Jean-Luc Godard, Claude Lelouch, and Francois Truffaut, succeeded in shutting down the festival five days early, in solidarity with student and worker demonstrations and strikes erupting in the streets of Paris. In Cannes, revolutionary shenanigans were in the air, and included Godard's famous stunt of hanging on the curtains in the old, long-gone Palais in an attempt to prevent them from opening. In the true spirit of the always and unapologetically glamorous festival, Lelouch reportedly answered the call of the proletariat by arriving on his yacht.
It remains to be seen how, or if the festival will recognize the anniversary. Significantly, it's pre-revolution kissy-face Godard rather than the man-the-barricades firebrand represented by this year's official festival poster featuring a wholehearted romantic smooch between Jean-Paul Belmondo and Anna Karina from his "Pierrot le Fou." Godard's latest film "The Image Book," will play in competition. Little information is leaked, but a short cryptic description on the web site of the film's sales agent notes, "Like a bad dream written on a stormy night." Well, if a Cannes track record or New Wave nostalgia mean anything, Godard might be the one to beat for the Palme d'Or. Despite his venerable status, he's never won the Palme, and it would make quite an anniversary gift for the still blazingly experimental 87-year-old curmudgeon.
In this year of #MeToo, the competition jury of nine is headed by Cate Blanchett, and includes four additional women, a first for male-dominated Cannes. The lack of representation by women directors in the competition is perennially a hot topic, with between none and three being the norm. This year, three films by female directors have been announced for the competition, a scant number on par with 2017.
Speculations abound as to how this female majority jury will view the lineup. The Palme d'Or has only once gone to a woman—Jane Campion in 1993, for "The Piano." Among this year's female contenders, Italian Alice Rohrwacher could be the frontrunner with her "Happy As Lazzaro," a time-traveling tale starring Nicoletta Braschi and Sergi Lopez. Rohrwacher's "The Wonders" was awarded the Jury Prize in 2014, and her "Corpo Celeste" competed for the Camera d'Or in 2011. Many a jury decision over the years has served as a defiant antidote to advance rumors, predictions and alleged inside information.
There is already a have and have-not aspect to this Cannes, based on pronouncements from on high, i.e. artistic director Thierry Fremaux. The festival will not have a special out-of-competition screening of the long unfinished and greatly anticipated Orson Welles film "The Other Side of the Wind." A ruling against films without theatrical distribution effectively banned Netflix product, of which the Welles film is one.
While he was on a roll, Fremaux also banned selfies from the red carpet, a move that may ultimately inspire a greater howl of international protest than anything to do with film. Meanwhile, the festival will have "The House That Jack Built," the new film by the presumably rehabilitated Danish director Lars von Trier, a former Palme winner for "Dancer in the Dark," and all-around volatile bad boy who was banned from the festival in 2011 after a controversial remark concerning Hitler.
On opening night on May 8, two-time Oscar winner Asghar Farhadi ("The Salesman," "A Separation") will walk the red carpet with his Spanish stars Penelope Cruz and Javier Bardem, to present the family drama "Everybody Knows," a Spanish/French/Italian co-production shot in Argentina. This will be a milestone for Iranian cinema, the first time an Iranian director will open the festival, albeit with a film that appears to have a foot in many cultures.
The competition lineup of 21 films is studded with well-known names—directors with long production histories and scores of awards behind them. This is part of the glittering allure of Cannes, the seeming promise that masterpieces by the world's most respected filmmakers await. When it comes down to the actual viewing, hopes may evaporate in disappointment and surprises abound. Big names can deliver bloated duds, while a newcomer comes out of the shadows to win the day.
The U.S. is represented in the competition by two films. Spike Lee's "BlacKkklansman" starring John David Washington and Adam Driver, a drama about a black detective who infiltrates the KKK, sounds as risk-taking as its provocative title. The much-honored, Oscar-nominated director has not been a regular presence at Cannes since the first decade of his career, when he made his debut on the Riviera with "She's Gotta Have It" in the Directors Fortnight section of the festival. David Robert Mitchell is in competition for the first time with "Under the Silver Lake," a comedy/mystery set in the trendy L.A. neighborhood. In previous years he was selected for the Critics Week festival sidebar with "The Myth of the American Sleepover" and "It Follows."
Hot contenders for prizes are likely to include Italy's Matteo Garrone with his urban Western "Dogman." In the past, Garrone won the Jury Prize for both "Gomorrah" and "Reality," although his farcical 2015 "Tale of Tales" came away with nothing. Speculation of awards is sure to start immediately for "Cold War," a star-crossed love story by Pawel Pawlikowski, 2015 Oscar-winner for "Ida," and for "At War," by French director Stephan Brize, starring Vincent Lindon, who won Best Actor for Brize's 2015 "The Measure of a Man."
Whether or not Iranian Jafar Panahi wins a prize for his road movie "Three Faces," in his first time in Cannes competition, much international attention and sympathy will accrue to the director of films including "This Is Not a Film" and "Crimson Gold." He is still working under house arrest in Tehran, and continuing to make films by subterfuge despite living under his government's twenty-year ban on filmmaking.
Japan, South Korea, and China all have a shot at the Palme, with films by three Cannes veterans and one newcomer. South Korea's Lee Chang-dong has been in competition twice before, with "Secret Sunshine," winner of Best Actress, and "Poetry," winner of Best Screenplay. His new "Burning" is based on a Haruki Murakami short story. China's Jia Zhang-ke may surprise us with a different take on the gangster film, with "Ash Is Purest White." Each of his previous five films at Cannes, including Best Screenplay-winning "A Touch of Sin," provided a panoramic and sharply insightful look at changing China.
Japanese director Hirokazu Kore-eda has been a presence at Cannes since 2001, with films alternating between the competition and the "A Certain Regard" sidebar of the festival. He's known for his poignant family dramas including "Like Father, Like Son" and "After the Storm." He appears to be staying true to type with "Shoplifters," the story of a child groomed to be a thief.
A champion in terms of Cannes longevity, and with hefty awards to show for it, is Turkey's Nuri Bilge Ceylan, competing for the Palme with "The Wild Pear Tree," a father-son story of an aspiring writer. In a sense, he'll be competing with his own impressive record. Ceylan won the Palme for "Winter Sleep" in 2014, Jury Prizes for "Once Upon a Time in Anatolia" in 2011, and "Distant" in 2014, and Best Director in 2008 for "Three Monkeys."
In yet another new administrative ruling, the festival has dictated that this year that press screenings will take place only after the red carpet premiere, rather than before the premiere, as in the past. The intent is to forestall the hisses or praise of the international press so that directors, producers and stars can enjoy their moment of criticism-free glory. They can delay the opinions but they can't stop them; there's no doubt that the festival's more than 4,000 accredited press, sometimes a raucous and irreverent lot, will have their say in the end.
Finally, the festival's least-publicized jury is made up of cats, and once again I will be awarding my fantasy prize the Palme des Whiskers for Best Feline Performance at the end of the festival, with the help of the pampered pets of some noted film critics. In this cats-only zone, where selfies, cat-oriented spoilers, and red carpet hijinks are all highly encouraged, there will be fun and games and a lighter look at festival films—look for it on the last day.