Cannes 2018: Under the Silver Lake, Burning, Sofia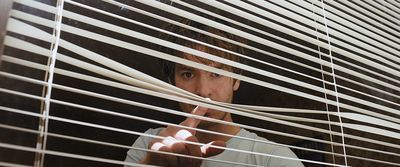 Walking around the streets of Cannes, it's evident that miniature dogs are the ultimate French totem. Small fluffy dogs with bright beady eyes are all over, and welcome everywhere—the bar and café, and even the department store and supermarket. There are stores that sell adorable little dog clothes—t-shirts, tuxedos, and coats, plus fancy collars, and canine-motif accessories for the doting owner.
Dogs are a sinister running theme in today's first Cannes competition entry, "Under the Silver Lake," by American director David Robert Mitchell ("It Follows"). The warning "Beware the dog killer" scrawled on a coffee shop window in big red letters is the first indication of the paranoia that permeates this glib, weird hybrid comedy rife with conspiracy theories.
Sam (Andrew Garfield) an unemployed slacker on the verge of being evicted from his L.A. apartment, passes the days smoking and lounging on his balcony, where he routinely spies on the topless neighbor on the balcony across the way. Sarah (Riley Keough), a pretty blonde in a floppy hat and white bikini, with a color-coordinated wriggly white dog, turns up at the pool below, and Sam contrives to get himself invited for a drink by bringing her pet a treat.
Dogs are not the only repeating motif in "Under the Silver Lake," although the canine reference does become more threatening, with brief shots of their ravaged bodies and dreamlike sequences of characters barking like dogs. Janet Gaynor, the Hollywood actress of the past, Kurt Cobain, and the film "Gentlemen Prefer Blondes," all have an emblematic presence.
Three Barbie dolls dressed as the actresses from "Gentlemen Prefer Blondes" stand in a row next to the TV where Sam and Sarah enjoy a tentative cuddle on her bed, and watch the film before her odd-looking roommates show up. The next morning, Sarah's apartment is empty, and Sam is in the grip of a major obsession to find her.
Director Mitchell gave supernatural horror a sexual angle in "It Follows." In "Under the Silver Lake," what first seems a goofy light foray into pop culture slackerdom with a hefty added dose of voyeurism, becomes a down-the-rabbit-hole exploration of the fantasy geography of an L.A. undermined by subterranean caverns and tunnels, and inhabited by cultists, theorists, ethereal female escorts, and homeless shamans, as coyotes roam freely.
Mitchell has Sam connecting a great web of clueless clues as he becomes entranced by a graphic novel titled "Under the Silver Lake." He meets its odd and soon-dead author, becomes convinced that the songs of a band called Jesus and the Brides contain hidden messages, and that the kidnap/murder of a mogul is the key to everything. It's like Hardy Boys for hipsters.
Some of the film's best scenes are ones in which edgy surrealist visuals dominate. A rooftop club with a spa theme and a Cirque du Soleil vibe gives away to an even more bizarre location, a secret concert in a cemetery mausoleum, from where Sam is led to an underground crypt club that connects to a maze of rocky tunnels. An eerie encounter with a madman of an ancient songwriter relieves Sam of some cherished illusions, the tears starting in his frightened eyes.
The chase begins to lag in this 139-minute film, with the pursuit of all things strange exhibiting its weakest manifestation when Sam gets closer to Sarah. Mitchell knows how to end Sam's story but he seems less sure how to connect the dots in the film's baroquely layered, fever dream of a plot.
A missing woman also figures in the story of "Burning," the competition film by Korean director Lee Chang-dong ("Poetry," "Secret Sunshine"), a slow-burning psychological drama that may or may not be a murder mystery when the would-be girlfriend of a rural deliveryman suddenly drops out of his life. Crime has existed on the fringes or at the center of other Lee films, but its place in the scattered and tentative plot of "Burning" is elusive. Lee implies much, to the very brink of certainty, but just as much is withheld.
Jongsu (Yoo Ah-in), a farmer's son with a degree in writing but no permanent job, has only reconnected with Haemi (Jun Jong-seo), a cute and perky childhood friend and aspiring actress, when she takes off on an extended trip to Africa, asking him to feed her cat. Spending time in her tiny apartment daily, Jongsu finds himself fantasizing about her. Haemi returns, but it is with new friend Ben (Steven Yeun), a wealthy young Korean man she met in the Nairobi airport.
An uneasy friendship triangle develops, with Haemi both innocent and foolish in flaunting her attraction for the Porshe-driving supercilious Ben, as Jongsu, sick with longing but sporting a perpetually blank look, is tolerated as the witness to their affair. The lovers drive out to the farm Jongsu works in the absence of his jailed father. In the film's only lyrical scene, Haemi, in the grip of a marijuana high, strips to the waist in the barnyard at dusk, and pantomimes a dance facing the sunset, as slow, sinuous jazz plays on the soundtrack.
This film has the characteristics of a murder mystery, and yet nothing is certain. A key memory from Haemi's childhood is called into doubt, and the legacy of Jongsu's own violent childhood becomes a factor. Is Ben a killer or simply an annoying prig? Is everything Jongsu sees and deduces actually real? Lee calls most of it into doubt, which makes for an unsatisfying film for an director.
The Un Certain Regard section of the festival debuted "Sofia," a first feature by Moroccan director Meryem Benm'Barek-Aloïsi. The story of a young woman who lives with her parents and is about to give birth to a child out of wedlock, this film appears for much of its running time to be a social drama meant to expose Morocco's arcane laws with regard to sex outside of marriage. Both partners in such a liaison are eligible for a mandatory jail sentence, ranging from three months to one year.
Sofia (Sara Elmhadi) a girl from an upper-class family, finally names a young working class man with whom she was only briefly acquainted, when forced by her parents to reveal the father. Despite the parents' horror and disgust, the only solution is to quickly arrange a marriage and produce retroactive paperwork, getting the law off their backs and saving the family reputation, just as a major lucrative business deal for Sofia's father is in the offing.
With a sullen trapped look, the baby's presumed father finally gives in to the marriage plan. Sofia herself has so far been portrayed as a frightened pawn. As the final touches are being put on the lavish wedding, she suddenly takes command of the situation, subjugating her hapless groom and turning the tables on her censorious parents when their daughter proves to be every bit their equal in cynical self-protection.
Director Benm'Barek-Aloïsi demonstrates storytelling talent, particularly when it comes to integrating class discrepancies. But her strategy of delaying a shattering plot twist until near the end softens the impact of choices that assure that Sofia's future will be bleak and loveless, even as she revels in her apparent triumph.