Cannes 2018: The Wild Pear Tree, plus awards predictions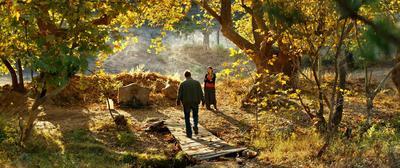 Cannes likes to keep things challenging until the end, so it was almost inevitable that the last competition title would be Nuri Bilge Ceylan's "The Wild Pear Tree"—at around 190 minutes, a relative breeze after Ceylan's 196-minute "Winter Sleep," which won the Palme d'Or in 2014. But "The Wild Pear Tree" is neither slow nor boring; like "Winter Sleep," it's a Chekhovian drama that takes its time to introduce and analyze the behavior of an arrogant, condescending protagonist, peeling back layers until we've understood the full breadth of his contempt.
Sinan (Aydin Dogu Demirkol), a recent college graduate, returns to his small hometown of Çan with a massive superiority complex. He longs to become an accomplished writer and to pen commercially unviable, hopelessly personal chronicles of Çan's culture, not exactly a subject dear to his heart. In one of the film's most drawn-out and funny sequences, possibly a dream, he seeks advice from a local author, introducing himself by arguing that it's good, strategically, to get to know the competition. The author tries, over and over, to politely brush him off.
In the meantime, Sinan is unemployed, and he is likely to follow in the footsteps of his father (Murat Cemcir) and become a teacher. (He takes the prerequisite test without bothering to prepare.) He is romantically unattached; in an early scene, he learns that a woman he knew from his youth (Hazar Erguçlu), who may have eyes for him as well, is about to move away and marry a jeweler. But her apparent affection is still a small victory, one he celebrates by getting into a brawl with her ex.
It wouldn't be a Ceylan film without lengthy philosophical and theological digressions, including a discussion on whether religion can ever adapt to modernity. The movie, shot by Ceylan's regular cinematographer, Gokhan Tiryaki, also has the director's customary digital splendor. Most shots in "The Wild Pear Tree" look as if Ceylan spent hours finding the perfect balance of sunlight and shadow for each frame.
Still, as with "Winter Sleep," the slender story of "The Wild Pear Tree" doesn't seem to cry out for an extreme running time; it's hard to escape the sense that Ceylan filmed an overlong draft to give his film the appearance of heft. "The Wild Pear Tree" is the title of Sinan's book, and his father, a gambling addict, likens their family to a pear tree's misshapen fruit. In some ways, his description also applies to this ambitious and lovely but imperfect film.
Speaking of gambling: With the Palme d'Or and other Cannes awards set to be announced tomorrow, it's time to place bets on what might win.
Palme d'Or: The Palme d'Or isn't intended to be a statement, except when it is. (Does anyone still think "Fahrenheit 9/11," which won the prize a little more than a year into the Iraq War, was the best film in the 2004 competition?) And from the beginning, the conversation at Cannes this year has centered on on gender equality. Last weekend, 82 women—one representing each female director who has been selected to compete for the Palme—rallied on the red carpet to protest the lack of women auteurs in the festival's main event. (By contrast, there have been 1,645 men in that time.) Nor has it escaped anyone's notice that, so far, Jane Campion is the only woman to have won a competitive Palme.
That doesn't mean the jury would award a movie simply because its director is a woman. It does mean that, in a year when enthusiasm is spread widely across half a dozen or more movies, having a female director might tip the scales in a particular good film's favor. So in a year with a pretty open Palme race, I'm giving an edge to "Happy as Lazzaro," a folklorish, offbeat riff on the raising of Lazarus. The director, Alice Rohrwacher, won the Grand Jury Prize in 2014 for "The Wonders."
Grand Jury Prize: Lee Chang-dong's "Burning." Critical sentiment doesn't always align with the jury's tastes; 2016's ecstatically reviewed "Toni Erdmann," for instance, went away empty-handed. But "Burning" pulled off a record 3.8 score out of a possible 4.0 in Screen International's poll of critics—eight perfect ratings and two near-perfects. Any film that inspires that kind of enthusiasm has to win something. Alternate: Nadine Labaki's "Capharnaüm," which many are predicting for the Palme.
Best Director: Spike Lee for "BlacKkKlansman," which to my eyes is his best dramatic feature since "25th Hour" if not "Crooklyn." The movie feels certain to win something; I'm just not sure what. In auteurist France, best director seems like a good way to simultaneously honor Lee's career (the jury may want to correct the Palme loss for "Do the Right Thing" in 1989) and the high-wire act he pulls off with "BlacKkKlansman."
Alternate: "Cold War," especially if the criterion is conspicuous style. Compressing 15 years of a relationship into less than 90 minutes, Pawel Pawlikowski's period anti-romance is shot in black-and-white in Academy ratio with the same off-kilter framing he brought "Ida." (Characters are often shot with extra headroom.) It's a strange choice, but you certainly notice it, and the film itself is widely liked.
Jury Prize: This is always a tough call because you never know quite what the award is going to be; sometimes it's merely third place, sometimes it's a way to send a message, as when Jean-Luc Godard and Xavier Dolan—an elder statesman and a younger director—shared the prize in 2014. Let's call it a shared award for the directors Jafar Panahi ("3 Faces") and Kirill Serebrennikov ("Summer"), who are both under house arrest.
Best Actress: Zhao Tao, from Jia Zhangke's "Ash Is Purest White," as a woman whose devotion to her gangster boyfriend lands her in prison—and then persists, in a different way, once she's outside.
Alternates: Samal Yeslyamova suffers through nearly every scene of Sergey Dvortsevoy's claustrophobic, Dardennes-like "Ayka," playing a Kyrgyz woman who, after giving birth, scrounges Moscow for money and medical care. Double alternate: Joanna Kulig in "Cold War."
Best Actor: Marcello Fonte, "Dogman." As a runty, good-hearted dog groomer who has a lapdog-like loyalty to a coke-snorting heavy who repeatedly lets him down, Fonte gives one of those charismatic performances that makes you wonder why the actor isn't an international star.
Best Screenplay: I haven't yet seen Hirokazu Kore-Eda's "Shoplifters," which I'm catching up with tomorrow, but everyone loves it, so I'm putting it here.
Tomorrow I'll have a full wrap post explaining why I always knew these predictions were wrong.