Cannes 2018: John David Washington on the Emotional Roller-Coaster of Spike Lee's BlacKkKlansman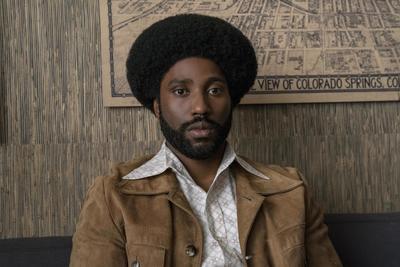 In Spike Lee's "BlacKkKlansman," which had its premiere in competition here in Cannes, part of the difficulty of playing Ron Stallworth is that Stallworth, an undercover police officer, is often a performer himself, playing different roles for different people.
The movie shows how Stallworth, the first African-American police officer in Colorado Springs, launched an undercover investigation into the Ku Klux Klan. To his fellow cops, he is a rookie whose ambition may exceed his abilities. To civil rights activists, he is an apologist for the police. And when he is talking to Klan members over the phone—his race hidden—he is regarded with suspicion.
Sometimes those worlds collide. In an early scene, Stallworth (John David Washington) is assigned to go undercover to report back to his police chief on a speech by Kwame Ture (previously Stokely Carmichael, the activist credited with coining the phrase "black power"). During Ture's speech, Stallworth is at once galvanized by the words and consciously holding back, knowing he's there not to rally with the crowd but to spy on it.
On a terrace at the Palais in Cannes on Wednesday, Washington—a former professional football player, a star of HBO's "Ballers," and a son of Denzel Washington—recalled the tension of stepping into Stallworth's shoes in that scene.
"In real life, that day, Corey Hawkins"—the actor who plays Ture—"what he did with that role was so transformative," Washington said. "Those were real reactions from me. I really was moved by what he was doing, and so it affected the character."
In the movie, while still concealing his identity as a police officer, Stallworth edges toward a romance with a student activist (Laura Harrier) who bristles at the "pigs'" treatment of African-Americans. Stallworth, as a black officer who believes he is fighting racism from within, has divided loyalties.
Washington discussed trying to tease out his character's motivations. "There are different types of support for your people," he explained. "Justice, that's what he stood for."
He added, "Like acting, undercover detective work requires a lot of performance. There's just more pressure because it's life-or-death situations."
The real Ron Stallworth made that point when the two of them conferred. "He kept saying, 'I'm an actor, too,' basically," Washington said.
"Some of his moves were motivated by emotions, but he was still able to stay cool, calm, and collected and do his job," he said. In the movie and in life, Washington said, Stallworth would talk with Klan members over the phone while a white cop (played by Adam Driver in the film), pretending to be Stallworth, would meet with them in person.
In "BlacKkKlansman," as Stallworth gets deeper into the investigation, he infiltrates higher levels of the Klan. Washington describes the phone conversations he shared with Topher Grace (who plays the Klan leader David Duke) as an "emotional roller-coaster." They play that way, too. To watch them is to be horrified at Duke's hate-filled rhetoric, to laugh at the fact that Duke doesn't realize he's he's being played, and to be incredulous that these scenes are based on real life.
Getting in the frame of mind for those phone conversation scenes, Washington said, was a matter of thinking through how Stallworth had done it. "I thought — the actor John David thought — 'This is the mission. I have to gain his trust,'" he said.
Although "BlacKkKlansman" seems poised to be a breakout role for Washington, he isn't new to working with Lee: He has vivid childhood memories of playing a small role in "Malcolm X" (1992) and doing five or six takes for "Uncle Spike."
Washington said he hadn't been in touch with the director recently when Lee he texted him about the role. (He's not even sure how he got the number. He said he didn't know if his father, who hasn't seen the film yet, had anything to do with that.)
Playing a '70s character also meant immersing himself in the pop culture of the era. "What really was most important for me, or most influential, was the music," Washington said. "I had a serious playlist, like a 400-song playlist of all-'70s music. That was basically my soundtrack to life throughout this journey. That really inspired even the way I moved."