Anishinaabe police officer walking across Canada for Indigenous youth mental health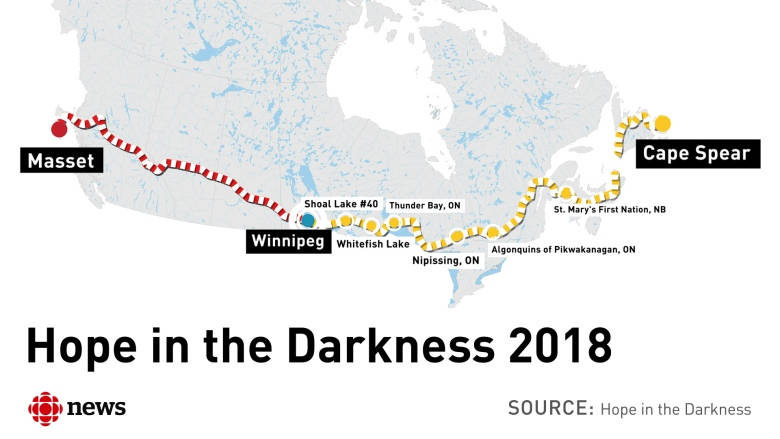 Less than a quarter of the way through his 4,633 kilometre walk, Kevin Redsky crested a hill near Port Aux Basques, N.L., and began to weep. He was eyeing the mountains in the distance, which he had climbed in days prior. 
"I was thinking about my family. Family that I've lost. I just broke down in tears," said Redsky.
Redsky's niece died of suicide in 2013.
"I definitely think about her every day." 
He's Anishinaabe originally from Shoal Lake 40 First Nation, and has been a member of the Anishnabek Police Service in northern Ontario for 15 years.
Now he's the driving force behind the Hope in the Darkness National Walk for Youth Mental Health. It's a not-for-profit initiative that aims to partner police officers with Indigenous youth to walk together across Canada and learn from each other's experiences with mental health crises. 
Anishinaabe police officer talks about his long walk for youth mental health 3:24
In naming the initiative, Redsky drew inspiration from lyrics in a song called Ghosts That We Knew, by British folk-rock group Mumford & Sons. The team has recently partnered with the band, making the song the "anthem" for the walk. 
Redsky left Cape Spear, N.L., the easternmost point in Canada, on April 1. Another team of officers will depart from Masset, B.C., in mid-May and the two groups plan to meet in Winnipeg. The groups are funding the walk themselves, with sponsors and a crowd funding campaign.
Along the journey to Winnipeg, Redsky and other officers will gather input from First Nations communities and share their stories with youth mental health networks. (CBC)
Along the way, both teams will hold talking circles at as many First Nations communities as possible, to gather input on mental health programs as well as feedback on improving relationships between Indigenous Peoples and police.
Meeting in the middle
If all goes according to plan, the teams will arrive in Winnipeg in August to celebrate the journey with a concert and share what they've learned with the Indigenous-led mental health network Strength in Continuous Change. Police departments across the country are providing safety escorts and participating in community marches. 
"We want to get people talking," said Redsky, during a stop in Nova Scotia on Friday.
"My personal experience, the struggles that my family has seen … we know we want to have those discussions because what's in existence now to treat mental health [issues] is not working." 
Anishinaabe police officer Kevin Redsky is walking from the East Coast to Winnipeg to raise awareness for youth mental health with his Hope in the Darkness initiative. (Nic Meloney/CBC)
Redsky said gaps in child welfare systems across Canada can exacerbate mental health problems, and vice versa. He said he hopes that gathering the stories of affected youth and their families will bring some "reality" to how mental health care is provided in Indigenous communities. As well, Redsky sees value in changing the perception of police in First Nations communities. 
"We've heard that police need to engage more, need to be in the school more," he said.
"Right now, youth seeing police show up, they automatically think someone's in trouble or they're going to be apprehended. We want them to feel comfortable sharing with us their needs and once we get those conversations rolling, we'll be on the same page and that's the goal."
Redsky said the issues of enhancing mental health care strategies and improving relationships with police go hand-in-hand. 
"We just want to be here to listen," he said.
A community welcome
"When we all see someone doing something like that, it makes us proud to be a part of it," said Gordon Pictou, municipal physical activities strategy leader at Millbrook First Nation in Nova Scotia.  
A few dozen people from the Mi'kmaq community welcomed Redsky and his team with a walking tour and meal. Redsky spoke at length with young people and their elders during the walk, and then gathered with them in a talking circle at a community hall. 
The Hope in the Darkness initiative hopes to gather input from communities on youth mental health programs and share with them mental health networks. (Nic Meloney/CBC)
Gordon Pictou said Millbrook, though a relatively affluent community in the region, struggles with many of the same mental health issues as most First Nations communities. For instance, intergenerational fallout from residential schools is still having impacts, he said.
"I think it's an issue for everyone to talk about," said Pictou, whose own children attended the talking circle with Redsky. 
"[The walk] highlights the need for our communities to have more of a national approach and conversation and strategy for mental health for youth, and all First Nation peoples."
Police attitudes can make a difference, says mom
Mi'kmaw Clarissa Sylliboy, a mother who said she's seen the "ins and outs" of the child welfare system and police engagement in Millbrook, spoke frankly with Redsky about how the attitudes of police can make an impact. 
"Having a police officer come in showing that he's a positive role model and he cares, is more than what we see in our own communities," said Sylliboy.
"For the most part, we don't see police officers that show they care. I think what [Redsky] is doing is valuable for our youth, and the police."  
Clarissa Sylliboy attended a talking circle with Redsky during his stop at Millbrook First Nation in Nova Scotia (Nic Meloney/CBC)
Sylliboy said seeing young people from Millbrook take part in the conversation was an important step. 
"Our youth need that. Our youth need to know that it's OK to talk about their mental health problems, about who they can talk to and where they can go," she said. 
Redsky and his support team are moving on, with at least one planned stop in Wolastoqew (Maliseet) territory in New Brunswick, but say they are welcoming invites from communities to visit along the way.
With 92 days worth of walking left, Redsky said he's taking it "one step at a time."