Small gift to Spruce Grove homeless man sparks big campaign of generosity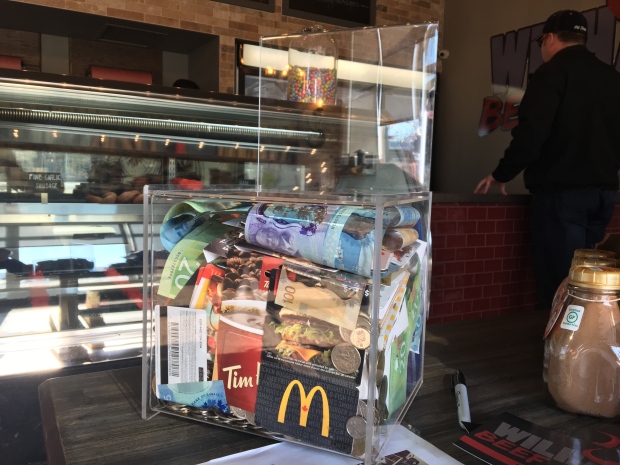 A small spontaneous gift to a homeless man in Spruce Grove has sparked a campaign of generosity that has raised thousands of dollars and reached all the way to India.
Amanda Wilhauk was at work last Wednesday at Wilhauk Beef Jerky when she saw a homeless man outside. She opened the door and started talking to him, and he told her his name was Paul.
She ended up giving Paul $40 so he could buy a meal, and told him to come back the next day so she could give him bags of empty bottles stored in her basement.  
'Look at my jeans'
The next day, Paul showed up and told Amanda he'd eaten a meal at a restaurant and bought some clothes with the money.
"He had gone to the thrift store and bought a new pair of blue jeans," she said. "He was like, 'Look at my jeans.' He was just super happy." 
Paul told her he'd also bought himself a warm meal at a restaurant.
Wilhauk and her husband, Trevor, decided to take things one step further.
On Friday, she wrote a post on Wilhauk Beef Jerky's Facebook page about her encounter with Paul, and how they wanted to do more to help him and others like him in their community.  
They asked people for donations and agreed to match them. On Saturday, Amanda said, the lineup was out the door with people coming to stuff the donation box at their store.
"We were thinking maybe a thousand dollars would come in, but we had one lady donate a thousand dollars anonymously," she said.
The donations grew into thousands of dollars in cash and gift cards from numerous stores.
10,000 shares on Facebook
"The plan is, we're matching till March 16 close on Friday," said Amanda. "We're definitely going to help Paul with a big chunk, because he's the one who helped inspire the whole thing."
The Facebook post has since been shared more than 10,000 times.
People driving in from as far away as Edson and Sherwood Park were moved by what the Wilhauks are doing.
"We had donations come as far away as India," said Trevor.
The Wilhauks expect to meet with Paul on Tuesday to share some of the donations with him and tell him how his story has inspired so many to give.
"He has no access to a computer, or a phone, so he has absolutely no idea that Spruce Grove, or Parkland County, or Stony Plain has done this for him, and people like him," Amanda said.
After helping Paul, the Wilhauks say they will split the rest of the money and gift card donations among four Spruce Grove agencies that help the homeless.