Man, 29, charged with murder in northwest Edmonton shooting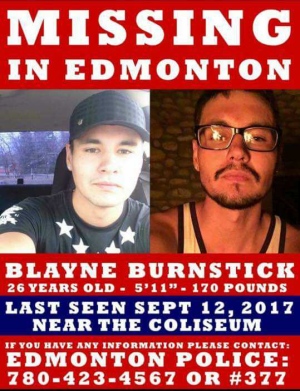 A 29-year-old man has been charged with second-degree murder in the shooting death of a man whose body was found inside a northwest Edmonton apartment last year.
The accused was arrested by Saskatoon police on March 5 and has since been transported back to Edmonton, where he has been remanded into custody, police said on Monday.
The accused also faces a series of firearms-related charges in connection with the shooting, police said.
Blayne Joseph Burnstick, 25, was found dead on Sept. 18 inside a multi-unit residence at 111th Avenue and 94th Street, near Commonwealth Stadium.
An autopsy confirmed that he died of gunshot wounds. Burnstick's body was found in the same building where a 76-year-old man had been killed a few days earlier.
Nexhmi "Nick" Nuhi was found shot to death inside the same multi-level residence on Wednesday, Sept. 13.
Both cases remain under investigation by homicide detectives, police said.
Burnstick was not a resident of the building.