Grass clippings will be picked up at the curb this summer, council says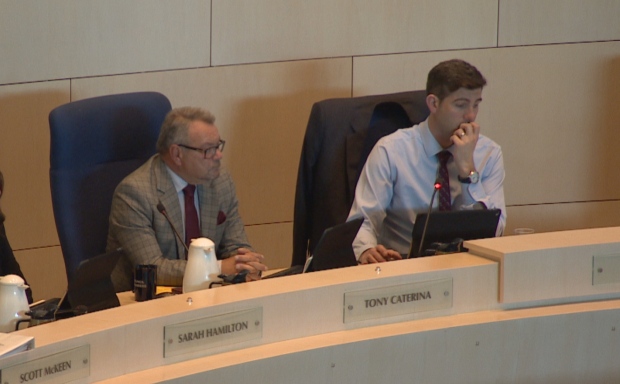 Edmonton council is trying to clear up confusion that ensued after the city suggested it would stop picking up grass clippings from the curb.
Councillors agreed at a meeting Tuesday to consult the public and have staff report back in June on alternatives ways to deal with grass and other yard waste, such as leaves and branches. 
"It was never the intent to stop grass clippings this year," Mayor Don Iveson said.
In a report released in February, the city's operations branch recommended removing grass and yard waste from the general garbage stream starting in September.
That's one of several ideas to curb Edmonton's overflowing landfill.
Council had directed staff to come up with ways to reduce waste after the February audit report showed the city was falling short of its goal to divert 90 per cent of residential garbage from the landfill.
The mayor said the city will have options besides curbside pick up.
"In some cases, we'll move to special collection, like Christmas trees," Iveson said. 
Coun. Andrew Knack said some of his constituents expressed concerns about possible changes.
"So, if you're a senior who doesn't have a vehicle anymore, how do you get rid of that yard waste? How do you take it to an eco-station? You know, do you have to find a friend with a truck?"
Knack proposed a motion Tuesday directing the city to consult the public until June.
Coun. Tony Caterina agreed the city needs a "robust discussion with the public" to "work out all the kinks." 
The city's operations branch also recommended a pilot project on an organics program — or kitchen scraps —  in the fall of 2020. 
Coun. Ben Henderson agreed with consulting the public but said changes will have to be made.
The audit report, he said, showed the compost the city was making was low quality because of the process of extracting bits and pieces of plastic and glass.
The report showed operating costs have gone up 30 per cent in the past four years.
"We can spend an awful lot more money and people's rates will go up," Henderson said. "If we want to get the compost so it really is usable and sellable, we have to get it cleaner."
Iveson said consultation is fine but the city will have to do its part to educate the public on needed changes.
"The status quo is not going to work for the long term," he said. "We've got to get with the times."
Administration is expected to return with options by June, including strategies to reduce food waste, partnerships with other municipalities and public education campaigns.