Grande Prairie group calls for judicial reform to protect Indigenous victims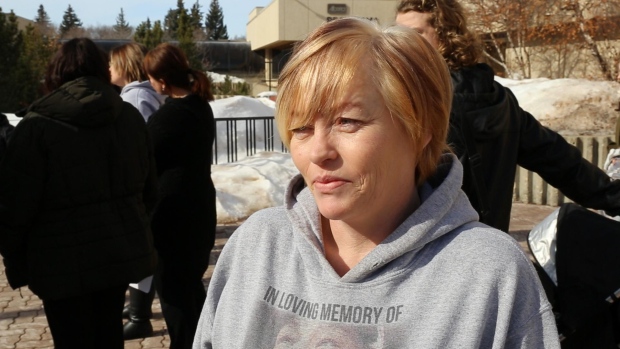 As high-profile court cases involving Indigenous victims spark protests across the country, a family in Grande Prairie is sharing its own story.
About 100 people gathered outside the city's courthouse on Tuesday to remember Donald Moberly.
Moberly, 18, died in October 2015 after he was stabbed during a fight outside a bar in Sexsmith, Alta., 20 kilometres north of Grande Prairie.
Three other young men, including Moberly's brother and cousin, were stabbed in the fight.
In November 2017, a jury in Grande Prairie found the accused in the case not guilty on one count of manslaughter and three counts of aggravated assault.
MaryLynne Moberly found out about the stabbing when her dying son called from outside the bar.
"He called from a friend's cellphone and said, 'Mom,' " she recalled.
"And I knew something was wrong. And I said, 'Donald, is everything OK?' His friend came on and said there's been a stabbing. I dropped the phone and went straight to where it happened."
Her son died three and a half hours later in hospital, she said.
"My last 'I love you' that I told him was in a coffin. But the last 'I love you' that I heard from him was before he was going into surgery."
The man accused in Moberly's death was originally charged with second-degree murder. After a preliminary hearing, the charge was downgraded to manslaughter.
The acquittal hit hard, Moberly's mother said.
"I'm just a mother, so it's hard to stand up and have a voice," she told CBC News at the rally on Tuesday.
"I've been brokenhearted since I lost one of my children. But to have strangers tell you that it's basically OK that he was [killed] — the not guilty part hit me.
"I think there should be consequences when you harm, when you take someone away from their family and their friends for no reason."
The acquittal also quashed any hope for justice, she said.
"I held on for that from the time my son passed. I spoke to my family, 'We have to hang on to hope. We will get something for his life.' And we didn't."
'Part of something bigger'
Moberly's case was one of several talked about at Tuesday's rally, as part of a public call for judicial reform.
Andrea Deleeuw, one of the organizers, said the event tapped into anger about court cases involving Indigenous victims across the country.
She cited the deaths of Tina Fontaine in Manitoba, Colten Boushie in Saskatchewan and Cindy Gladue in Alberta. 
In each case, the accused was acquitted by a jury. The acquittal in Gladue's case was overturned last year.
"It's a part of something bigger than just this circumstance," Deleeuw said.
"It's kind of given us, as a community, momentum to see other communities getting together and pushing for change. So we definitely are riding on that as well."
The group is calling for changes to Canada's justice system that will support Indigenous people and organizations, Deleeuw said.