Edmonton radiologists raise money for apartment fire 'hero' recovering from brain surgery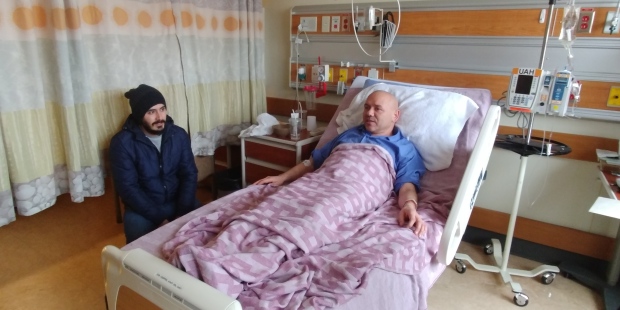 Sometimes, even heroes need saving.
Edmonton restaurant owner Riza Kasikcioglu was a hero in January 2017 when he ran into a burning apartment tower to clear people out.
Four months later, he was diagnosed with a brain tumour. He's since been released from hospital and is now back working at his pizza and donair shop, but the business is struggling.
That's where two local radiologists are hoping to step in.
Dr. Andrew Ho first saw Kasikcioglu's story in the media — the owner and operator of Maximo's Pizza and Donair was working at his Jasper Avenue restaurant when he saw an apartment across the street catch fire.
He ran across the street and into the burning building, knocking on doors and helping people and pets escape. He carried one disabled woman out on on his back.
One person died in the fire.
Kasikcioglu has since had brain surgery on his benign tumour, and told CBC News last month he may need more surgeries.
He opened his restaurant earlier than planned to pay for his bills. He's also considering selling the business due to his financial situation and health.
When Ho found out about Kasikcioglu's financial situation, he was moved to help one of Edmonton's local heroes.
"He's definitely a hero," Ho told CBC's Radio Active Friday. "I just hate to see someone like that, an Edmontonian, fall behind."
Ho donated $1,000 to get the ball rolling. Soon after, some of his colleagues stepped up.
"Andrew's enthusiasm was quite infectious," said Ho's coworker, Dr. Hoshang Zakaria. "I think it's really important to recognize the people in our community who contribute and who make a difference."
Zakaria and a couple of other colleagues matched Ho's donation. "We're hoping by doing that … we can raise a little bit of awareness about the heroes in our community such as Riza and challenge other people to also contribute," he said.
Ho grew up in a single-parent home, and his dad owned a business. Seeing Kasikcioglu struggle financially after his surgery especially hits home for him.
"Being raised in Edmonton, we kind of watch each other's back, we support each other," Ho said. "This is strictly something that I just felt compelled to do."
Zakaria and Ho ask that donations be made directly to Kasikcioglu at Maximo's. They didn't set up a fundraising page because they want the most amount of money possible to go to Kasikcioglu.
"Heroes come in all shapes and sizes and I think it's a great thing that we're trying to help somebody who has helped so many others," Zakaria said.
"I think when you bring the community together, they can come together and do something nice."