Why Kevin Koe's curling team won't choke under Olympic pressure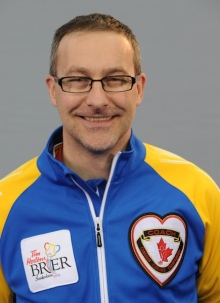 Canada's men's curling team will be playing mind games to deal with the pressure of the Pyeongchang Olympics, says the Edmonton-based psychologist who serves as their coach.
"It's hard and it's frustrating," said John Dunn in an interview with CBC Radio's Edmonton AM.
"There's so many distractions at the Olympic games that sometimes you forget why you're here.
"Part of our job right now is the old distraction control."
Dunn coaches a team that includes skip Kevin Koe, a two-time world champion, vice-skip Marc Kennedy and lead Ben Hebert, who both played on Canada's 2010 Vancouver gold medal team.
The fourth member of the squad Brent Laing is a three-time world champion.
The team hits the ice on Wednesday for their opening preliminary-round match. Koe opens the tournament against Italy's Joel Retornaz before facing Britain's Kyle Smith in the evening.
'Living in a fishbowl'
Canada has already struck curling gold with John Morris and Kaitlyn Lawes winning the mixed-doubles final Tuesday.
Even so, Koe's team is still under intense pressure to bring home more hardware, Dunn said, and the spectacle of the games can prove a distraction to even the most seasoned athletes.
"You are living in a fishbowl when you get to the Olympics. Everything seems bigger and brighter and louder," said Dunn, who has spent the last decade working alongside Team Koe. 
"Once we get into the competition mode, I'm sure we'll be able to narrow our focus a bit and stay on task."
Trying to pretend the Olympics aren't something special would be "madness," Dunn said, but he does his best to keep his players focused on the game.
Outside the opening and closing ceremonies, team members are unlikely to attend any other events, and they won't be tracking the standings. 
Dunn said he will also be managing every member's schedule during the 18-day event to make sure they stay focused on the game, not logistics. 
"We're not worried about it, it's just one of those situations where we're desperate to get started."
For Dunn, keeping his players nerves under control is paramount. Despite his academic background, he's old school in his technique.
It's all about consistency, Dunn said. He keeps the teams pre-game routines and practices exactly the same, every time.
"Obviously the Olympic Games is kind of the golden egg, but we try to just follow the same routines that we always do," Dunn said.
"Once you get those routines down, that's what you come to rely on, and reminding ourselves that we've done this a thousand times.  
"You do your best not to change things up."  
'The country is watching'
Beyond the routines, the team keeps an eye on each other for signs that the pressure might be getting to be too much, said Dunn.
After years of playing together, they know each other's tells, Dunn said.
"Each individual has their own set of behaviours, it's just a matter of keeping an eye," he said.
And while thousands of curling fans stay glued to their television sets, Dunn will be keeping his attention tuned to that last rock.
He's confident his veteran players "won't choke."
"Will we feel the pressure and will we feel the stress? Of course we will, but the collective knowledge, the collective experience that we have, we're certainly going rely on that and tap into it.
"We know the country is watching but we view that as a privilege, not a burden."