Two men who killed Alberta family can apply for parole in 25 years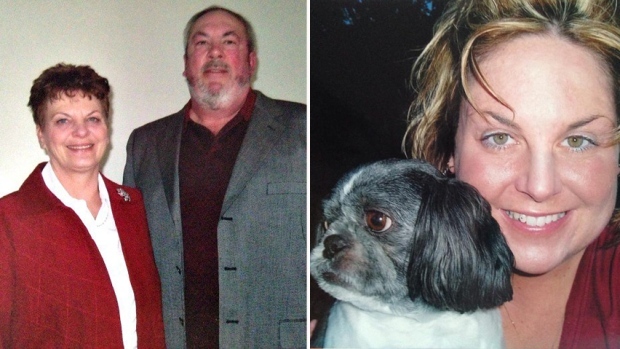 Two men who killed three family members in central Alberta in 2013 can apply for parole after 25 years, a judged ruled Wednesday.
"I'm not satisfied that a period of parole eligibility (longer than 25 years) would provide greater deterrence for these offenders," said Court of Queen's Bench Justice Eric Macklin.
Jason Klaus, 42, and Joshua Frank, 32, watched intently from the prisoners' box as Macklin read his decision. Occasionally, Frank glanced at the gallery where friends and family sat.
The pair were convicted in January of three counts each of first-degree murder in the deaths of Klaus' parents, Gordon and Sandra Klaus, and his sister, Monica Klaus.
Life in prison with no chance of parole for 25 years is automatic for first-degree murder. 
But Macklin had the option of sentencing the men to life in prison with no chance of parole for years as the Criminal Code allows for sentences for multiple murders to be served one after the other.
During sentencing arguments, prosecutor Doug Taylor said the two men deserve the maximum sentence for what he called a "contract killing of sorts."
But Macklin told the packed Red Deer courtroom Wednesday afternoon that it was "difficult to imagine what a more lengthy sentence would do. 
'Crushing sentence' would be 'unduly long'
Macklin said he believes offenders with no hope of ever leaving prison would have less motivation to behave while behind bars.
"[Their] potential release may protect inmates and correctional officers from harm," he said.
Macklin explained that 75 years without chance of parole would be a "crushing sentence" and "unduly long."
The heads of friends and family of the Klaus family, who packed the courtroom, fell as Macklin read his decision.
The Klaus family was killed in December 2013 and their farmhouse, near Castor east of Red Deer, burned down.
Sandra Klaus' body has never been found.
Macklin said the only mitigating factor in sentencing Frank and Klaus was that neither had previous criminal records.
During the trial, court heard that Frank fatally shot the three victims upon direction from Klaus.
"He assisted in the commission of the murders by providing weapons," Macklin read Wednesday.
Klaus was a "full-fledged party to the crimes."
Macklin said he took into account the character of the offenders and nature of offences. He noted there was limited information either of the men's characters, as both had led anti-social lives.