Northern Alberta athletes competing in PyeongChang 2018 give reason to celebrate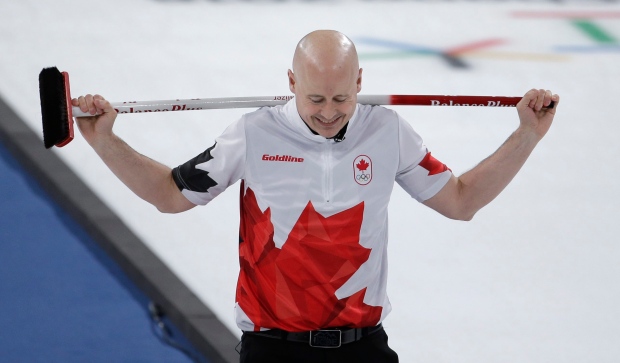 Tears of joy and disappointment have created emotional moments as Canadians tried to turn four years of hard work into Olympic medals in Pyeongchang.
More than 20 Olympians either live in northern Alberta, or are from the area. But that hasn't translated into all that many medals.
Figure skater Kaetlyn Osmond, of Sherwood Park, won a gold and a bronze at this year's Winter Olympics.
Canadian hockey and curling teams both featured plenty of northern Alberta talent.
"I think when we have athletes that are doing the best they've ever done and they end up ninth or tenth, we still need to celebrate that." – Don Henwood
The president and CEO of the Canadian Sport Institute Calgary, a training facility that works with close to a hundred athletes competing in Pyeongchang, said there are plenty of reasons to celebrate.
"When I look at it overall, I think the expectations have been met and maybe exceeded in terms of the total number of medals," Dale Henwood said.
"I would say in some of the sports like bobsleigh, where there hasn't been a lot of support on the women's side, I would say they've over-performed based on the resources available."
He said in many cases Albertans put in strong efforts and finished with personal bests, but that didn't always translate into medals.
"I think when we have athletes that are doing the best they've ever done and they end up ninth or tenth, we still need to celebrate that," Henwood said.
He admits that not getting gold medals in men's and women's curling and hockey was disappointing. But now is a good time to invest in athletes in Nordic sports for Beijing 2022, he said.
"We haven't traditionally invested in sports like cross-country skiing, biathlon and ski jumping," he said.
"In Pyeongchang, 30 of the 102 [goal] medals were available in those Nordic sports, and we don't support them very well. I think we gotta figure out how we support those athletes."
Henwood said many Canadian athletes are coming to Alberta to train for Winter Olympics events, and end up calling it home.
"I think we really have a serious issue with our investment in Alberta athletes. If we want born-and-bred Alberta athletes, we have to do a better job of our investment."
Northern Alberta Olympic results
Kaetlyn Osmond
Osmond won bronze in ladies' single figure skating, and gold in the team event. She lives in Sherwood Park but also calls Marystown, N.L., home.
Keegan Messing
Messing finished 12th in men's single figure skating. He lists Sherwood Park, Alta., as his hometown but resides in Girdwood Alaska.
Bryan Barnett 
A dual-season athlete from Edmonton. He's on a four-man bobsleigh team that consists of Barnett, Nick Poloniato, Lascelles Brown, and Ben Coakwell.
Neville Wright
Finished 10th in two-man bobsleigh with Christopher Spring. Competes in four-man bobsleigh with Christopher Spring, Cameron Stones and Joshua Kirkpatrick. Wright was born and raised in Edmonton, where he still resides.
Christine De Bruin, Melissa Lotholz
Finished 7th in the two-man bobsleigh event. Christine De Bruin lives in Stony Plain, while Melissa Lotholz grew up in Barrhead.
Jesse Lumsden
Lumsden, a former Edmonton Eskimo, was born in Edmonton. He competes with Justin Kripps, Alexander Kopacz, and Oluseyi Smith in the four-man bobsleigh event.
Alysia Rissling
Rissling finished 6th in two-man bobsled.She's from Edmonton, where she played basketball at the University of Alberta prior to her winter Olympic training.
Kevin Koe, Marc Kennedy, Scott Pfeifer
Team Koe finished fourth after a loss to Switzerland in the bronze medal game. Koe lived in Edmonton for much of his curling career. He currently plays out of Calgary. Marc Kennedy and alternate Scott Pfeifer are both from St. Albert.
Kevin Boyer
Boyer finished 17th in the men's skeleton event. He's from Sherwood Park. His helmet features a Haidi-inspired beaver design in green and gold colours.
Joanne Courtney, Rachel Homan
Team Homan finished 6th in women's curling. Rachel Homan, the team's skip, lives in St. Paul, Alta. Joanne Courtney, from Edmonton, is the team's second. 
Josie Morrison
Morrison lives in Calgary, but was born in Edmonton. Morrsion finished 21st in the ladies' 1500-metre in speed skating. She's married to Canadian speed skater Denny Morrison.
Mike Riddle
Riddle finished 6th in men's ski halfpipe.The freestyle skier was born in Edmonton, but resides in Sherwood Park.
Meaghan Mikkelson, Shannon Szabados
​The women's hockey team received silver medals after a loss to the United States in the gold medal game. Miikkelson, a defenseman from St. Albert, played her minor hockey against boys.Szabados, the team's goaltender, is native of Edmonton. She played in the Alberta Junior Hockey League, and attended MacEwan University.
Rene Bourque, Gilbert Brule, Ben Scrivens, Rob Klinkhammer
The Canadian men's hockey team lost to Germany in the semi-final, putting them in a bronze medal game against Czech Republic. Bourque's hometown is Lac La Biche, Alta. Ben Scrivens is from Spruce Grove, Alta. Gilbert Brule is from Edmonton. Klinkhammer is from Lethbridge, Alta. Scrivens, Brule and Klinkhammer all played for the Edmonton Oilers.
Shannon-Ogbani Abeda
Abeda was born in Fort McMurray, Alta., and raised in Calgary. He began skiing in Fort McMurray at the age of three. He was Eritrea's flag bearer in Pyeongchang. Abeda finished 61st in men's giant slalom.