No judicial misconduct in case of jailed sex assault victim, council finds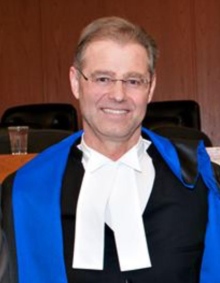 A judge who jailed a sex assault victim during the trial of her attacker has been cleared of any judicial misconduct.
The Alberta Judicial Council released the findings of its review on Friday, the same day an independent investigator released a broad, scathing report on the case.
Rulings made by provincial court Judge Raymond Bodnarek's were "intended to serve the objectives of the best administration of justice," the council wrote.
"The search for the truth of what happened to (the victim) was important to her and to society as a whole."
Testified in shackles
As first reported by CBC News last year, the woman, identified by the pseudonym Angela Cardinal, was forced to testify at the preliminary hearing of her attacker, Lance Blanchard, while in shackles.
Bodnarek agreed with a request by Crown prosecutor Patricia Innes to have Cardinal remanded in custody to ensure she returned to court to testify.
It was learned later that Cardinal was taken from the remand centre to the courthouse in the same van as Blanchard, a notorious sexual predator who was eventually convicted of physically and sexually assaulting her.
"Judge Bodnarek did not order the complainant to be shackled, nor to be transported and housed in proximity to her assailant. There is no reason to conclude that Judge Bodnarek anticipated, much less intended, any such contact."
The council wrote that initial media reports "do not fully reflect the difficult circumstances of the proceedings."
Cardinal, who was homeless, first appeared in court in a "condition unsuitable for testifying with numerous erratic behaviours," the council wrote.
When Innes asked that Cardinal spend the weekend at the Edmonton Remand Centre, Bodnarek determined she could be detained.
When she re-appeared in court after that weekend, Cardinal pleaded with Bodnarek to be "unremanded."
The council found there was "factual and legal foundation for the remand order made by Judge Bodnarek."
The council noted that lawyers usually ask for shackles to be removed from someone in court.
In this case, it was Cardinal who angrily pointed out that she was a victim being forced to testify in shackles. But Bodnarek did not order them removed.
"While at that point Bodnarek could have undertaken an independent inquiry regarding the need for such restraints, his decision not to do so is not judicial misconduct."
The council found that Bodnarek did allow Cardinal to testify behind a screen, and granted a request to have her testify in civilian clothes, and tried to ensure Cardinal could enter and exit the courtroom so as to avoid Blanchard.
Council says race not a factor
The council also investigated a complaint that Bodnarek's decisions were influenced by the fact Cardinal was an Indigenous woman.
"There is no evidence that the gender or aboriginal status of the complainant influenced any of Judge Bodnarek's rulings in this case," the council wrote.
But the council did write that "all participants in the criminal justice system must continue to strive to ensure that vulnerable victims of crime, particularly Indigenous victims, are treated with respect, and that they receive the supports they require to participate in criminal proceedings."
Cardinal died seven months after testifying at the preliminary inquiry. She was killed in an accidental shooting. The man who shot her pleaded guilty to manslaughter.
Want to fix the system
Justice Minister Kathleen Ganley ordered an independent review after Cardinal's story was made public last year. At a news conference Friday, she said she wanted to fix the system rather than assign blame to one or two people. 
"I think that if we make an attempt to lay it at the feet of one or two people, that doesn't have the same effect of ensuring that we fix this going forward," she said, "because people are going to continue to come into contact with this system and it needs to improve to do better for these people in the future."
A separate report from Manitoba criminal defence lawyer Roberta Campbell made a number of recommendations, including the creation of an independent, provincial victims services unit.
Ganley said she wants to consult with victims support staff, many of whom work as volunteers, before committing to the idea. 
The government has already started to act on most of the report's recommendations, including giving cultural competency training to staff, updating policies on detaining witnesses and hiring court workers to help victims and witnesses. 
The sheriffs branch is also reviewing its policies on when to restrain and jail witnesses.
Ganley said Crown prosecutors now have to use every other option before incarcerating a witness or victim. She said her ministry is looking at new alternatives that can be used in such cases.