Khloe Kardashian Reveals How She Knew Tristan Thompson Was "the One"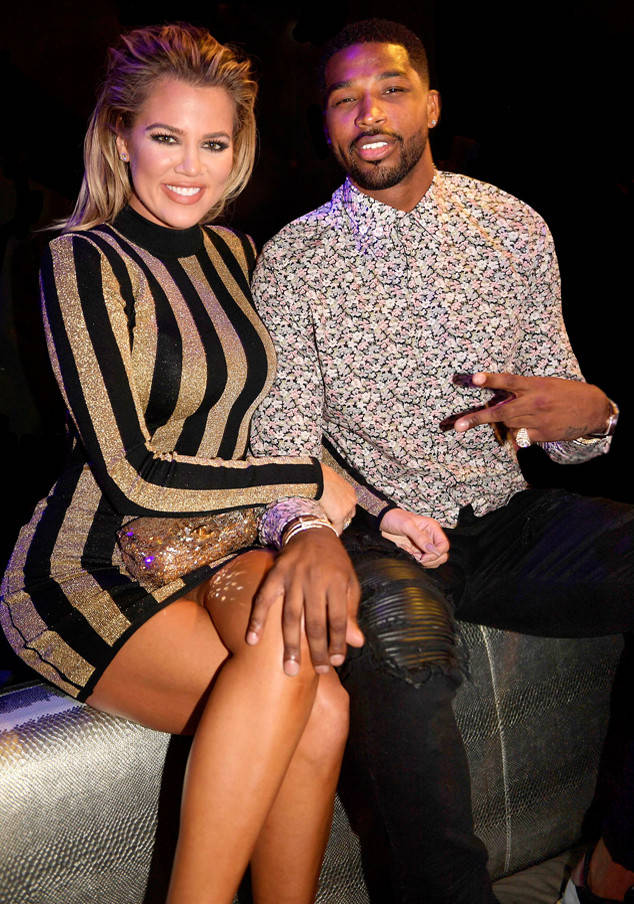 When you know, you know!
In honor of Valentine's Day tomorrow, Khloe Kardashian is opening up about her relationship with Tristan Thompson. The pregnant Keeping Up With the Kardashians star took to her website Tuesday to answer the fan question, "How do you know that you've found 'the one?'"
"My answer for this probably doesn't apply to everybody, but I knew Tristan was the one very quickly—I have never felt so comfortable or so safe with someone," the mom-to-be gushed on her official app. "Because of that, I took it very slowly and was cautious about how I went about 'us.' I made sure we had very in-depth conversations. I wanted to make sure that those conversations were backed up by actions."
Seth Browarnik/startraksphoto.com
As it turns out, Khloe and Tristan had a ton in common.
"Tristan was so forthcoming with his life, as I was with mine. It was really reassuring to feel that someone had the same belief systems as I did," she continued. "We shared the same principles and morals. We spoke about religion, children and our families. I think all of those things are important to truly know the ins and outs of someone. It's really easy to fall in love with someone during a honeymoon phase when you haven't yet discussed the logistics of life. But you have to talk about the real things if you want a real/long-lasting relationship."
Khloe adds, "That being said, you cannot fake the energy or chemistry that you have with someone. That means more to me than any conversation. But you need that foundation for when the honeymoon phase is over. You still must have respect and a mutual love for one another."
Too cute!
Watch brand new episodes of Keeping Up With The Kardashians Sunday at 9e|6p, only on E!
Check out Khloe and Tristan's cutest pics below!
Instagram
Mwah!
Kardashian captioned this Instagram snapshot, "The day I met you, my life changed. Thank you my love!"
Instagram
Just Kiss Me
The couple seals their love with a poolside kiss. 
Instagram
You & Me
KoKo hugs the NBA star close during her surprise 33rd birthday celebration. 
Snapchat / Tristan Thompson
Late Night Cuddles
The soon-to-be parents spend some down time together. 
Instagram
Winter Is Coming
The lovebirds totally nail their Game of Thrones-inspired Halloween costumes. 
Snapchat
Polaroid Fun
Before the E! reality star confirmed her pregnancy, she fueled baby speculation with this set of lovey-dovey photos captioned "Dad + Mom."
Instagram
Summer Lovin'
Khloe posted this sweet PDA pic of the couple over the summer. How cute are they?
Instagram
Sweet Sunday
Khloe posted this pic of herself and Tristan in matching outfits. "Sweet Sunday," she captioned the photo.
Instagram
Kisses for the Birthday Girl
The Cleveland Cavaliers player surprised his leading lady with a star-studded party in honor of her 33rd birthday. "Im so lucky and blessed! Thank you so much baby!!!" she tweeted. "You treat me like a queen!"
Instagram
A New Year's Eve Dance
The reality star and athlete rang in 2017 together with an intimate groove on the dance floor. "Happy New Year!!! May you always be surrounded by the love you are deserving of!" she wrote on social media at the time. "May Gods blessings continue to rain on us all."
Instagram
Something Sweet
For Tristan's 26th birthday, Khloe threw her boyfriend a gold-themed soirée. "To the happiest of birthdays my love! To the first of many more together!" she wrote on Instagram. "May God continue to bless you in all of your days! And may we forever look at one another like this."
Instagram
Twinning Twosome
Khloe and Tristan showed they were on the same page when they stepped out in matching furs. 
Snapchat
Fun in the Sun
For one of their first vacations as a couple. KoKo and her baller beau strapped on helmets and went zip-lining in Jamaica. 
Instagram
No Hiding This Love
Despite their coordinating camouflage, there's no disguising the hearts in their eyes they have for each other. 
Instagram
Comic Book Couple
For their first Halloween together, the duo dressed as one of the comics' signature pairs. 
Seth Browarnik/startraksphoto.com
Cheesin'
There's no better look of love than two wide grins!