'Justice for Colten' rally held outside Justice Minister's office in Vancouver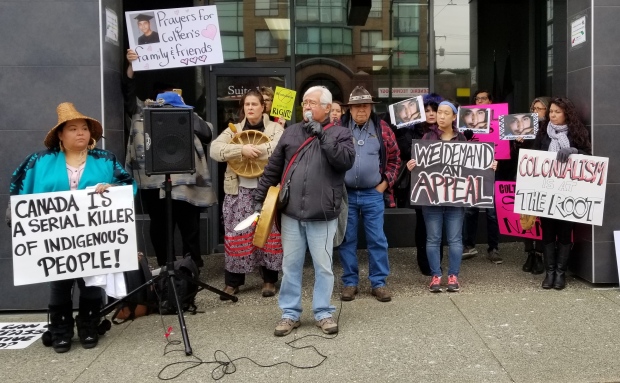 Dozens of people rallied outside the Vancouver constituency office of Justice Minister Jody Wilson-Raybould on Tuesday afternoon, to show their support for the 'Justice for Colten' movement.
"We come here to bring peaceful, supportive pressure," said event organizer and hip-hop artist Jerilynn Webster in her opening remarks.
"For the family, we want them to know that we stand with them…. They're our relatives, we love them, we want to uplift them. And we're here to tell our relative, Jody — she is our relative — that we come with peaceful, supportive pressure. We are not being heard. How many inquiries, how many more deaths does it take for the change to happen?"
Demonstrations in response to the acquittal of Saskatchewan farmer Gerald Stanley in the shooting death of 22-year-old Colten Boushie, have been taking place across the country since the verdict was read on Friday night.
"I have to come here today to say shame on Canada. Shame on this justice system…" – Tom Oleman
On Tuesday the grief, anger and impassioned calls for change that have been echoing across the country remained strong.
"I have to come here today to say shame on Canada. Shame on this justice system that would allow a totally white court and process to try the death of a Native male person in this country," said Elder Tom Oleman.
He also offered his condolences to the Boushie family.
"I'm disappointed, hurt, feeling sorry for that young man's family. For his community."
While support for the Boushie family has been widespread and highly visible through public rallies, there are also many who agree with the verdict decided upon by the jury.
For Webster, the Boushie family did not get justice in this case.
"The reason why we're standing up is to say no more, enough is enough," said Webster.
'We want to put pressure on our justice system'
The gatherings may be rooted in the death of Colten Boushie and the acquittal of Gerald Stanley, but speakers at the rallies have been drawing attention to the history of Canada; the pass system and the residential school system.
Speakers also called out the current day problems they've seen and felt in the justice system — the disproportionate number of Indigenous women and girls who have gone missing or been killed in this country and the overrepresentation of Indigenous Peoples in prisons.
Webster said Tuesday's rally was about continuing to put pressure on the justice system, and those in positions of power to take action. Namely, Justice Minister Jody Wilson-Raybould, who has hinted that change could be coming soon.
She met with the Boushie family in Ottawa on Tuesday, and so did the public safety minister and Prime Minister Justin Trudeau.
The family has said that, so far, the meetings have been engaging and respectful.
"The reality of the Boushie family coming here and the elevation of the national consciousness on the challenges and systemic barriers that marginalize people facing the criminal justice system is very welcome," Wilson-Raybould said after her meeting with the Boushie family.
Back in Vancouver, Webster said she wants to offer support to Wilson-Raybould in taking meaningful action.
"This is the time for her to rise up, this is the time for her step in and use her voice as strongly as possible," said Webster.