Fort McMurray's Indigenous culture on display at Alberta Winter Games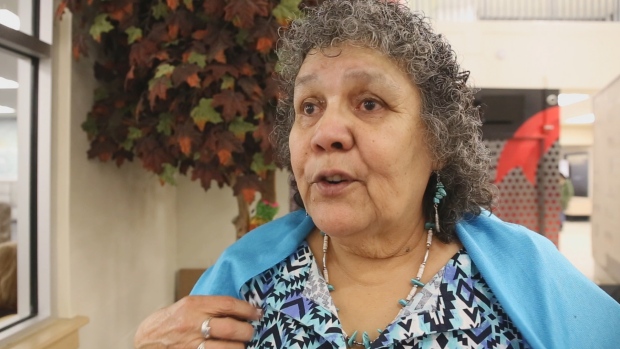 Hazel Deranger came with her sweetgrass and sage, ready to offer a fragrant rising prayer for the athletes competing in the 2018 Fort McMurray Alberta Winter Games.
Standing inside the bustling concourse of MacDonald Island, she offers words of encouragement and an elder's wisdom to the athletes and chaperones rushing to the competition. 
"You're going to get out there and do this," she said. "Don't be afraid. Go out there and just play your hardest."
Deranger — who prefers to go by her traditional name Issapakii, which means Crow Woman in her language — is a respected elder in the community.
She hails from the Piikanii Blackfoot Confederacy in southern Alberta, but has made Fort McMurray her home for decades.
She was invited to be on location during the first day of competition in the games on Saturday, which kicked officially off with opening ceremonies in Fort McMurray the night before.
'Courage, I mean you need to have it'
Issapakii shared Indigenous teachings to those who stopped by her booth and explained how they applied to the athletes in competition.
"Courage. I mean you need to have it if you are going to be out there playing hockey," Issapakii said.
More than 3,000 athletes, coaches and officials will take part in this year's games, which showcases the talents of athletes between the ages of 11 and 17.
Beyond the podium, the games are highlighting the Fort McMurray's region's rich Indigenous heritage through a series of cultural workshops and events.
Athletes and visitors are also invited to participate in Cree and Dene hand games.
Hand games are traditional competitions, often accompanied by drumming and singing.contestants conceal objects, such as a coin, under blankets and use confusing gestures to distract the other team. Sticks are used to keep score.
Near MacDonald Island Park, along the banks of the Snye, the McMurray, Métis are offering guided tours of the Total Aboriginal Interpretive Trail, sharing local history and treating their guests to a meal of fresh bannock.
The region's diverse immigrant culture is also evident in the games.
On Saturday in Fort McMurray, the Divine Group of India, which blends traditional Indian dances with modern beats, bought some warmth to a frigid morning. They performed for spectators as the first day of competition began.
Band member Vinay Shah said the games are a perfect platform to show the world that Fort McMurray is a mosaic.
"This is giving a great start to the winter games," Shah said. "We demonstrate through our culture that we are a diverse [city]."
For more information and results about the 2018 Alberta Winter Games, check out the Twitter feed.
Follow David Thurton, CBC's Fort McMurray correspondent, on Facebook and Twitter, email him at david.thurton@cbc.ca