Enduring love: Grande Prairie still among Canada's most romantic cities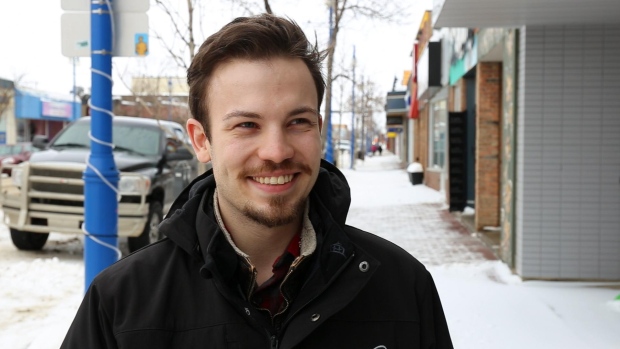 Valentine's Day in Grande Prairie. Paper hearts dangle in a pawn shop window on the main shopping street. Snow coats the deserted sidewalk.
For the second year in a row, the northern Alberta city has made Amazon Canada's list of the 20 most romantic cities in the country.
In 2017, Grande Prairie was named Canada's fourth most romantic city. This year, the community of more than 63,000 snagged 15th place.
It's joined on the list this year by Fort McMurray, Spruce Grove, Sherwood Park and Airdrie — all first-timers.
Some Grande Prairie residents laughed while others raised their eyebrows when they were told the city had again made Amazon's list.
"I couldn't believe it if somebody told it to me," said Adrian McCrimmon. "But it could be that I don't get out enough.
"When it comes to romance, you might be better off in a place like Vancouver or something like that. There's a lot of people here that don't really have time for romance."
Kylie Minelli reacted to the news with a giggled, "What?"
"It kind of took me by surprise," she clarified. "I wouldn't personally say that, but go Grande Prairie!"
Cindy MacPherson questioned Amazon's decision-making.
"I'm not quite sure how that happened," MacPherson said. "But we are super friendly and everyone in this community really supports each other."
Jessica Meads echoed MacPherson, saying she didn't understand how Grande Prairie earned its title as one of Canada's most romantic cities.
"It just doesn't seem like the most romantic town," Meads said, laughing. "I don't see it, but it's pretty cold so maybe everyone's staying in their houses all the time and that's where it comes from."
Amazon compiles its annual list based on orders for romance movies and books, jewelry and sexual wellness products.
But Brenda Pickard said there's more to Grande Prairie romance than escaping it through books and movies.
"We're in northern Alberta but we're not up with the polar bears," Pickard said. "Come and see us, it's beautiful — the northern lights, the long days, the long nights. It's just a beauty, is what it is."
She suggested winter activities in and around the city, including snowshoeing and cross country skiing, as Valentine's Day date ideas.
Val Kudeva added it's not about where you spend the day — Valentine's is a state of mind.
"Valentine's Day can be romantic no matter where you are," Kudeva said. "I don't think it matters what city you live in … it matters what you do with your day."
The top 20
Here is Amazon's list of the top 20 most romantic cities in Canada.
Victoria, B.C.
Abbotsford, B.C.
Whitehorse, Yukon (new)
Courtenay, B.C. (new)
Fort McMurray, Alta. (new)
Spruce Grove, Alta. (new)
North Vancouver, B.C.
Sherwood Park, Alta. (new)
Surrey, B.C. (new)
Nanaimo, B.C.
LaSalle, Que. (new)
Waterloo, Ont.
Prince George, B.C.
La Prairie, Que. (new)
Grande Prairie, Alta.
Airdrie, Alta. (new)
Welland, Ont. (new)
Vernon, B.C. (new)
North Bay, Ont.
Dartmouth, N.S. (new)