Blanket-wrapped marchers walk silently to honour Tina Fontaine in Toronto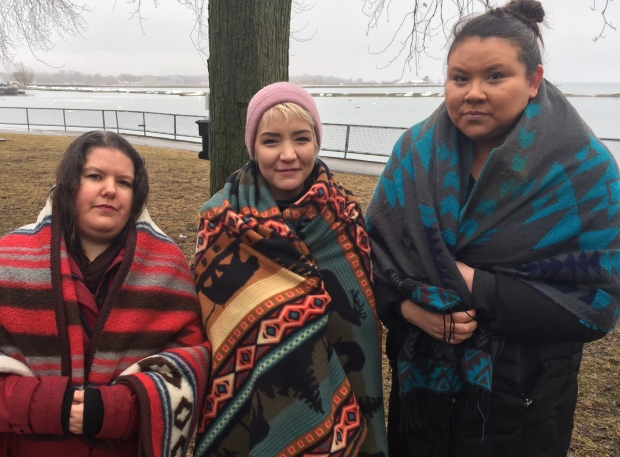 A group of people in Toronto wrapped themselves in blankets and walked from Fort York to the waterfront Friday in memory of Tina Fontaine, after the acquittal of her accused killer, Raymond Cormier.
Fontaine, a 15-year-old First Nations girl, was found dead in Winnipeg's Red River in 2014. Cormier was charged with second-degree murder in her death and a jury found him not guilty Thursday.
The gathering and walk called Blankets for Tina began at Fort York National Historic Site Friday afternoon. 
Over the past couple of weeks in the city there have been a number of events in public spaces for Indigenous community members to come together and support one another in ceremony, said Krysta Williams.
This was following the not guilty verdict in the Saskatchewan trial of Gerald Stanley, who was charged with second-degree murder in the death of 22-year-old Cree man Colten Boushie, and now the Cormier trial verdict.
"I think it reiterated this need for us to come together as community, to look after one another, to show each other that we care and that we matter and our lives are valuable, and that we see each other and see our own worth, even if that's not reflected back to us elsewhere," said Williams.
Organizers of the walk asked that people attending be wrapped in blankets, which serve to honour, hold and soothe in many teachings. The blankets were also symbolic of the way that Fontaine's body was found, wrapped in a duvet and weighed down by rocks. 
The results of the trial has left many Indigenous people questioning the justice system in Canada. 
"The justice system doesn't work for us, it works against us," said Delilah Saunders, whose own sister Loretta was murdered in February 2014.
"It steadily works against Indigenous Peoples. It doesn't protect Indigenous women or girls and it's completely broken." 
Two people pleaded guilty to murder in 2015 in Loretta Saunders' death and were sentenced to life in prison.
Delilah Saunders said that the recent events have hit close to home at a time so near the anniversary of her sister's death.
Around 200 people gathered at Fort York National Historic Site before walking south to Lake Ontario in a procession of silent prayer lead by Indigenous youth.
"I think it's so beautiful that we have space we can take up and come together," said Ashley Bomberry.
"It's not about ourselves and it's not about ego. It's to honour the life of Tina Fontaine. It's to honour our community and being able to hold space for each other for our families for our own grief and mourning process.
"We need each other to heal."