'Better, stronger and faster': Edmonton police unveil state-of-the-art helicopter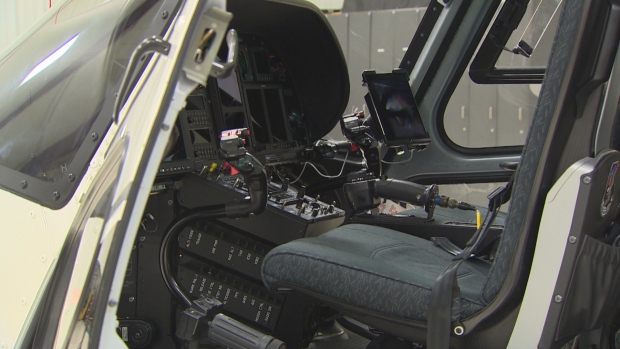 The Edmonton Police Service unveiled its new $5.9 million state-of-the-art Air 1 helicopter Friday at the Villeneuve airport, in Sturgeon County.
"Because the new Air 1 is better, stronger, and faster than our previous helicopters, we can provide a greater level of safety and support across the city," said Greg Preston, acting police chief.
Chosen for its affordability, versatility, and dependability, the Airbus H-125 model is considered one of the best helicopters in service, police said.
"Its primary function is to assist in the location of suspects who are fleeing, to provide backup to officers on the ground and to provide intelligence from an airborne platform," said Tom Bechthold, acting staff sergeant and a member of the EPS flight crew.
The new helicopter has an improved GPS navigation system, an enhanced digital camera and infrared system, increased fuel capacity for longer flights, and more powerful engine for increased speed, he said.
"It enables us to vertically lift off from areas that normally we probably wouldn't have been able to do as safely," Bechthold said.
Air 1 can be the first on scene, remain on scene longer, and its technology can more effectively coordinate police, fire rescue, and medical resources on the ground, police said.
"We can be on scene with the camera within 60 seconds of any call," Bechthold said.
Helicopter used in high speed chases
A big advantage is that the helicopter takes patrol cars out of high speed chases, he said.
"Suspects without any ground units chasing them sometimes slow down, which is safer for the community," he said.
The new helicopter is 50 km/h faster and can stay in the air for an hour longer than the older model, said Sgt. Murray Maschmeyer, chief pilot with the EPS flight operations unit.
EPS flight crews have been training on the new helicopter, testing its systems, and putting it through its paces on emergency calls since September.
Maschmeyer described an incident where a driver fleeing police left the city at a high rate of speed. Officers on the ground ended their pursuit, but Air 1 followed the vehicle from above. 
The suspect abandoned the vehicle on a rural road and was seen fleeing into the treeline with a long-barreled firearm.
Air 1 was able to direct RCMP officers to the man's precise location, where he was arrested without incident, he said.
"In 2017, our helicopter program managed 148 criminal flights," said Maschmeyer. "Those type of calls definitely at times can pose the greatest level of risk to public safety."
Air 1 responds to approximately 3,000 calls a year, including calls to assist Edmonton Fire Rescue and RCMP.
The provincial government contributed $3.4 million from the Municipal Sustainability Initiative toward the cost of the helicopter, with the City of Edmonton paying the remainder.