Beaverlodge pushes province for new municipal hospital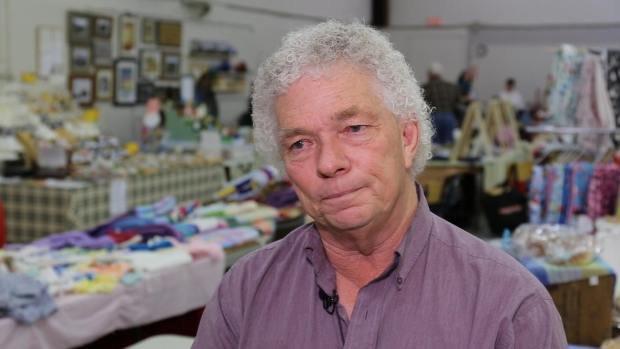 Doris McFarlane, 95, has waited nearly a decade to see 22 acres of land she donated to the town of Beaverlodge, Alta., used for a new hospital.
​"If there's one thing I'd like to do before I get under the ground, it's see the ground turn for a new hospital," McFarlane told CBC News.
She arrived in the northwest Alberta community in 1946, a 23-year-old nursing graduate from Nova Scotia.
"I had no idea what a northern small hospital was like," she recalled. "Until I got on a train to come to a place called Beaverlodge, Alberta."
​'If there's one thing I'd like to do before I get under the ground, it's see the ground turn for a new hospital.' – Doris McFarlane, retired nurse
When the town opened its municipal hospital in 1956, McFarlane was one of the first nurses to work there.
"We've been so fortunate to have good doctors …. So many places can't have doctors because they don't have a facility."
More than 60 years later, the old hospital still stands. McFarlane has since retired and moved into a seniors' home.
After her husband died about 10 years ago, McFarlane decided to give up their property. She fielded dozens of offers from developers but said she didn't want to see her family home turned into a gas station.
"I was not going to have that." 
Instead, the lifelong nurse decided to donate her land to the town, which was negotiating with the province for a new hospital.
"Everybody was so desperate for one and I had this property and it's a good location," McFarlane said. "They couldn't just be asking to have a facility if they didn't have a proper place.
"We need it so badly," she added. "We're not very big, but we're mighty special." 
McFarlane donated the land on the condition that it's used for a hospital or similar medical facility.
​'They've been Band-Aiding it together'
Beaverlodge's hospital opened in 1956 and is the oldest health facility in the province owned and operated by Alberta Health Services.
The 62-year-old building is staffed by seven physicians and 29 full-time nurses, who see an average of 1,400 patients each month, according to AHS.
Last year, nearly 17,000 patients came through the hospital.
Beaverlodge Mayor Gary Rycroft said he first met with an Alberta health minister about replacing the hospital in 1986.
​"This is not just the current government's problem," Rycroft said. "There were structural problems with the hospital at that time and they've been Band-Aiding it together since."
Rycroft, a retired emergency medical technician, owned the Beaverlodge ambulance service for 16 years, until 2001.
He was also the town's fire chief for more than a decade, from 1987 to 1998, and still volunteers as a firefighter.
Rycroft said he has worked closely with AHS throughout his decades-long career in emergency services. As mayor, he plans to continue advocating for improved health care in the town of 2,500 people.
"It's interesting to be part of this for so long," Rycroft said. "One of these days it'll come through."
With its 24/7 emergency department, the Beaverlodge hospital is crucial for families and workers in surrounding villages and hamlets, he said.
"We're still probably 40 minutes away from people in the outlying areas to get to Beaverlodge, let alone if they have to go to Grande Prairie," Rycroft said. "The emergency side of it is very important."
The facility also takes pressure off the nearby Queen Elizabeth II Hospital in Grande Prairie, he added.
"I'm very frustrated," Rycroft said. "We've studied it to death, we just need the hospital built."
Province: 'It's on our radar'
Rycroft raised his concerns with Municipal Affairs Minister Shaye Anderson during a one-on-one meeting in Beaverlodge on Feb. 14.
"I know that's not in his realm but he does understand and he does talk with the other ministers," Rycroft said.
"We talked about the hospital up here," Anderson told CBC News, following his conversation with the mayor.
"It's on our radar. Minister Hoffman has been up here and talked about it and it's something that's important to us so we want to make sure we hear what the community needs."
In an emailed statement, Alberta Health spokesperson Rob Gereghty said planning started last year for a new community health centre. 
The centre is planned for the land McFarlane donated.
"While Beaverlodge was not included on AHS's recently released 2017 capital submission priorities, Beaverlodge remains on the AHS list of potential future major capital projects," Gereghty wrote.
"In order to best meet the needs and improve health outcomes in Beaverlodge, Alberta Health continues to look at demographics, current and projected health needs and nearby services."
Renovations to the municipal hospital are ongoing, he added, listing a new roof, nurse call system, fire alarms, security system and repairs to address recent flood damage.