Accused Edmonton attacker to remain at Alberta Hospital to complete assessment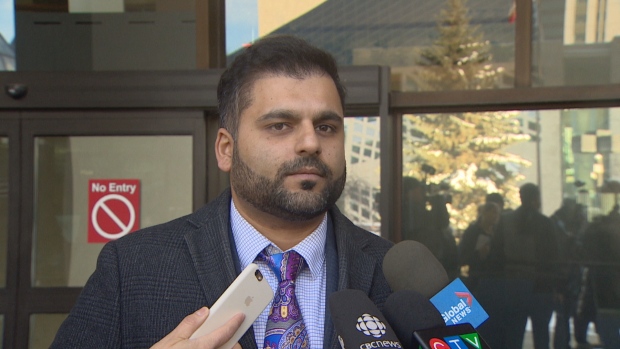 The man accused in a knife attack on an Edmonton police officer will remain in Alberta Hospital for another month while his mental health assessment is completed.
On Monday, provincial court judge Donna Valgardson adjourned the election and plea for 30 more days to complete the psychiatric evaluation of Abdulahi Sharif, 30, who is also accused of plowing into four pedestrians with a U-haul van.
"I'm inclined to agree with the defence council in this case that it would be beneficial to have the NCR in hand," said Valgardson, referring to the report that would determine whether Sharif could be found not criminally responsible (NCR).
Sharif's lawyer Karanpal Aujla argued his client's election and plea should be delayed until the report is completed.
"I have a letter from Dr. (Roger) Brown indicating they require an additional 30 days," Aujla told the court. "It is important for us to receive the assessment back before proceeding to the next step as it may impact" the next course of action.
But Crown prosecutor Shelley Bykewich argued the case should move ahead without the report, noting the evaluation was initially ordered on Nov. 14 and already extended once in January.
Bykewich said she had spoken with Brown, who indicated that resourcing is an issue and he was trying to set up an interpreter to interview the accused.
Still, "substantial disclosure" had been provided and "the accused has been deemed fit to plead," Bykewich said.
Sharif, appearing by closed-circuit television, listened to the proceedings while sitting behind a row of tables in what appeared to be a board room at Alberta Hospital.
Outside court, Aujla said delays are always a concern, but noted it is a "complex case" and he would be more worried if the assessment was rushed.
The assessment would determine whether the focus of the sentence would be on rehabilitation more so than denunciation and deterrence, he said.
"So the NCR assessment would determine if this individual would get sentenced to, say, a hospital versus prison," he said.
Last month Sharif was found fit to stand trial in a string of charges including five counts of attempted murder in the attack on Const Mike Cherynk on Sept. 30  outside the Commonwealth Stadium during an Edmonton Eskimos game. He is also charged with striking four pedestrians early the next morning on Jasper Avenue.
He also faces four counts of criminal flight causing bodily harm, and one count each of dangerous driving and possession of a weapon for a dangerous purpose.
Police initially referred to the attacks as "acts of terrorism" and said terrorism-related charges were pending, but those charges have not been laid.
Sharif is scheduled to be back in court on Mar. 14.