Team USA's Nathan Chen Is Determined to Skate His Way to Gold at 2018 Winter Olympics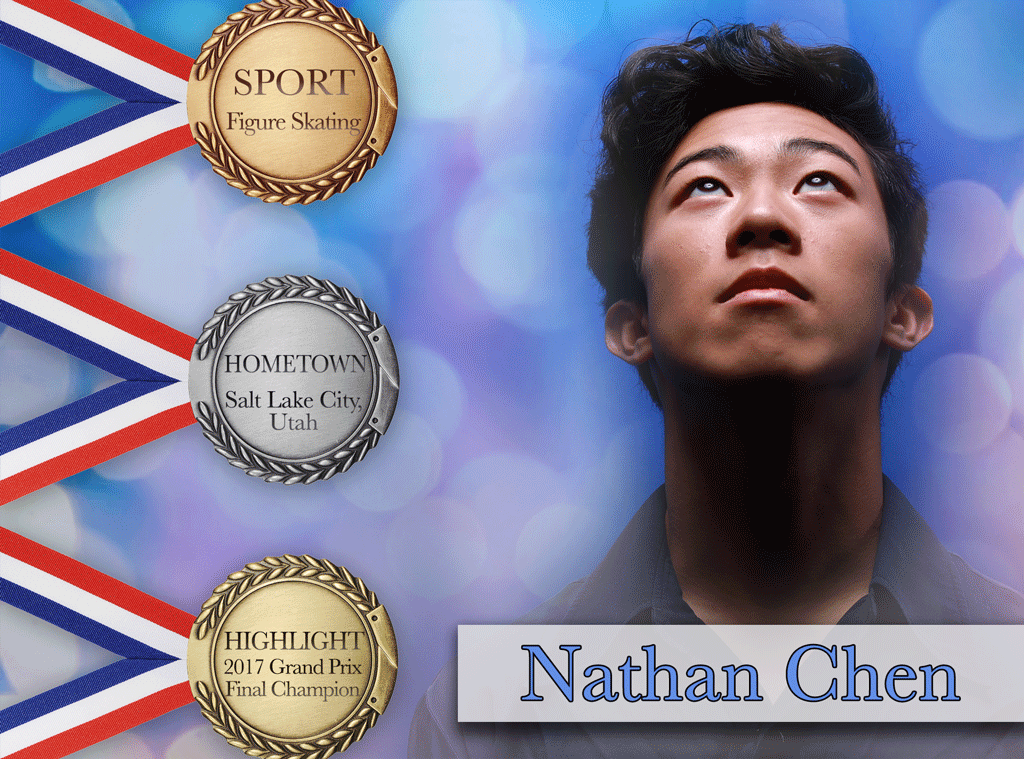 Getty Images; Melissa Herwitt/E! Illustration
If it's time for the Winter Olympics, then it's time for figure skating. 
No matter where the games take us, millions of viewers can't help but become engrossed in all things figure skating. So who could be the favorite guy for Team USA this February? We're so glad you asked!
All eyes appear to be on 18-year-old Nathan Chen who recently won the Grand Prix Final, also known as the biggest pre-Olympic event this season. To provide a bit more context, Evan Lysacek also won in 2009 before earning a gold medal.
So what makes Nathan pretty special? Let's just say he has some moves including five different quadruple jumps. "To have all of these jumps in my arsenal is very beneficial," Nathan previously shared with AOL. "I can always alter my program so I can either play it safe or I can play it risky with high reward. It depends on what I feel like I need that day."
With less than one month to go until opening ceremonies, we've never been more pumped for some serious skating. Until then, let's get to know Nathan himself. 
Harry How/Getty Images
Sibling Inspiration: After watching his two older brothers play hockey, Nathan decided to start skating at the young age of 3. In addition to skating, Nathan would also train in ballet and gymnastics before dedicating himself full-time to one sport. And while he may travel the world today for competitions, Nathan still makes plenty of time for family time as documented on his social media pages.
Designers Ready: When Nathan appears on the ice next, you may want to pay attention to his outfit. As it turns out, one of the most famous names in fashion helped design the looks. "So excited to let you all know that my costumes will be designed by Vera Wang!" he wrote on Instagram. "Can't wait to share the new looks at US Championships."
Speedy Recovery: Back in early 2016, Nathan had to miss the world championship after injuring his hip in an exhibition hours after winning the bronze medal at nationals. After undergoing left hip surgery, Nathan has been able to recover and continue participating in the sport he loves so much. "Update: I am alive! Thank you to everyone that wished me a speedy recovery!" he wrote on Instagram. "I am currently doing much better."
Olympics Fan: Through training and competition, Nathan has had the opportunity to meet a few famous faces. Instead of Hollywood actors and actresses, though, this athlete loves meeting other Olympic stars. From figure skater Elvis Stojko to gymnast Simone Biles, Nathan can't help but showcase his excitement with meeting these studs on social media. "Such an honor to meet this incredible athlete and person!" he wrote while meeting Simone. "Thank you @kelloggsus for arranging this surprise! #getsmestarted #illcutmyhair;)" 
Only the Beginning: Whatever happens in PyeongChang, Nathan hopes this is only the beginning to a long, successful career in figure skating. "This is just the start of my career. I just became one of the medal contenders in seniors. To just pull off after this season, I haven't been able to accomplish enough," he explained to NBC Sports in October. "I think that I would still love to continue for another four [years]."