'Outgoing' father — 1 of 3 people found dead in parked car — died of carbon monoxide poisoning, family says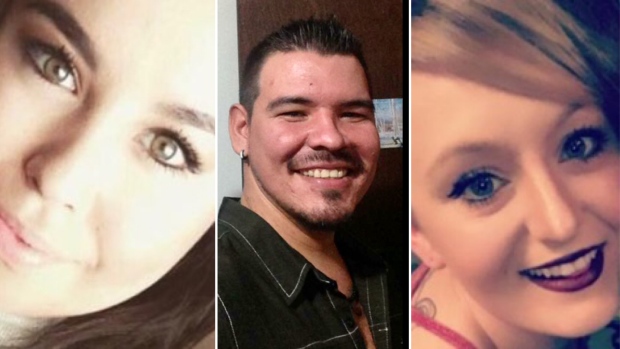 It's hard for Cade Lavallee's sister to speak about him in the past tense.
It's hard for her to come to terms with a tragedy that's left her brother and two other young women dead.
Lavallee's sister told CBC News Thursday her 29-year-old brother died from carbon monoxide poisoning. 
"He was a great uncle, great dad," Crystal Lavallee-Shirt said. "I spoke with the medical examiner. They did confirm it was carbon monoxide poisoning.
"You don't know. You think your vehicle is safe and you don't — you don't know."
Lavallee, a 29-year-old father of three children, is the third person found unresponsive in a car in northern Alberta Tuesday.
Lavallee-Shirt breaks down when she thinks about her two-year-old niece and two nephews, ages 10 and 6, who no longer have a dad.
RCMP still waiting for toxicology, vehicle assessment
Tristan Dave-Lawrence, 21, and Tanisha Peterson, 22, were also found in the passenger seat of the car off Lagoon Access Road in Conklin on Tuesday.
A family member told CBC News a medical examiner informed Dave-Lawrence's mother that her daughter had died from inhaling high levels of carbon monoxide.
Although two of the victims' families have said their loved ones died from carbon monoxide inhalation, the RCMP have not confirmed the cause of death.
Wood Buffalo RCMP said Thursday they are still waiting for toxicology reports and a mechanical inspection of the two-door car. The police expect the test results next week.
Alberta's office of the chief medical examiner said it could not comment about the case Thursday due to privacy issues.
Conklin, a rural hamlet 150 kilometres south of Fort McMurray on Highway 881, is shocked by the tragedy.
'He loved being outside and in the country'
Lavallee-Shirt said her family, based in Lac La Biche, has been broken but is surrounded by so many friends and loved ones in their time of need.
Together, friends and family members say they are remembering Lavallee as a young man who loved music, dancing and laughing.
Lavallee-Shirt said her brother, a machine operator, was always a hard worker. She said he's been working since he was 17.
"He spent a lot of time with his friends and family," Lavallee-Shirt said. "He loved hunting, fishing and quadding. He loved being outside and in the country."
Follow David Thurton, CBC's Fort McMurray correspondent, on Facebook, Twitter and email him at david.thurton@cbc.ca