L.A. Film Critics Association Awards Ceremony to be Held January 13th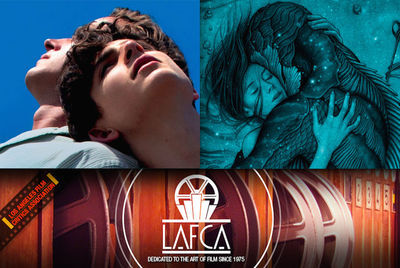 In the midst of all the swag-type awards shows dotting the landscape over these first few months of 2018, there are those that are voted upon by ordinary film critics. Although there is no section for film critics in the official Oscars vote (and I believe there should be), the critics act as a liaison between the industry and the people. The Chicago Film Critics Association usually chooses more eccentric awards for your viewing pleasure (view this year's results here), and tomorrow night in Los Angeles, we will get to experience the awards given out by LAFCA (Los Angeles Film Critics Association).
The annual awards ceremony will take place this Saturday, January 13th, at the InterContinental Hotel in Century City. Luca Guadagnino's "Call Me by Your Name" will receive three major accolades for Best Picture, Best Director and Best Actor (Timothée Chalamet), while Guillermo del Toro's equally unexpected romance, "The Shape of Water," will take home awards for Best Director (tying with Guadagnino), Best Actress (Sally Hawkins) and Best Cinematography (Dan Laustsen). Though "The Florida Project"'s Willem Dafoe and "Lady Bird"'s Laurie Metcalf lost at the Golden Globes and the Critics Choice Awards, they still prove to be fierce contenders this awards season, and will receive Best Supporting Actor and Best Supporting Actress honors, respectively, from LAFCA.
Nora Twomey's emotionally wrenching "The Breadwinner" will edge out Pixar's "Coco" to win Best Animated Feature, while Jordan Peele will make one step closer to frontrunner status in the Best Screenplay category, earning LAFCA's award for his phenomenally successfully debut feature, "Get Out." Other notable winners include Agnès Varda's "Faces Places" for Best Documentary, Robin Campillo's "BPM (Beats Per Minute)" and Andrey Zvyagintsev's "Loveless" tying for Best Foreign Language Film and "Lady Bird" director Greta Gerwig, this year's recipient of the New Generation award.
The head of LAFCA, Claudia Puig, sums up nicely why the film critics votes matter. "I believe the role of film critics may be more essential than ever in this #metoo #timesup moment. Film critics have long championed lesser-heard voices in the world of cinema and it's incumbent upon us not just to recognize, but to seek out, voices that speak to inclusion, diversity and equality. We need to actively look for those essential voices that might result in the next 'Lady Bird,' the next 'Get Out,' or the next 'Call Me by Your Name.' We need to encourage the industry to take chances on films that may fall outside the mainstream or target demographics. We need to be film advocates as much as we are film critics. Harvey Weinstein and other powerbrokers in this industry committed terrible crimes against women. He and his ilk also committed crimes against art: they kept us from hearing stories that needed to be told from perspectives we hadn't seen before. Critics have a responsibility to look beyond the obvious, to celebrate fresh voices and champion films that resonate on a deeper and more honest level, films that connect us to our shared humanity."
Here is the full list of winners (and runners-up)…
Best Picture: "Call Me By Your Name" (runner-up: "The Florida Project")
Best Director: Guillermo del Toro, "The Shape of Water" and Luca Guadagnino, "Call Me By Your Name" (tie)
Best Actress: Sally Hawkins, "The Shape of Water" (runner-up: Frances McDormand, "Three Billboards Outside Ebbing, Missouri")
Best Actor: Timothée Chalamet, "Call Me By Your Name" (runner-up: James Franco, "The Disaster Artist")
Best Supporting Actress: Laurie Metcalf, "Lady Bird" (runner-up: Mary J. Blige, "Mudbound")
Best Supporting Actor: Willem Dafoe, "The Florida Project" (runner-up: Sam Rockwell, "Three Billboards Outside Ebbing, Missouri")
Best Screenplay: Jordan Peele, "Get Out" (runner-up: Martin McDonagh, "Three Billboards Outside Ebbing, Missouri")
Best Foreign-Language Film: "BPM (Beats Per Minute)" and "Loveless" (tie)
Best Animated Film: "The Breadwinner" (runner-up: "Coco")
Best Documentary/Non-Fiction Film: "Faces Places" (runner-up: "Jane")
Best Cinematography: Dan Laustsen, "The Shape of Water" (runner-up: Roger Deakins, "Blade Runner 2049")
Best Editing: Lee Smith, "Dunkirk" (runner-up: Tatiana S. Riegel, "I, Tonya")
Best Production Design: Dennis Gassner, "Blade Runner 2049" (runner-up: Paul D. Austerberry, "The Shape of Water")
Best Music/Score: Jonny Greenwood, "Phantom Thread" (runner-up: Alexandre Desplat, "The Shape of Water")
New Generation: Greta Gerwig
The Douglas Edwards Award for Experimental Film: Lee Anne Schmitt, "Purge This Land"