Extreme cold boosts calls to AMA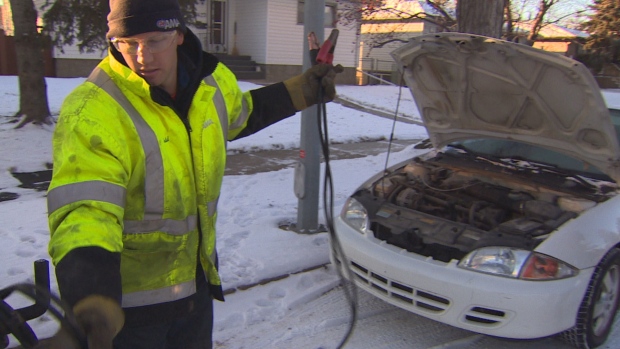 When Edmonton is hit with extreme cold weather, one of the people who sees an increase in business is the tow truck driver.
"We're definitely bringing in extra staff, working overtime, just getting more boots on the ground," said Ryan Lemont, manager of fleet operations for Alberta Motor Association in Edmonton, on Friday. 
He said calls to AMA increased by one and a half times the normal volume on Wednesday and Thursday when temperatures started to drop. 
The number of calls went up to almost 700 a day over that period with about 325 from motorists needing a boost, to their vehicle battery, Lemont said. 
On a regular winter day, the AMA responds to about 400 calls, with about 125 requests for a boost.
The AMA website indicated wait times of two hours in Edmonton and up to six hours in outlying communities on Friday afternoon. 
Drivers should dress for the weather
"Lots of layers, I couldn't count how many I've got on right now," said Todd Wells, a tow truck operator with AMA.
His cold weather gear includes a balaclava, ski goggles and spikes for his boots to keep from slipping
Extreme cold weather compounds every call. Wells said a boost can turn into a two-hour long job particularly if the vehicle ends up having to be towed.
That can affect wait times for others calling for help. 
Drivers need to be prepared in cold weather for unplanned events, said Wells.
He recounted the story of a woman whose vehicle ended up in the ditch.
"She was 50 feet off the road and had to get up to my truck and she was wearing high heels with no socks," said Wells. He ended up carrying the woman through the snow.
When it comes to vehicle batteries, Lemont advises drivers to ensure their block heater is working, and to plug it in for at least four hours before using the vehicle.
"Once we see the temperature dip down below that –15 C mark that's a good temperature to start plugging in your vehicle," said Lemont.
The number of calls to AMA start to increase when the mercury drops that low, he said.
"When the vehicle is not plugged in, it does put a little more strain on the battery to turn that engine over and get it started first thing in the morning."