Oilers fail to find answers, drop another home game against struggling Flyers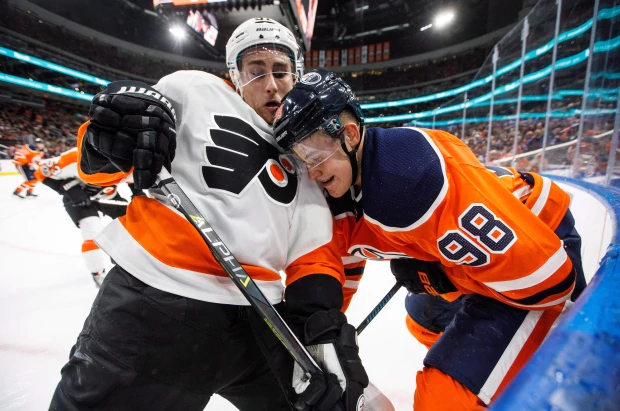 Leaving donkeys aside for a moment, let's play pin the adjective on the hockey team.
Lifeless, spiritless, boring, monotonous, stale. Uninspiring, hum-drum, lacklustre.
It's too early in the season to be searching for new ways to say flat.
But any of the above words could be used as a substitute to describe the hockey the Edmonton Oilers played for 50 minutes on Wednesday night, against a not-so-good hockey team in a game they badly needed to win.
It keeps happening. The Oilers keep starting slowly. They come out for the opening puck drop and … nothing. They seem too often to play whatever kind of game the other team wants.
The Philadelphia Flyers, losers of 10 straight before their trip to Alberta, wanted boring on Wednesday, and the Oilers gave it to them.
As a consequence, the visitors walked away with an all-too easy 4-2 win against a home team that should have been desperate. The Oilers showed no signs of answering the questions that have plagued them all year.
Who, what, where, when, why?
The Oilers are a four-alarm, 5W hockey team right now. Edmonton fans who watched playoff games for the first time in a decade last spring are confused. They want some answers.
What's wrong with this team? Why does this keep happening? Who's to blame? When is this nightmare going to end? Where, oh where is the team we saw in April?
The answers are harder to come by.
Coach Todd McLellan was asked after the game. He tried, but couldn't explain it.
"I prefer not being asked those questions and I'd really like to give you an answer that made sense. But we've been struggling to find those answers."
Veteran forward Mark Letestu didn't have all the answers but suggested the team has fallen into an uncomfortable slumber. 
"We've got to be awake," he said. "We've got to be ready to go. We've got to start on time. When structurally you're not making plays, you look slow. And it leads to turnover and it leads to their momentum. We've just got to be better."
It played out like this: The Oilers took a couple of penalties early in the first period. They killed them both, but playing short-handed cost them any chance to establish momentum.
In a sense, they let themselves get lulled to sleep throughout a period where they generated only six shots on goal and not a single dangerous scoring chance. They escaped the first 20 minutes without any damage on the scoreboard.
Brossoit was sharp, until he wasn't
With starter Cam Talbot on injured reserve, Oilers back-up goalie Laurent Brossoit made his third straight start. His wobbly third period against the Calgary Flames on Saturday had fans embroiled in a "let's make a trade, right now!" feeding frenzy.
But Brossoit showed no signs of those same jitters during the first period against the Flyers. And he looked solid on all 13 shots he faced.
The second period started much the same way. Looking to start something, Oilers forward Patrick Maroon threw a big hit behind the Flyers net early in the period. The man they call the 'Big Rig' then hustled back into his own zone and delivered another bone-cruncher. But he was just a little late arriving, and got sent off the ice for interference.
That put the Oilers penalty killing unit, the worst in the league, back on the ice for the second time.
Enter, centre stage, Connor McDavid and Leon Draisaitl, who teamed up to score a beauty shorthanded goal that put the Oilers up 1-0.
The Oilers kept flirting with danger. And when Oscar Klefbom got whistled for interference minutes later, the flirting was over. Jordan Weal scored on a nifty three-way passing play that tied the game 1-1.
Then came the moment Brossoit and his critics had been dreading. On a harmless-looking play, Flyers forward Dale Weise fired a wrist shot through Eric Gryba's feet that beat Brossoit between the pads. The period ended with the Flyers up 2-1.
Flyers goalie Brian Elliott came into the game with a sickly .908 save percentage, which puts him barely in the top 30. But the Oilers didn't test his skills very often.
Oilers found their urgency too late
Four minutes into the third, an off-target pass in the offensive zone by Oilers blue liner Kris Russell created a breakaway. Michael Raffl scored to add to the Flyers lead.
In the final 10 minutes, the Oilers seemed to wake up. From that point they carried the play and created some offensive push. It took 50 minutes and a two-goal deficit to convince them to play with urgency.
That newfound urgency paid off when Ryan Nugent-Hopkins scored his 11th of the season to bring his team within one.
But that was as close as they came. They got a power play chance late in the game and spent much of it passing the puck around in the Flyers zone. The final pass to set up the scoring chance hopped over McDavid's stick in the slot. And that was that.
The Flyers added an empty-net goal with less than a minute left.
After losing a game they should have won, again, the 11-15-2 Oilers remain where they have been for most of the last month — half a dozen points out of a wild-card slot. They now head east to play three strong teams, Montreal, Toronto and Columbus.
They'll need to find some answers. Soon.
Follow Rick McConnell on Twitter