Edmonton boy, 6, awarded for quick thinking that saved his mother's life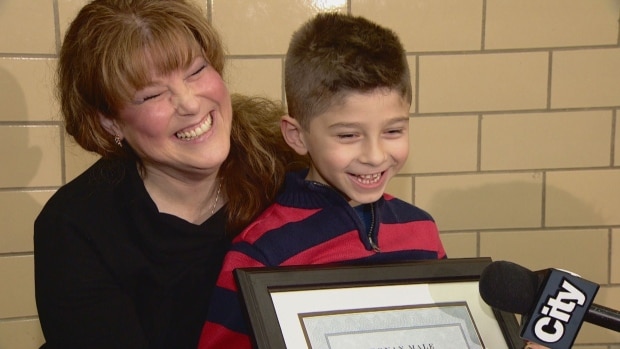 When six-year-old Ronan Male saw his mother collapse in their Edmonton home last spring, he knew exactly what to do.
Denise McCormack has managed her diabetes for 30 years. That night, her blood sugars fell dangerously low and she fell out of bed. Her son was the only one who could help — Ronan's father, Doug, was working out of town. 
The boy quickly squirted some juice into his mother's mouth to try to raise her blood sugar. He helped call 911, and stayed on the phone with the dispatcher for 10 minutes until paramedics arrived.
His quick thinking saved his mother's life.
On Monday, Ronan was honoured with an EMS Lifesaving Award during an assembly at St. Angela Catholic School, where he is in Grade 1.
Wrapped in his mother's arms while clutching his framed award, Ronan, who wants to be a cashier when he grows up, said he already feels pretty accomplished.
"Happy," he said shyly. "I feel pretty proud of myself."
When Ronan was a toddler, his parents started teaching him what to do in case his mother had a diabetic emergency. This background helped him deal with the stressful and scary situation with ease. In fact, he didn't even cry, said Monica Grela, the AHS emergency communications officer who took the boy's 911 call.
'I feel pretty proud of myself.' – Ronan Male
"Ronan was able to be very clear, he was able to be very calm, and answer the questions that I had," Grela said.
"Ronan was a great example of what we, as emergency communication officers, would like to see when someone calls 911.
Most 911 calls come from people who are frantic and panicked in dire situations, but children are often some of the best callers, Grela said. They're compliant, easy to manage, can stay calm and follow directions in emergency situations, she added.
Once paramedics arrive and the phone call ends, another call comes in. Grela doesn't usually find out what happens to the people she speaks with.
"For me, this is very moving," Grela said. "He's a very sweet boy. I look forward to pinching those little cheeks and telling him how great he is. For me it's great closure to see that this is a happy ending in a 911 call."
'He just acted so courageously'
Parents should teach their children that calling 911 is serious and should be reserved for real emergencies, Grela said.
Children should call as quickly as possible if an emergency happens. They should know their address and phone number, and stay on the phone until the emergency communications officer tells them to hang up.
MacCormack said she doesn't know what would have happened to her if her son hadn't been there, aware of what was happening and ready to call for help.
"I'm very grateful that he thought fast and dialled 911 for me," she said.
"He just acted so courageously. I'm just very proud."