Donor dogs needed in Alberta to meet national blood shortage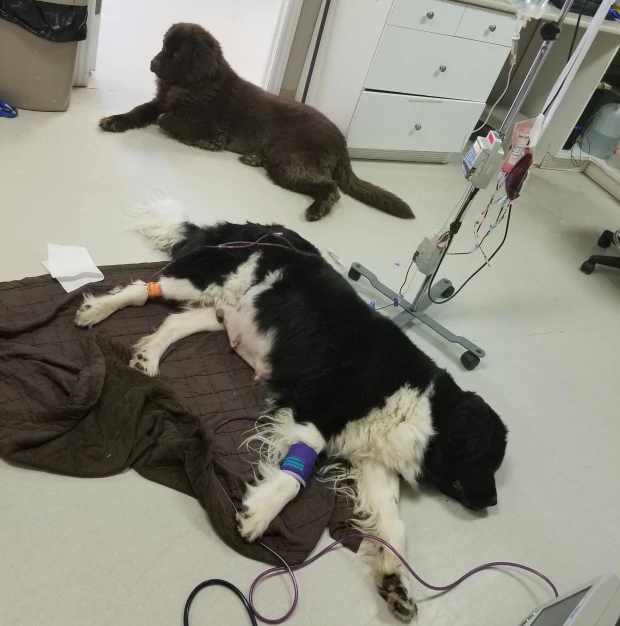 A national blood bank for animals is desperate for donations from large dogs to help save the lives of sick and injured pets during the holiday season.
"We're becoming busier and busier," said Mary Robinson, lab coordinator for the Canadian Animal Blood Bank.
The national charity collects and distributes up to 100 units of canine blood to veterinary clinics across the country every week. 
One donation can save up to three dogs, Robinson said.
"We always have to have new dogs coming in all the time just to keep everything moving along," she said.
Albertans can register their dogs for one of five donation drives in the province this weekend at clinics in Edmonton and Calgary.
Two units of donated blood helped heal five-year-old Newfoundland dog Beckett in Kingston, Ont., last month.
The large black and white dog collapsed from severe anaemia after delivering nine puppies by C-section.
"It was all surreal," recalled owner, Sasha Latimer. "Kind of a blur of how everything happened."
A transfusion at the Kingston Regional Pet Hospital saved Beckett's life. 
Latimer, who works at the clinic, said all three of her dogs regularly donate to the Canadian Animal Blood Bank.
"It really hits home when your dog actually needs it," she said.
"I'm so thankful to have such a great team of the blood bank and the veterinarians, that we were all able to work together and make her better."
Emergency animal hospitals need extra blood during holidays when regular veterinary clinics are closed, Robinson said. There is almost always a shortage of donations, she added.
"These Alberta clinics are massive," Robinson said. "We just kind of go gangbusters."
More than 50 appointments have been booked, though many remain open.
"The owners that do it, they're so proud of their dogs and they should be," Robinson said. "Honestly, this is a huge thing that they're doing."
Dogs must weigh at least 55 pounds to donate blood. The animals also need a good temperament, up-to-date vaccinations and health records.