Dec. 5, 1990: Gas price wars trigger long lineups at Edmonton stations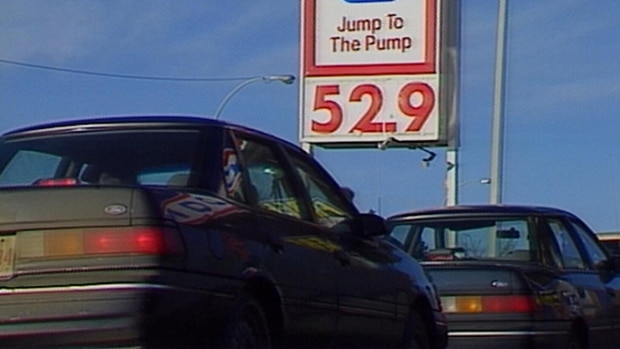 An 11-cent per litre price drop at an Edmonton gas station sparked long lineups as drivers looked to save on a tank of fuel.
The 52.9 cents per litre price at a Domo location was low enough for price-conscious customers to wait for their turn to fill up.
One customer in line for cheap gas estimated his savings to be between $7 and $10 for a fill-up.
As word got out about the savings, workers at the Domo were kept busy through the day, but were surprised at the impatience of some drivers.
"To say the least, it was power busy. People are cutting each other off in here," a gas station attendant said.
The relief at the pumps came after uncertainty in the Middle East in the fall of 1990 sent the price of oil to $40 US per barrel, causing a spike in gas prices.
But by December of that year, oil was down to $27 US and gas stations around the city took the opportunity to slash prices.
The gas war triggered by the one Domo location was followed by many other gas stations across the city with prices in the range of 54.9 to 55.9 cents per litre.
Currently the price of a barrel of oil is hovering around $57 US per barrel and Edmonton drivers are paying about 93 cents per litre.
In the video, reporter Brett Harris catches up with thrifty customers in line for the cheap gas and explains how the price war could end at any time.