'We're not done after 44 years': Candian Finals Rodeo needs a new venue, but it could be in Edmonton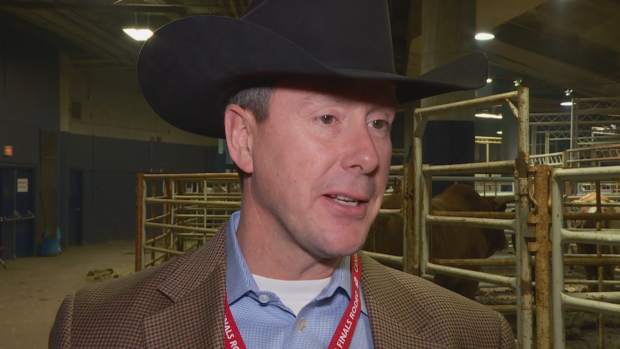 The Canadian Finals Rodeo has had its last ride at Northlands Coliseum. 
As the 44th iteration of the five-day event came to a close on Sunday, Canadian Professional Rodeo Association general manager Jeff Robson said the CFR is looking for a new venue. 
"This is where we've — or certainly, I've — known it to be home," Robson said. 
"It would be interesting to see if we could strike a deal to keep it in town here." 
More than 90,000 people bought tickets for the 2017 CFR, up three per cent from the year before. 
Coliseum closing at the end of the year
The 2016 CFR was supposed to be the last one at the Coliseum, which used to be known as Rexall Place. It was home to the Edmonton Oilers until the NHL team moved to Rogers Place at the start of the last season. 
Northlands, the non-profit organization that has been responsible for running the venue, struck a deal with the rodeo association last fall to keep the CFR for a few more years. 
But in September, city council voted to close the venue's doors for good at the end of 2018.
Northlands president and CEO Tim Reid said the decision puts "an incredible amount of pressure on everybody."  
He said the city needs to act fast to continue its decades-long partnership with the rodeo, potentially by roping in Rogers Place, which hosted its first-ever Professional Bull Riders Global Cup on the weekend. 
"We've got to digest this. We've got to work together. What comes coming out of this could be really special if we work together. If we don't, I think we'll be challenged," Reid said, noting he "gets the sense that everybody's willing to have those conversations."
"We're not done after 44 years," Reid added. "We want to keep this partnership going for a while."
Other options
Other cities in Western Canada, including Red Deer, have already made bids to host the event. 
A decision on where the annual championship will move next is expected by the end of the year. 
"Obviously, everybody has an opinion about where it should be," Robson said, noting  Edmonton is "one of the strongest contenders" and lauding the support the CFR has received in the city.
"They dreamed it up, they brought it to town," he said.